Carapaz, two-time champion in Asturias; Pinto takes the last stage
The Movistar rider, winner of the second stage, managed to perfection his advantage in the general to win the final victory in the absence of Landa.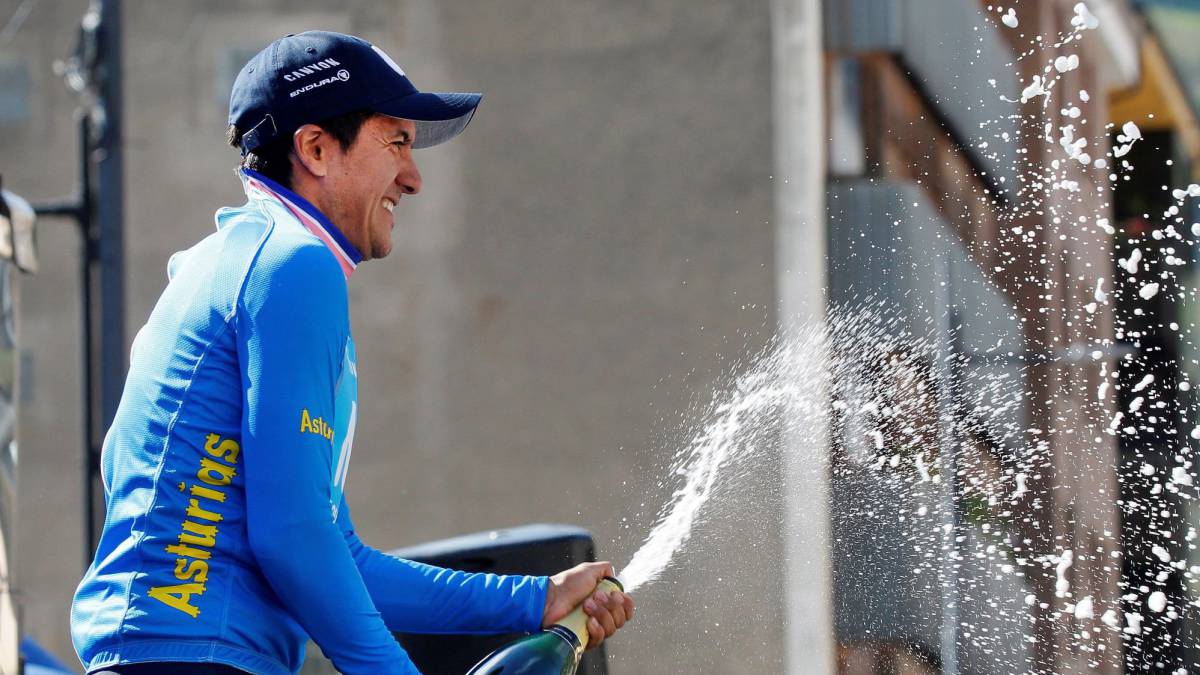 The Ecuadorian rider Richard Carapaz, of the Movistar Team, won this Sunday for the second consecutive year the Asturias Cyclist Tour, after the third and final stage of the 62nd edition in which the Portuguese won Edgard Pinto, of the W52-FCPorto. Protected by his teammates Héctor Carretero and Antonio Pedrero in the ascent to the port of El Violeo, Carapaz managed to maintain the difference he had achieved on Saturday by winning the second stage in which he placed leader of the general classification.
La tercera y última etapa of 119 kilometers between Cangas de Narcea and Oviedo, with a summit of second category to 9 kilometers of goal, was won by Pinto, who managed to scratch a few seconds to attack in the descent of the port. After Pinto, the Colombian Carlos Quintero, of the Manzana Postobón, winner of the first stage, and the Spanish Jonathan Lastra, of Caja Rural-Seguros RGA, second and third respectively in a sprint in the last meters.
it was foreseeable with a mountain pass with ramps of up to 17 percent to 9 kilometers to finish, the race was defined in the ascent with the Movistar Team men pulling the group to protect their leader. After the effort made on Saturday in the second stage to take the victory to his teammate Richard Carapaz, the Spaniard Mikel Landa, of the Movistar Team, did not take the start in Cangas del Narcea when having discomfort in one knee and problems with a fingernail in a foot.
From the first meters of the route there were attacks with successive attempts to escape, that were neutralized gradually, until the Colombian Oscar Quirós, from Coldeportes-Strongman, jumped with a group of four other cyclists. The Colombian, who at that time was 4 minutes from the leader of the general, was accompanied in the fuga by the Spaniards Jon Irrizarri, of Caja Rural and Mario González, of Euskadi Murias, and the Portuguese José Fernándes, del Burgos -BH, and Hugo Nunes, del Boavista.
The group managed to open a gap of 2 and a half minutes to about 40 kilometers from the finish line until the men of Manzana Postobón took over the front of the peloton and began to lower the differences with the escapes. A few kilometers from the start of the ascent to El Violeo, the Movistar Team, took over from the Manzana Postobón in front of the chasing group, which neutralized the breakaway in the first ramps.
3ª STAGE: Cangas Narcea-Oviedo, 119 km 1. E. Pinto (Por) W52-Porto 4h 26:44 2. Quintero (Col) Postobon to 4 3. J. Lastra Rural Box mt GENERAL 1. R. Carapaz (Ecu) Movistar 11h 34:16 2. Neilands (Let) Israel at 2:00 3. A. Vlasov (Rus) Gazprom 2: 0
4
Photos from as.com