Canet: "I had two guardian angels with me on the bike"
The Moto3 leader refers to his grandfather Alfonso, who died on Tuesday, and the father of his boss, Biaggi, who died on Saturday.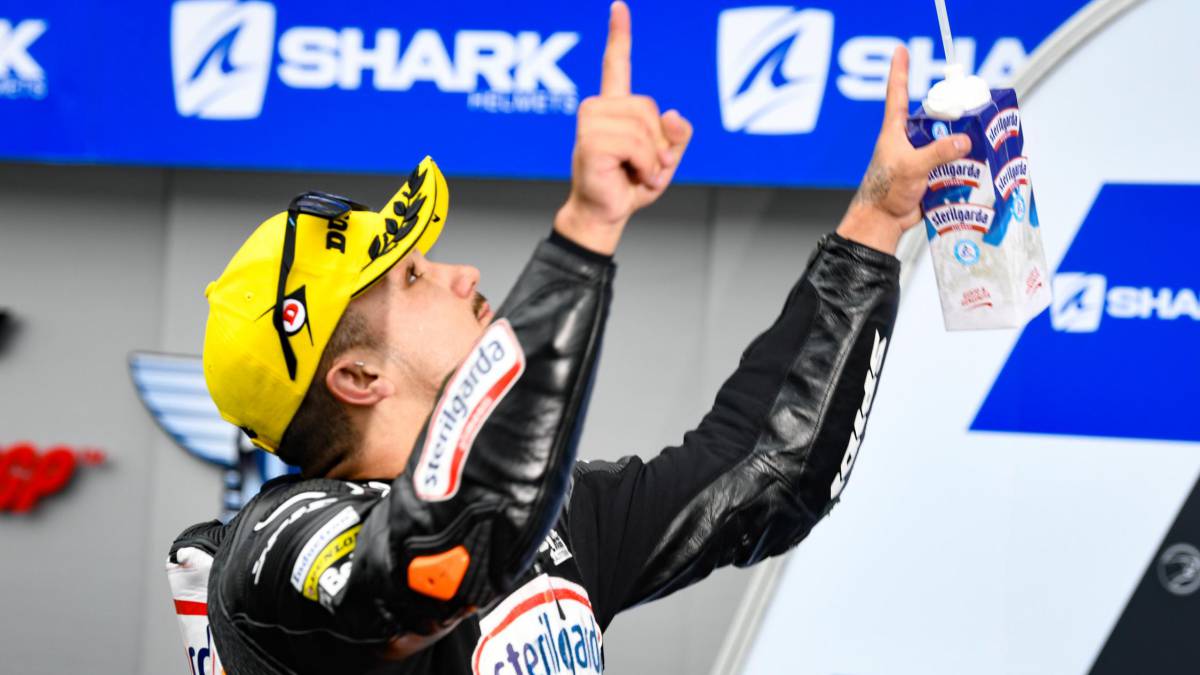 Good third place of Aron Canet in the GP of France, which allows him to leave more leader of the Moto3 general, now with 14 points of rent on Dalla Porta.
-Before anything else, how was the final overtaking Toba?
-It's been a bit chaotic race. I have seen that Toba wasted time going out in the chicane and I said: 'This is mine'. I have seen a minimum gap, I have closed my eyes and I have gotten inside and I thought 'that is what God wants ...'. Today I had two guardian angels with me in this race holding me up on the bike, because if it had not been like that I would have fallen for sure. I made a save I do not know how ...
-From the outside it looked as if his motorcycle was not very fast today ...
-It's the feeling he gave me too, it's not that he did not run on the edge but rather it was a matter of acceleration. We have to see what happened. It is also true that I think we have made a mistake with the change and with the set-up of the bike, but after this chaotic weekend as it has been, it is so difficult for me to get out of here with 16 points. victory for our team.
-Your grandfather will be happy wherever he is.
-I hope so. The last day I saw my grandfather was Monday afternoon. Always before going to a race, he gave me a hug and said to me one sentence: 'With God he comes out and with God he has to return, my God help him and move him away from evil, from the darkness of Satan'. And there in his last he still told me and I said: 'Look, look how he still talks to me'. They told me that they did not know how much I was going to put up with and on Tuesday night they gave me the news. I keep a good memory of him. It has given me luck, it is up there doing strength and before going to Argentina I said: 'Aron, if I die, I want you to know that we will be two on the bike and maybe it runs a little less, because I weigh a lot, but I will make a lot of strength with you.
-Grandfather on the part of father or mother?
-Of mother. It was very close for me, it was from the same town as me (Corbera) and every day I go up to eat with my grandparents. In a month and a half he has gone for a pancreatic cancer.
-He has talked about miracle in overtaking with Toba, and also when they have fallen in the middle of the group Suzuki and Arbolino.
-I have had a magic wand, or a little angel, because if I had not swallowed Suzuki, but I got outside when I had to go inside. At those times you do not know what to do and I could dodge.
-And fourteen points ahead in the general: do you start thinking about the title?
-I have never stopped thinking about the title. In the end this is my fourth year, I have more experience and my goal is to fight for the World Cup. My goal for Mugello is to continue leading the championship and maintain this same line. Today was a very complicated race and we managed to manage it.
-Did you talk to your boss, Max Biaggi?
-Last night I spoke with him. He told me that this was a nice career to dedicate to his father (who died on Saturday) and my grandfather, and in the end it was like that. He told me: 'Go calmly, wait until the last part of the race and finally squeeze'. And that I have done.
Photos from as.com