Baldassarri wins with Navarro and Fernandez on the podium
The Italian is more leader with his third win, Jorge missed one more lap to dispute the victory and Augusto was released on the podium five weeks after breaking his arm.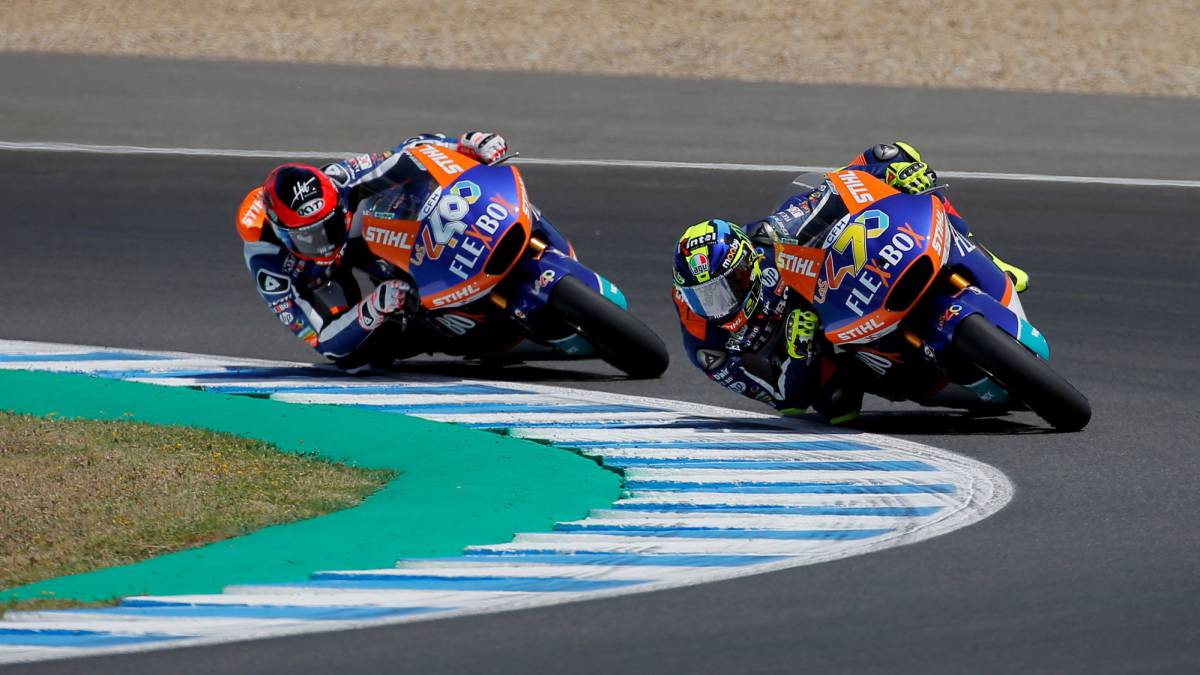 The Jerez Moto2 race was 15 laps, when it was scheduled to 23 laps, due to the appearance of the red flag after the start, caused by several falls between the curve 1 and the 2 (Michelin). Baldassarri won ahead of the Spaniards Navarro and Fernandez, that debuted well on the podium, but before we congratulated everyone that Remy Gardner was not overwhelmed in the crash that interrupted the race, because he missed very little. The Australian was left lying on the asphalt and suffered loss of consciousness, but in the end everything was in some contusions without anything serious. 1
Nothing more boot went to the ground Gardner, Alex Marquez, Ekky Patrama and Bezzecchi. The Australian and the Indonesian They could not take the second exit and Álex did it from the pit lane and by the hair. Your brother Marc left the box to ask for a head and calm, but his luck was already cast and he could only go up to the twenty-fourth place, half a minute from the head.
The fight for victory had less emotion this time than other times , because Baldassarri overtook his teammate Fernández on the seventh lap and did not abandon the lead, crossing the finish line with something more than three tenths of an advantage over Navarro. The Valencian, who had already been third in Texas three weeks ago, left the feeling that with one more lap he could have fought the Italian victory. That would have served to end a drought of Spanish victories that stretches from Japan 2017, when Alex won. In any case, the weekend has been very good for the Valencian, because he takes the pole and a second that leaves him fourth overall with 44 points, 31 less than the leader, which brings 27 to the second, Luthi, that here has been fourth.
As Augustus, his podium is the first of his career and has a lot of merit, because he missed the dates of Argentina and Texas, the result of a fall in the Termas de Rio Hondo that the ulna and the radius of the left arm were broken. Thanks to him the joy has been double for the owner of his team, a Sito Pons that continues to reinvent itself to not stop making great results for the HP 40 Flex Box. The last thing he has achieved has been to win the 100th GP race disputed in Jerez-Ángel Nieto. And there will be more.
Photos from as.com