Antonelli and Suzuki in memory of the missed Simoncelli
Double Paolo team, the father Marco, who just after the race went to the box of the SIC58 Squadra Corse team and kissed the photo of his son.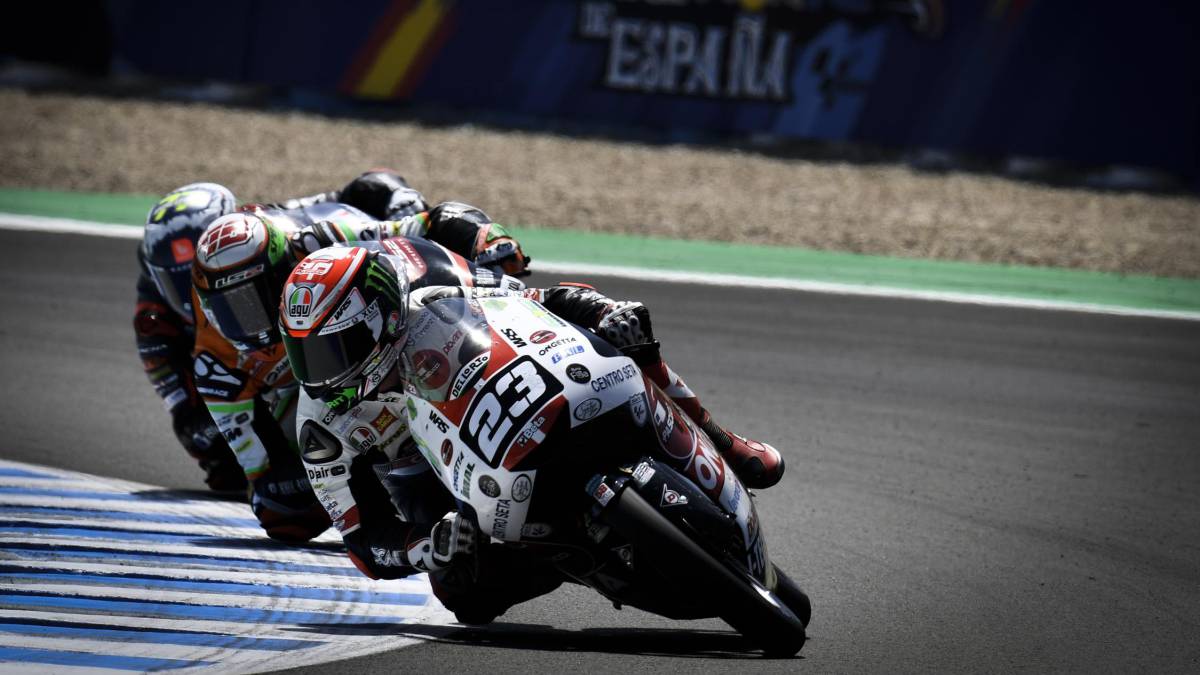 In the year 2004, an eared young man named Marco Simoncelli achieved his first World Cup victory in the Jerez rain in 125cc. Being already a MotoGP rider, he lost his life in 2011, after a tragic accident in the Sepang race. Your father Paolo, who like every father who loses a son remembers him every day, got the strength to set up a team in the small class with the name SIC58 Squadra Corse. And today, thanks to Antonelli, the team that bears the name of the longed for Marco has achieved his first World Cup victory, also signed with the second place of his teammate Suzuki. They all celebrated with euphoria but, at a certain moment, Paolo asked for calm so that they let him get to his box and there he kissed the huge photo of his son who presides over the garage of the team. From there, to celebrate and get on the podium with their pilots, to look from there to heaven and dedicate the victory to the unforgettable SuperSic.
The race was a group, as almost always in Moto3, and there were Spaniards with options, but They fell a lot. Masiá did it in the third, which says that they threw him, thus losing a leadership that has gone to the hands of Canet, that is one point ahead of an Antonelli who did not win since Qatar 2016. The Valencian finished fourth , dislodged in the last lap by a touch and could not put wheel to the three of front. Arón entered right in front of Arenas, who had a touch with Rodrigo at the beginning and had to come back. The Catalan already knows what it is to win, but this fifth comes after the complicated spleen injury he had five weeks ago because of a bike mishap. Thus, his tears of emotion after the race were logical.
The one that had many possibilities of a podium that occupied Antonelli, Suzuki and Vietti was an Arenas that fell on lap 19 when he was running second. He made the sharpener with his front wheel in the back of Suzuki and fell in a very fast area and in which he was fortunate that nobody trampled him. In that same lap, but coming to the braking of Dani Pedrosa, Fernandez lost control of his KTM, fell and pulled with him to Garcia, who was doing a carrerón in his second world championship.
That was the sad face of the race, but it was the happy side to see again smile at Simoncelli father. And is that their pilots made a double in memory of his son.
Photos from as.com