Andemeskel: an Eritrean refugee who makes his debut at the Giro
The Israeli runner is 27 years old and has Swedish nationality. He escaped to the Scandinavian country, locked himself in a house for 18 months and collected glass.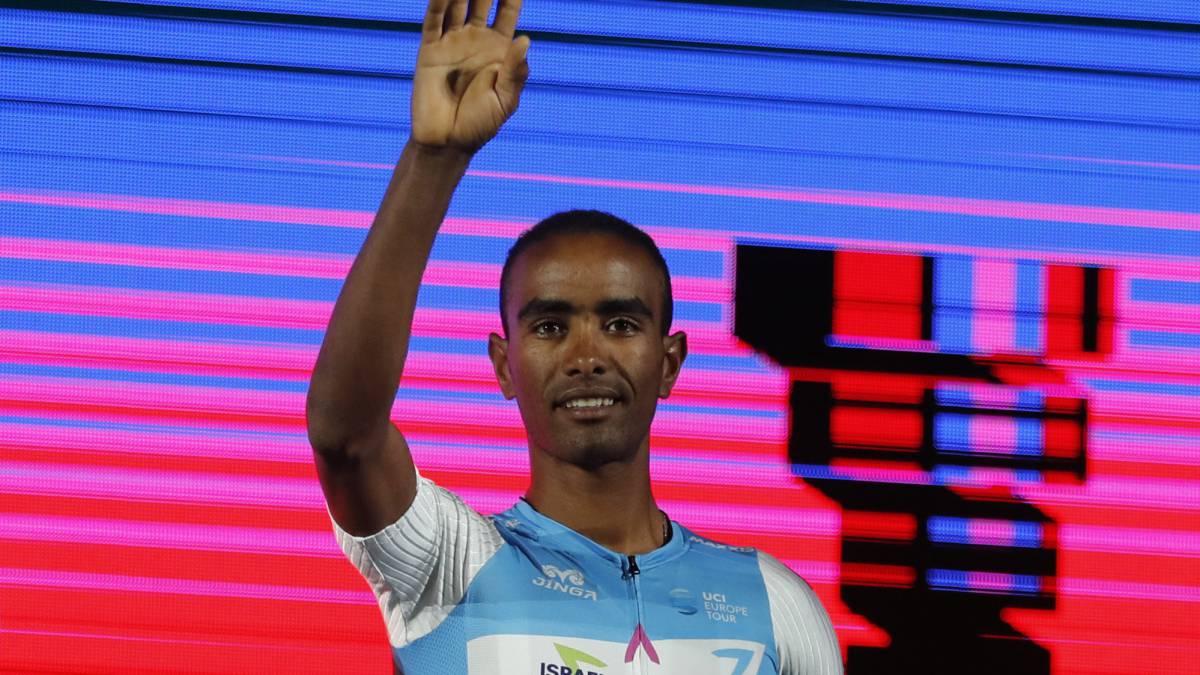 Awet Gebremedhin Andemeskel is 27 years old, Swedish nationality, although he was born in Eritrea, and makes his debut in a great round in the Giro d'Italia with the jersey of Israel Academy. And behind his first participation in the Corsa Rosa (127th yesterday) there is a history of adversity and overcoming. Andemeskel, with six brothers and three sisters, started riding a bicycle with 11 years old: "I worked in Debarwa, on the chicken farm of my father, who bought me a used bike to cover quickly the 15 kilometers every day from school to the daily tasks. " He got the bug of cycling and in 2013 (after belonging to the Zoba Debub and the national team) played the World Cup in Florence, did not return to Eritrea and fled to Sweden in search of asylum: "If I wanted to become a professional, my Her dream was in Europe. "
There she was welcomed by a friend, with whom she spent 18 months practically locked up at home for fear of being deported. Meanwhile, he studied Swedish to obtain refugee status, a goal he reached in November 2015. Then he started collecting glass and empty bottles to get money and buy another bicycle: "I barely ate and stopped training, so I had to go back to school. action and an ordered life ". In 2016 signed by Marco Polo, a solidarity project in the Basque Country. With that season of experience, drew the attention of Kuwait-Cartucho, although the closure of that continental team based in Spain led him back to unemployment: "I did not have a fixed salary either, they paid me the expenses". After touching many doors, Israel incorporated him into its development structure in 201822222242
4
Óscar Guerrero, director of Israel, played a key role in his signing and expands details about the life of Andemeskel: "His Spanish contacts recommended it to me. Idiazabal: The resignation of Ahmet Orken (the Turk resigned due to the tension in the Middle East) allowed him to rise from the subsidiary, ending his contract at the end of 2019. Since he left for Sweden, he stayed almost six years without seeing his family and his girlfriend. In 2018 he returned to Ethiopia, since his loved ones left Eritrea, and he married just after landing, . He is super religious, he now lives in Girona, he knows words in Basque, he speaks Spanish, Swedish and English, understands and makes himself understood. We consider very good kid, an example of struggle and perseverance ". Regarding his role in this Giro, Guerrero wants it to shine in the last week: "It's a good climber If you have left spark after the initial learning, we pretend you get in the breaks and seque your opportunity, as he always did in your day to day ".
Photos from as.com