"Working and working is in the nature of the Ecuadorian"
Santiago Rosero, director of Team Ecuador and coach, dissects the cycling boom in Ecuador with Richard Carapaz, who left his team.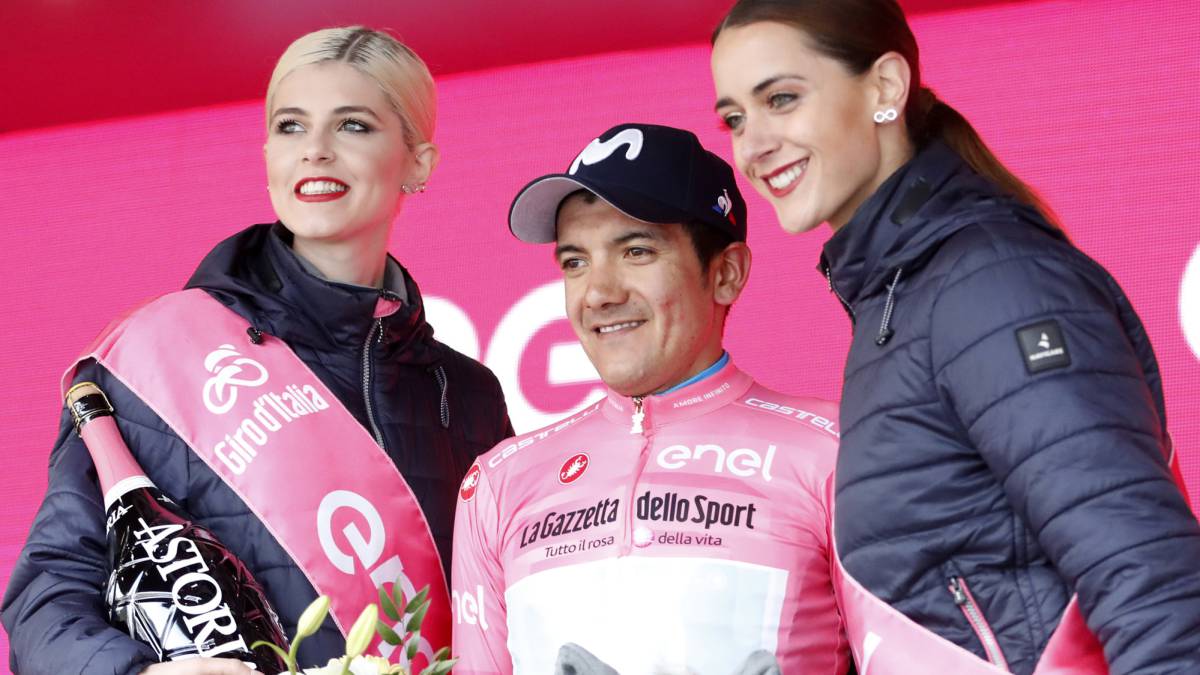 Richard Carapaz blew candles this Wednesday at the Giro (26 years old) while in Ecuador they rubbed their eyes and imagined it rose on Sunday in Verona. "People are very excited, excited about Richard's achievement, and cycling is growing. It is the result of the work we are doing", says Santiago Rosero from Quito, the director of Movistar Team Ecuador, the only "professional" structure of the country (of Continental category, the third step for the UCI), that also exerts of selectoador.
Team Ecuador was a springboard for Richie, before leaving to Colombia and from there to pass to Lizarte, quarry of Movistar. "We had him in 2013 and he won the mountain in the Vuelta a Guatemala and the Pan-American U-23. He was a quiet boy, but he had that rebellion of youth ... Many times he made his own decisions and it complicated you a bit. Unzué will have had to go through the same thing. But Richard knows where he wants to go and has very clear goals in mind ... He is a very humble boy, with a lot of discipline to train and dream big ", Rosero reports
4
" We have important talents, the same topography as Colombia, height and climate, but there were no people with vision ", says the coach, who complains about lack of structures beyond his team for a sport that is already second in the ranking of preferences of Ecuadorians, below soccer and displacing athletics (good marchers like Jefferson Pérez) and boxing. While they arrive, the cyclists are forged in need. Carapaz got up at four o'clock, milked the cows, studied and trained. Without complaining.
"The nature of the athlete in Ecuador is that. The scarce resources force to work, work and work. The three cyclists that we have in the World Tour (the others are Jhonatan Narváez with Ineos and Jonathan Caicedo in EF) have led that life, and well deserved they have it ", says the technician about a country that will continue exporting talents.
Y Rosero, who is responsible for polishing almost everyone, points names. "Jefferson Alveiro Cepeda Hernández will travel to Spain and will be linked to Caja Rural. His cousin Jefferson Alexander Cepeda Ortiz is running in Colombia and was sixth in the Tour of Youth. They are two that sound hard. And the Pan-American champion Sub-23, Jimmy Santiago Montenegro, who is 20 years old. Steven Haro was the best Ecuadorian last year in the Tour del Porvenir ... And there is Bryan Hernandez, a youth that we hope to have in the team next year. To Lenin Montenegro or Harold López, who are in their first year under-23, I see them among the greats ", he recites in a run. Gent willing to make the leap to Europe, 'beetles', but from Ecuador'.
"Here you have to be a climber, yes or yes, because you do not compete on the coast. Everything runs in Sucumbío, Imbadura, Pichincha or el Carchi, at a minimum of 2,000 meterss, so it is mandatory to have a good time in the mountains, "he explains. As good as Carapaz, the pink jersey.
Photos from as.com