Alfonsina Strada, "The devil with a skirt": the woman who ran the Giro
She is the first and only woman to run the Giro d'Italia. He pointed like a man to be able to run. He participated before in two Giros de Lombardia.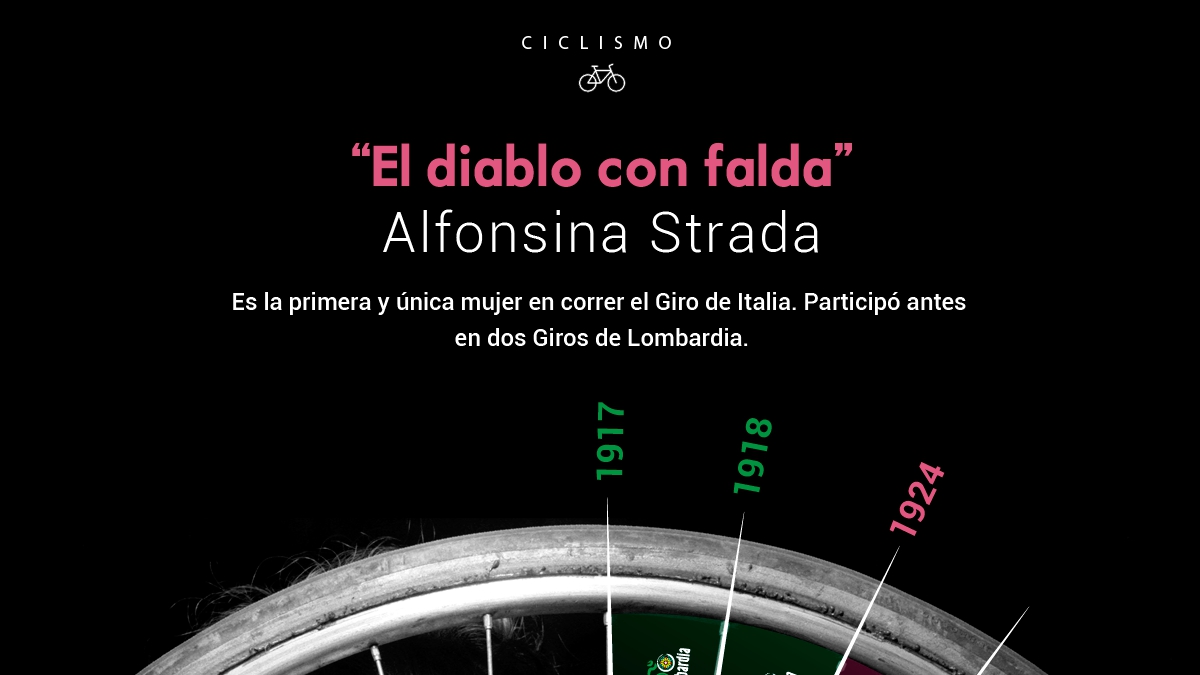 Alfonsina Strada was an Italian cyclist who challenged segregation in professional cycling, being the first woman to compete in races such as the Giro de Lombardia or the Giro d'Italia. Alfonsina was born in Castelfranco Emilia in 1891. She learned to ride with an old bicycle from her father and before she turned fourteen she competed in hiding from her parents.
In her first marriage with Luigui Strada, she changed her last name Morini to Strada, with the who would know her from then on. His wedding gift was a bicycle. After 16 years in Milan he moved to Turin, where cycling was well established and won the title of best Italian cyclist.
In 1917, Alfonsina signed up for the first time in the Tour of Lombardy along with 43 other riders, all of them men. She was the last to reach the finish line along with two other cyclists at an hour and a half from the winner. Not satisfied with the result, Alfonsina returned to run the Giro de Lombardia in 1918. On this occasion, of 49 cyclists only 36 came to complete the race. Alfonsina arrived between the first 20 to 23 minutes of the winner.
After two turns of Lombarida and nicknames as "the queen of the pedal" or "the devil with skirt", Strada enrolled in the Giro d'Italia in 1924 with the number 72. En During the interwar period, the difficulty to complete the lists of participants was evident, so the participation of individual cyclists was opened.
The new challenge was 3,613 kilometers, with 12 stages, interspersed with 11 days of rest. Of 108 registered, only ninety began the race and although it took a lot to keep pace with the rest, she did not give up and was gaining attention among the public and the media.
During the seventh stage L'Aquila - Perugia, suffered a fall in which the bicycle broke When he managed to reach the finish line the control was closed, so Alfonsina Morini Strada was excluded from the general classification, but such was the expectation that he had raised that he was allowed to complete the remaining stages despite not scoring. Of the 90 cyclists who reached the finish line, only thirty completed the race. Strada was one of them.
Photos from as.com