Álex Márquez: "Today I believed in myself"
"It's a bit of self-confidence, of believing that you're quick until the end, sometimes doubts are not good, especially when you're on the bike," he says.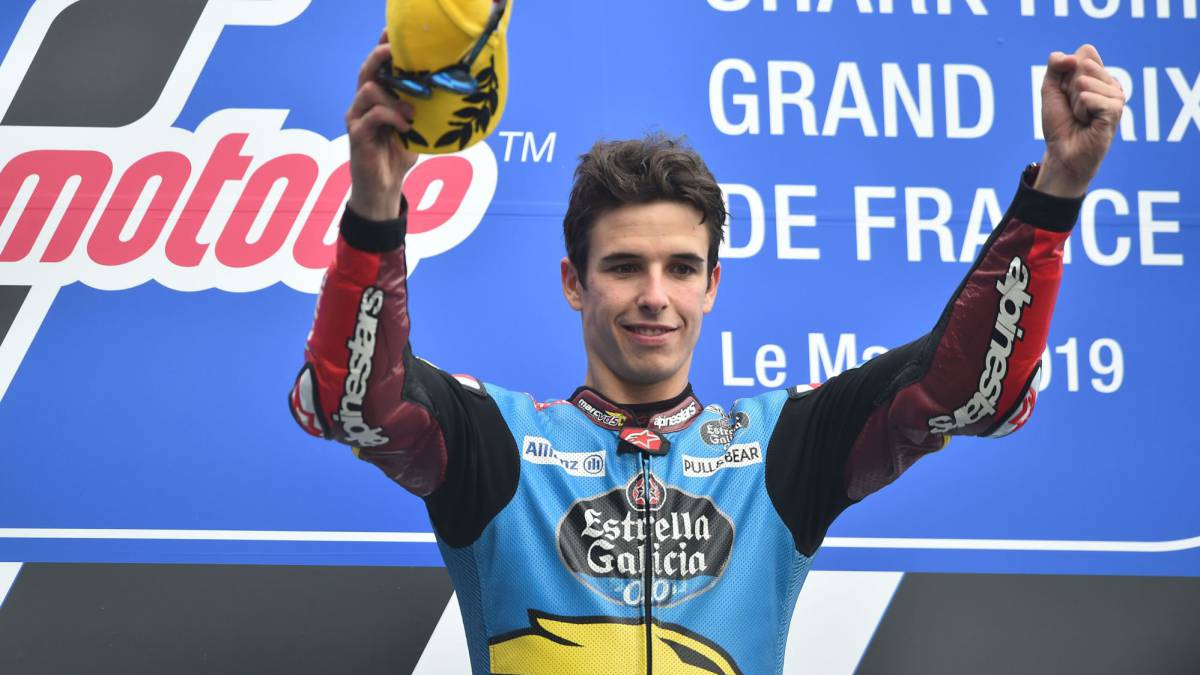 Alex Márquez has returned to the GP of France on the road to victory in Moto2. The previous one was in Japan 2017, a year and a half ago, and now it is fourth overall with 14 points of Baldassarri's lead.
-How is it possible that the Spanish pilots are 25 GGPP without winning and here there have been triplets?
-There are countries that are longer without victories so we can be happy. (Laughter) They are streaks as we already said and also happened in Moto3 that there was a similar streak, or in Moto2 when Tito (Rabat), that there was a very good run, we came from Pol, from Marc. But they are streaks that happen and we hope they change.
-Change the scenery and the championship with this victory?
-Yes, especially after Jerez, where I was angry because it was a matter of bad luck or disappointment, whatever you want to call it. The team reinforced us a lot to have that desire and what we transmit. We were very motivated and we tried until the last moment and that is the spirit of this team, which we throw until the last moment. In the first races we were better than the results said and in Jerez we were strong during the weekend, but we could not finish. Here it has been a little bit the same. On Friday we were very good rhythm. In water we saved it more or less and today we have made a very smart and very good race. If we want to choose the title at the end, this is the kind of careers we have to do.
-Do you have the feeling of having taken a leap of quality today knowing how to manage the pressure and the advantage?
-It's a bit too of self-confidence, of believing that you are quick until the end. Sometimes the doubts are not good and less when you go on the bike, you go to the limit and you get caught from behind. Today I have believed in myself. The only difference with other circuits has been that I have enjoyed a lot on the bike. Yes, I was going to the limit, but I was having a great time. I was playing with the bike. He accompanied me, and that is the most important thing. I was not fighting against the bike and that is the difference compared to last year. I think we have a base especially from Jerez very good.
-Is it in the ideal place and with the ideal team?
-Yes, yes, I'm sure, since the preseason I feel like this, especially David, My technician, gives me confidence and makes me believe it. That's very important when we make a change, because it gives me that confidence that is needed and today that has happened a little bit in the warm up, that with the soft tire no longer worked and with the hard one it was not clear, but on the grid it we have put. And he said 'come out, I'm sure it's going well' and when you come out with that pressure with your head thinking that you have to be very focused and adapt, it works better.
-What has your brother Marc said to you on foot? podium?
-Nothing. Screaming, as always, well we both screamed and nothing, very good.
-¿KTM has brought improvements, is the mattress of the Kalex?
-Yes, yes, that we already have an advantage, but we must see now how they go in faster circuits, less of 'stop and go', like Mugello and Montmeló, because normally in circuits like this Binder is very fast. Surely they are helped by the improvements, which I do not think are only of piloting, but we will have to see how they are in Mugello and how they confirm that evolution, but we already saw in Jerez that they took a step forward.
Photos from as.com