Alberola Rojas is reunited with Morata after the 'colleja': it will be the VAR at Atlético-Sevilla
The referee will redirect a game of the rojiblancos after the Eibar episode, which also cost him a week in the fridge. However, they will not cross in the field ...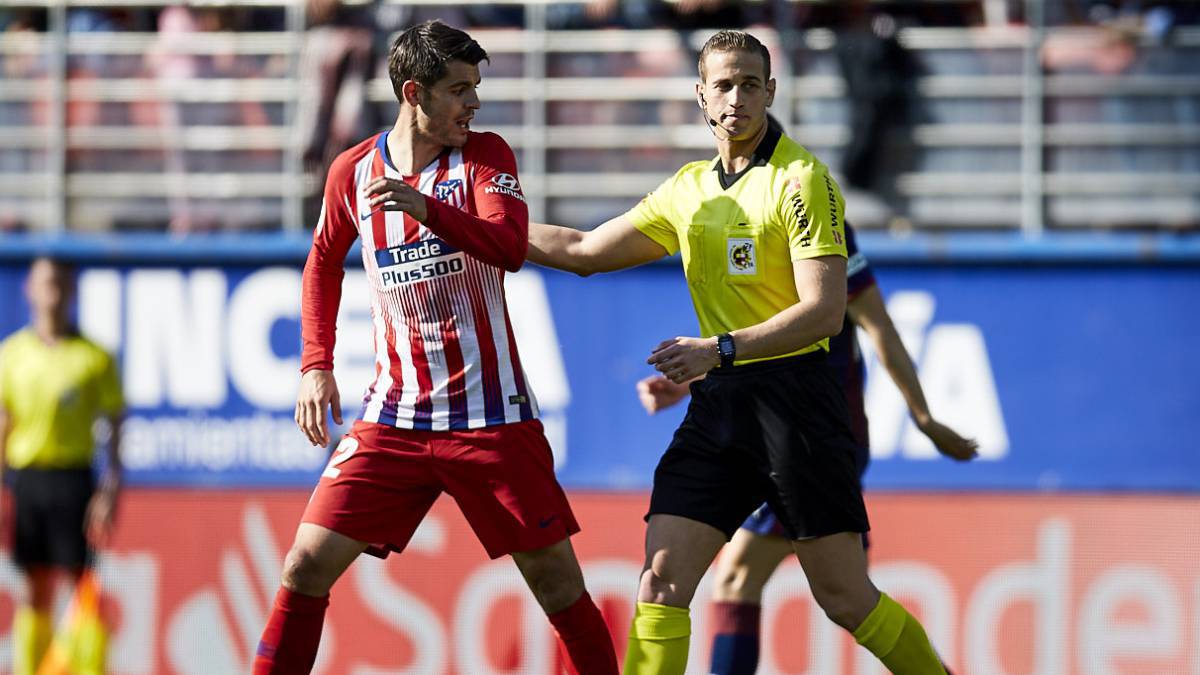 The Federation has made public the designations of the Technical Committee of Referees (CTA) for the days of this weekend in First (37th) and Second (38th). The penultimate date of LaLiga Santander is played in full on Sunday at 18: 30 and between the cast of members there is a peculiar case: Alberola Rojas is reunited with Morata. Although the faces will not be seen: the Castilian-Manchego will be the referee of VAR of Atlético-Sevilla.
El striker (26 years) and the referee (27) had them during the Eibar-Atlético last April 20. Discussing almost from the beginning of the match, in the second part Alberola gave a 'campion' to Morata, who complained with a fuss of contact to the point of seeing the yellow. From the CTA they chose to give a touch of attention to the referee and left him without a match on the following day. A Alberola was advised not to touch the players, equally that he does not consent in the other direction. The manager of the pitch at the Atlético-Sevilla turf will be De Burgos Bengoetxea.
These are the designations of First for the day of Sunday:
Athletic-Celta Estrada Fernández (Com. Catalán) VAR: Hernández Hernández (Com. Las Palmas) Atlético-Sevilla De Burgos Bengoetxea (Basque Comm.) VAR: Alberola Rojas (Comm. Castellano-Manchego) Barcelona-Getafe González González (Com. Castellano-Leonés) VAR: Iglesias Villanueva (Com. Gallego) Betis-Huesca Cordero Vega (Com. Cántabro) VAR: Prieto Iglesias (Com. Navarro)
Girona-Levante Del Cerro Grande (Com. Madrileño) VAR: Gil Manzano (Com. Extremeño)
Rayo Vallecano-Valladolid Sánchez Martínez (Com. Murciano) VAR: Jaime Latre ( Com. Aragonés)
Valencia-Alavés Cuadra Fernández (Com. Balear) VAR: Alvarez Izquierdo (Comm. Catalán)
Villarreal-E ibar González Fuertes (Com. Asturian) VAR: Medié Jiménez (Com. Catalán)
Leganés-Espanyol Melero López (Com. Andaluz) VAR: Munuera Montero (Com. Andaluz)
Real Sociedad-Real Madrid Martínez Munuera (Com. Valenciano) VAR: Mateu Lahoz (Com Valencian)
Designations for the 38th day in Second:
Granada-Tenerife Ocón Arráiz (Com. Riojano)
Sporting-Lugo Milla Alvéndiz (Com. Andaluz)
Nàstic-Mallorca Domínguez Cervantes (Com. Andaluz)
Extremadura-Zaragoza Figueroa Vazquez (Com. Andalusian)
Numancia-Alcorcón Arcediano Monescillo (Com. Castilian-Manchego)
Almería-Elche Pérez Pallas (Com. Gallego)
Rayo Majadahonda-Albacete Male Aceitón (Com. Balearic)
Deportivo-Cádiz Soto Grade (Com Riojano)
Las Palmas-Córdoba Moreno Aragón (Com. Riojano)
Málaga-Oviedo Pulido Santana (Com. Las Palmas)
Photos from as.com