Agag: "What F1 has with Mercedes I would not want it"
The president of the championship celebrates his equality and not having the problem of F1. "Six races, six victories for Mercedes ...", says As.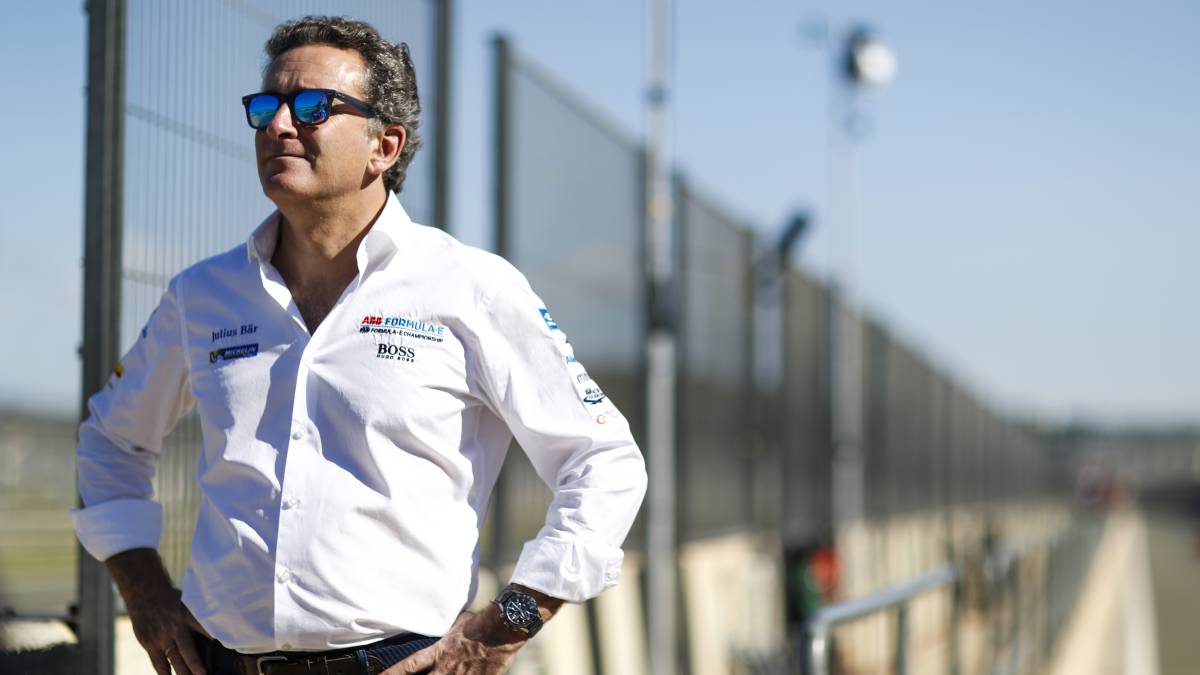 Proud of what he has built. This is how he sees Alejandro Agag, founder and president of the Formula E, when he talks about the present and the future of the electric championship. As chatted with him in Berlin and recognizes that he did not expect the equality that has prevailed all season, but is delighted with it and not having a team as dominant as Mercedes in F1. In addition, he takes stock of the novelties released this year, comments on those who come and also had time to discuss the McLaren disaster on the Indy 500.
-Berlin was once again one of the most successful events of the season. Everything that Formula E means is concentrated in that quote?
-I think so. Germany for us is like the capital of Formula E, we already have the four big builders of the country: Audi and BMW that are already there, and Mercedes and Porsche that will arrive next season. We also have great sponsors (DHL, Allianz, Hugo Boss ...) and we have the Berlin race, a spectacular public success with all tickets sold. We are seeing how to redesign the circuit to build more stands for next year, we can see that the fans already recognize and follow the drivers and the teams and there is a real hobby. It is a fantastic event and we are very happy.
-Also by the Greentech Festival, an exhibition with the mobility of the future.
-Yes, it is very important. We want Formula E to be more than a race, it is an event that reaches a city and its inhabitants can spend a day or two in the future. The Greentech Festival is that, a great fair of technology, of the future, of innovation with everything that is emerging in mobility, energy ...
-Formula E has become the envy of motorsports in terms of tremendous equality what is being seen this season. I imagined that it would be like that?
-The truth is that I'm delighted, I did not imagine it at all. When we started the season I thought there were some teams that had an important advantage, but we are seeing that everything is very close. The two teams that started in the front row of Berlin (Nissan and HWA), have not won any races, there have been eight different winners ... Although I see Vergne and Di Grassi as the two who are going to fight for the title, I thought that Lotterer was going to be there too, but he had a bad day in Berlin.
-Is he going to keep it that way until the end?
-I think so because there's very little left. It's all very tight and the truth is that it's very good, it's a bit too much open, although I love it, but the opposite problem, which is what Formula 1 has now, I would not want that . Six races and six victories of Mercedes, five with doublets.
-Have the expectations been fulfilled with Gen 2, the changes in the rules ...?
-Yes, without a doubt. It has been complicated, it is like when the teeth come out and there are pains, but the Gen2 is a cochazo. It makes the whole race without problems, the batteries work perfectly ... With which, the great objective, which was to double the autonomy, has been achieved very well, and I think that the Gen2 is a part of the equality that exists in the results of the careers. It is a car that weighs more and with which we have had learning problems, but very minor. He has three more seasons, but in two we will change parts of the chassis.
-It is already being seen that Formula E is attracting the most important brands of the engine, but is the same with people? Are they getting more hooked?
-The hearings are going up a lot. For example, in the ePrix of Monaco we made almost one million live in Germany and before we did 200,000 ... The audiences are multiplying. It's a pity that in Spain we do not have an open chain of the big ... If it's going to be possible? I do not know, but we have it in Italy, France, England, Germany ...
-And what is needed to have that boost in Spain? A race, a pilot ...
-A pilot would be very good to lift the fans. Everything will arrive.
-Do not see anyone who is close?
-A short-term, no.
-What do you have to keep doing so that Formula E continues with this growth?
-I believe that Innovation is fundamental, you must always innovate. The 'attack mode' that we have incorporated this year has gone very well and that will continue a lot. We will see what else we will do ... I really like to play with lighting in the chassis of cars, we will see if we can do something more in that aspect apart from what is already in the 'Halo'. We are always thinking about things to change the product all the time becausepeople are now bored very fast.
-And as for careers, will there be new additions?
-Next season will enter London and Seoul, which are two major additions, and we are talking as with other ... 20 cities around the world with advanced discussions. Any of them? Budapest, Shanghai ...
-And a night change in Saudi Arabia?
-That is not yet clear because we want electricity to be generated in an absolutely renewable way and it takes time to plan it. So I do not know if it will be for the next season, for the next ... We'll see.
-How is the development of Extreme E?
-Fantastic! I love it, it's my new big project, in fact, I'm going to stop being CEO of Formula E and be its president to be CEO of Extreme E. Two years are left and we are going step by step, but there will be news very soon, we are going to present the first car already rolling, in mid-June in Goodwood.
-By the way, very bad news that took his partner Gil de Ferran in the Indy 500 ...
-Well, well, well ... (Snorts) Poor Gil, I was sorry ...
-Have you talked to him?
-Yes, yes, I've talked to everyone, also with Zak (Brown). They annoyed her in the set-up, they annoyed her ... but fine. There they can only change the suspensions, the pressures of tires and the ratios of the gearbox, because in one of the three ...
Photos from as.com