Aduriz: "I am very happy to extend this dream"
He spoke about his renewal for a year "probably the last", until he was 39, and justified that he had very bad taste in his mouth this season and that influenced the insistence of the club.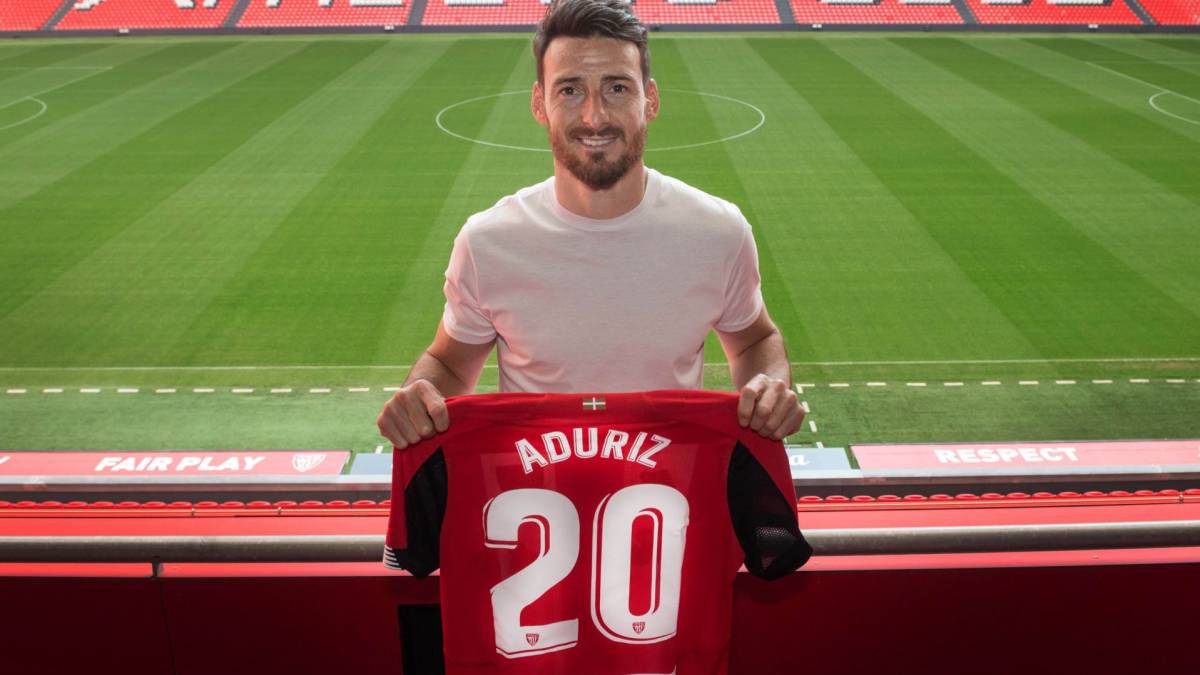 Aduriz signed in the morning his renewal with Athletic until 2020, when he will be 39 years old, and hours later he exhibited in San Mamés his joy for prolonging his career as a soccer player. He revealed that he made the decision to stretch his career this week. "I am very happy to extend this dream". I was bitter about this bad season, because of the injuries, and I did not want to throw the curtain like that. "I felt very wrapped up - he valued - I have spoken on several occasions with the club, with Rafa (Alkorta) and the coach ... they have supported me, given their support, wrapped up a lot in this decision. I have had many doubts, I have not been at a competitive level good enough to help, I do not feel good, but rather responsible, I had doubts and saw justified. It has not been easy. They wanted the League to end and make a decision. I can improve physically, I believe that I am able to contribute many things in the field and what is required of me for the club, I will do everything that is necessary ".
Aritz I hadn't been injured for so long ever. More than three months He admitted that "it is likely" to be his last contract "as a player," he added with a laugh, looking at Alkorta. "You do not know the illusion that makes me wear that shirt and go out on the field with forty-one thousand people helping you. There is nothing that equals being able to feel that, it is very difficult to say no to that and not to strive for it, "he continued. Not only in the club, on the street many fans encouraged him to continue and "when someone expects so much from you the fear of failure is great" .
Ha lived "hard situations in which friends and colleagues go", alluding to Iturraspe, Susaeta and Rico, "a wardrobe with which you have a lot of affinity and treatment". But he sees changes in the law of life: "In order for quick additions to be made, it is very difficult for us all to be". It looked bad in Seville, when Athletic was out of Europe and that makes him have a thorn pinned. "It was also one of the things I wanted to expect to happen, from the points that you put in favor and it has not happened, I felt the warmth of the club, the coach and the environment, the people. Putting everything in that blender ... illusion is not the word I lack, with that you have a lot of livestock. Is to continue dilating my dream is very difficult to refuse, I will do everything in my hands to be a good bet, I have a few challenges that I would like to face I have incentives ". The main one is to reach the 400 matches as rojiblanco (he has 10 left) and surpass Iraragorri as fifth top scorer in the history of the entity (it is eight goals, and the fourth, Gorostiza, 25) .
Resumió that there are objectives collective and individual. "I have the taste in my mouth to try many things, there are statisticians who are excited and I would like to certify the classification that has been lost this year". His penalty to Valladolid, without leaving the site and leveraging almost kidneys, went around the world. "It was very thoughtful, the one that I calmed down the most."
Elizabeth, Elizegi, smiled at his side: "It's a special day, we've waited and needed to corroborate, not only because of what Aritz means on the field but for what he projects in all directions: Lezama, costumes and day to day, in which he can provide many details to which we are and those that can arrive. "The sports director, Alkorta was also pleased that the 9 follow "because he is a very necessary player on and off the field, we have young strikers who want to learn and he is a very committed person and will be happy to teach them, so that these guys know what it's like to play in the first." Llorente discarded but almost: "Anyone who is under the spotlight is liable to be signed, but is in another club and we can not say anything." He was not surprised by a possible interest of the Athletic in Yeray, but "We hope he remains here."
Photos from as.com