Abuses, messes, poor results ... the Lakers play with Kidd
Kidd, after months of rumors, finally files for the Lakers but does so as Vogel's second. The bet is very risky for the franchise.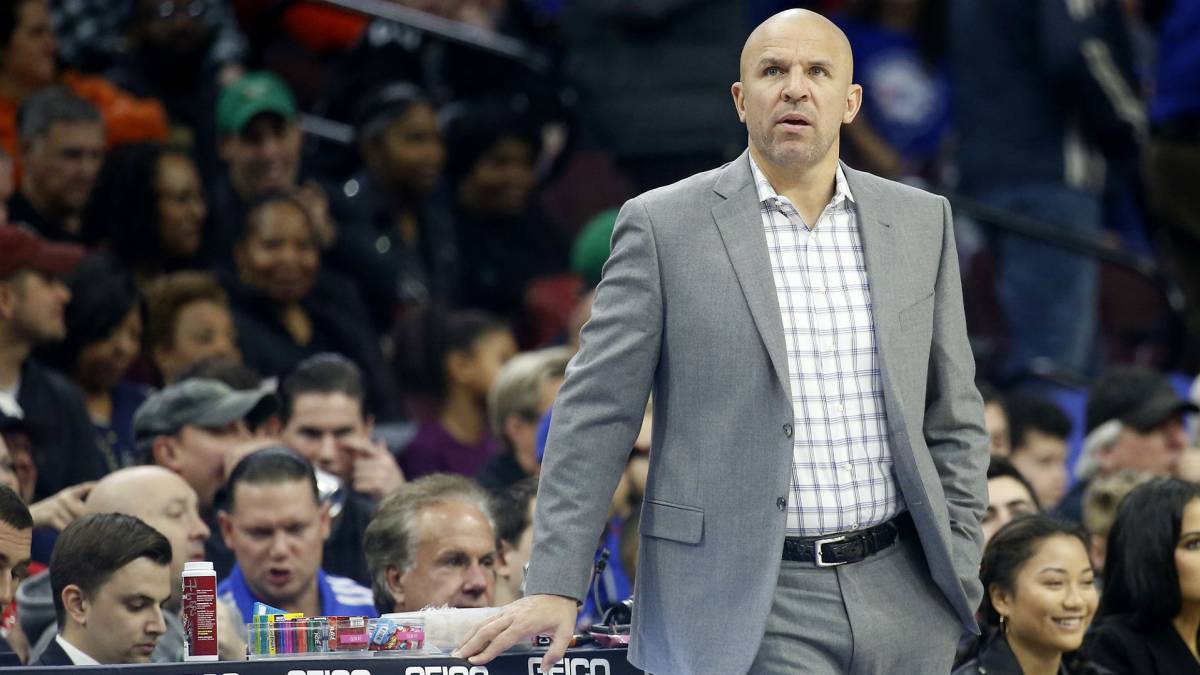 Jeanie Buss, just a year ago, the Lakers' great hope to return to the glory days built by their father, Doctor Buss, has seen his figure have been dramatically weakened since the arrival of LeBron James, a milestone that promised a better future than at the moment nor guess . The owner, after the coup d'état with which she ousted her brother Jim in 2017, now seems obsessed with her niche of power, given to a circle of flawed confidence and in which nepotism reigns. The departure of Magic Johnson, an opportunity from heaven to modernize the operation of the franchise and attract personalities of different thinking (and external to the hard core of the historic Buss family) has ended, without a single public explanation of anyone during a process that It has destroyed the little good press that was left to the current structure of the franchise, in a roll of the confidence of Buss in, and it seems that in no one else, the Rambis, Kurt and Linda, and the general manager Rob Pelinka, so next to Kobe Bryant. None of them is right now seen at almost any level in the NBA. Neither seems to be managing or deciding with sense and direction but all, or so it seems, offer Jeanie Buss a false sense of security in an institution that does not finish understanding that returning to exceptionality has to happen, at this point, by leaving completely of ella.
At least behind the scenes. Renewing or dying is not a topic in the case of the Lakers. For now, and in a deeply disappointing attitude, Jeanie Buss has chosen to die.
The search for a coach has salted all the wounds and grabbed the public image crisis of some Lakers where the players, according to the journalist Chris Haynes, process everything what happens between the embarrassment and the joke. Normal. A journey in which everything has failed, the method and communication, and which has ended with a lacerating rupture with Tyronn Lue, filtered the conditions and maneuvers of a franchise in which everyone seems afraid to yield control plots and scared by the public perception of the importance of a LeBron James that, for now, remains in a discreet background although he has expressed his disappointed surprise at the departure of Magic Johnson. Already in a position to catch who can and not who you want, the Lakers have finished with Frank Vogel, a good professional who has accepted everything that did not swallow Lue: only three years of contract, Jason Kidd on his team as an assistant Vogel wanted the position without conditions, or so it seems, and Lue no. We'll see if he ends up regretting but since today the problems, all the problems of the Lakers, are his too.
After flying over the news of the franchise, between the rumor of bad fario and jokes almost black humor, Jason Kidd has finished hired by the Lakers. Despite the fact that Jeanie Buss did not like that she spoke publicly about it even before the departure of Luke Walton. Despite the doubts that there are about him, personal and professional. Although his union with Vogel was born with the suspicion of the Trojan horse and many see a future in the not too long term in which the head coach falls and Kidd rises ... to the surprise of almost nobody. Something like that happened with Lue and David Blatt in Cleveland, and that's why maybe the former Cavs (who curiously proposed Vogel as an assistant) did not want to know anything about this option. Lue left with much more respect than Blatt of LeBron, like now Kidd although it seems that at 23 he likes Vogel, against whom he fought in very tough Heat-Pacers series in the East prior to his return to the Cavs. Kidd, in addition, has a history that makes the suspicion perfectly understandable, something that did not happen with a Lue whose behavior is usually blameless and who, for example, personally called Luke Walton to deny the rumors that did not stop coming out on his charge during the tumultuous last season that has given way to an even more tumultuous postseason.
Jason Kidd, LeBron James ... and Lonzo Ball
Kidd has not exactly earned a good reputation and his experiences as a coach have not exactly been lighting either. That it has finished in the Lakers has much to do with the false steps of the franchise and the irruption of voices like those of Kurt Rambis and even Phil Jackson, ex-partner of Jeanie Buss. Reasons there are, some with some sense and others framed, right now and unless someone knows something that should not yet know, in pure illusory thinking. I mean the rumor that Bill Simmons gave voice when he said that he had been told that Kyrie Irving was thinking of going to the Lakers, for which the presence of Lue would be an obstacle after his strange departure from Cleveland and Kidd, a point in favor since Kyrie grew up inew Jersey while the former led the Nets to the Finals. More tangible is the fact that the Lakers see him as a perfect mentor for Lonzo Ball and they know that LeBron has him in the best esteem since the 2008 Games, where he served as a veteran leader for some young stars that came to beat him in Athens 2004 and Japan 2006. Tyson Chandler, who was champion with Kidd in the Mavs of 2011 (against LeBron, precisely) would also have advised his signing thinking, also in his case, especially in Lonzo.
And if it works? The human being has an admirable tendency to make good analyzes and discard them later to favor his own suggestion: maybe this time it will turn out well, maybe it will be good for me. But, from the outset, the figure of Vogel starts weakened because what transpires is that he has yielded to Pelinka and has put in the corral a wolf who wants to be a pastor. Kidd (46 years) retired in 2013 and automatically began training in Brooklyn Nets. There he orchestrated in a matter of months a coup against General Manager Billy King. Avid for power and despite having a contract for four years and 10.5 million, he veered as soon as his intention to promote operations president to a few Bucks in which he had a hand with the new owners and where, for rejection of a NBA where some things are still sacred, toquiteó, proposed and suggested even though the team had coach, Larry Drew. That was finally his position, although he began aspiring, with in the Nets, to higher offices in the direction.
Sobre Kidd, in addition, has overflowed the suspicion of having been partial with players from his agency, Excel Sports (Carter-Williams, Rashad Vaughn, Thon Maker ...). In Milwaukee the atmosphere of the dressing room improved radically with his departure, not to mention the sporting impulse that has brought the arrival of Mike Budenholzer. With Kidd, the Bucks were a team with no more defensive plan than a high pressure against which soon they all had an antidote and with an attack that barely took advantage of the outside shot. In a radically different model, they have been the best team this season. Kidd arrived in 2014, after the franchise had to give two second rounds to the Nets, and led the team to two first rounds of playoffs and a very promising first year in which he went from 15 to 41 wins. Also laid the foundations for Antetokounmpo's conversion on base. A modest balance, with lights and shadows, that followed a similar one in Brooklyn, where the team fell to the Heat in the second round with (Brook Lopez was injured) Deron Williams, Joe Johnson, Paul Pierce and Kevin Garnett. It's nothing to write home about, and even less if the most remembered image is one in which he asked a player to push him so he could throw in his drink and take an extra timeout while cleaning the track in the final seconds of a tight finish . He took a $ 50,000 fine.
Outside the tracks, and although his second stint in the Mavs helped him improve his image and prompted him to win two Sportsmanship awards, his career was marked by the domestic violence case in 2001 against his now ex-wife. That scandal caused his departure from Phoenix and ended years later with a dirty divorce and full of cross-allegations. Beyond a line that the franchises should not cross (and with which the Lakers unnecessarily flirt), Kidd now lives in a second marriage much more stable and happy after years marked by almost all the shadows that beset many stars of the sports: betting, drinking, outrageous infidelities (cheerleaders, executives of their franchises, journalists ...). Nothing more to sign for the Knicks, his car drunk crashed a phone booth. In short, it is legitimate to think that neither personally did the Lakers have any need to get involved in this.
One of the great bases of history
With his balance as a coach for now not beyond the approved scraping, and that with generosity, de the only thing that there is no doubt is why it seems an ideal mentor for a Lonzo who, in addition, has always been compared by physical and style with that of San Francisco. Super star of high school and college, number 2 of the 1994 draft and 10 times all star, Kidd has a champion ring, two Olympic golds, five nominations for the Best Quintet and four for the Best Defensive Quintet, was co-Rookie of the Year with Grant Hill and is the second player with more assists in history (12.091 for the 15806 of the unreachable John Stockton) and the fourth with more triple-doubles (107) behind Oscar Robertson, Russell Westbrook and Magic Johnson.
Es , in essence, one of the best bases in the history of basketball and a technician still young and, therefore, with possibilities of straightening thethings that were professionally twisted in Milwaukee. But the reality, seen the entanglements and scandals of the past and view the need that the Lakers now have to establish a coherent and healthy culture over any short-term success, is that his signing seems an unnecessary risk and an invitation to , again, everything goes wrong. And a sample of weak thinking, lack of direction in the offices and, for dessert, little empathy with socially as sensitive issues as gender violence. Jason Kidd was not necessary, it did not seem the best option and for every virtue you can find a handful of possible problems or defects. And that in a team in full self-destructive combustion and with a deep demand for results ... and cleanliness. What can come out more, once more?
Photos from as.com