300 victories for Brembo brakes in Jerez, level 4
The Angel Nieto is hard for the Italian factory, only surpassed by Montmeló, Red Bull Ring, Motegi and Sepang (very hard), with curves 1 and 6 with a deceleration of 1.5 g.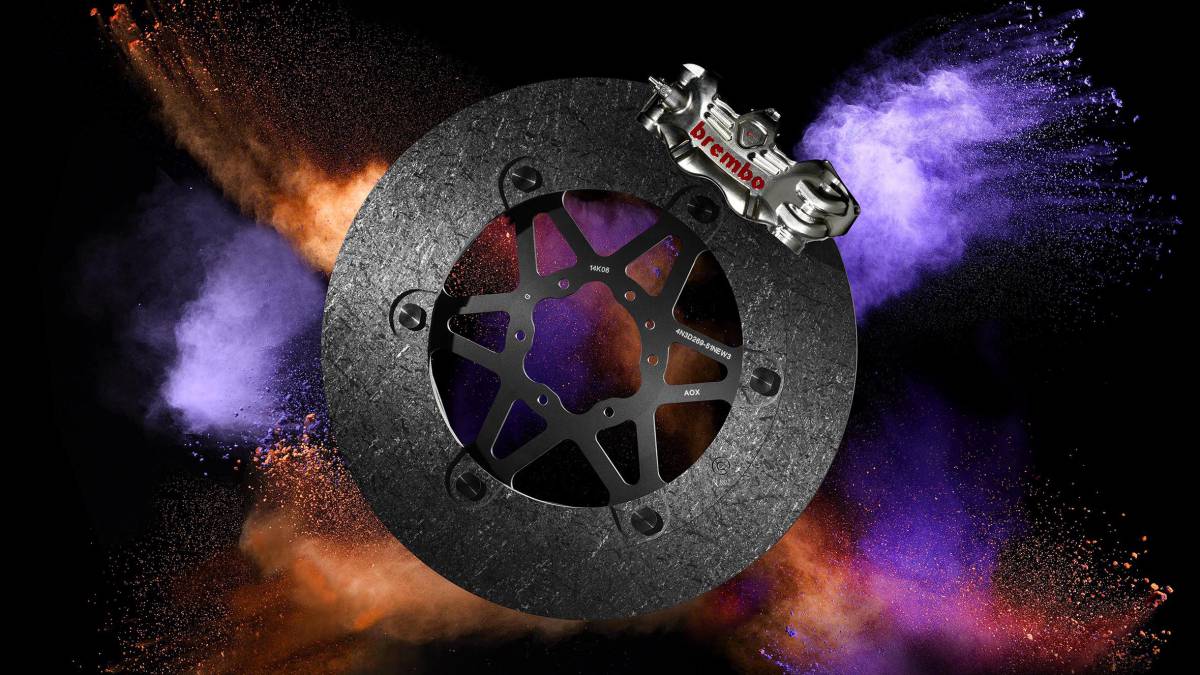 As is the case with Michelin, there is a factory that is guaranteed victory in tomorrow's MotoGP race. This is Brembo, brake mark that will reach in the Andalusian track his triumph 300 in MotoGP, which rises to 485 counting the 500cc . The difference between this and the house tire tires is that the Italian manufacturer is not the supplier only tires but the voluntary bet of the eleven teams of the championship. It will be at Angel Nieto where Brembo will reach such a figure, a circuit that classifies level 4 on its scale from 1 to 5 to differentiate the degree of demand for their brakes.
The first time a motorcycle of the queen class mounted Brembo brakes on the World was on August 20, 1978, in the GP of West Germany, in the Suzuki RG500 of the Gallina team that piloted Virgilio Ferrari and with which he got the victory. Since then, the driver who has crossed the finish line most often in MotoGP with these brakes has been Rossi (76), followed by Lorenzo (48). And at the factory level, Honda has won with them 142 times and Yamaha 108. All for a total of 30 drivers titles and another 30 constructors.
In the Jerez-Ángel Nieto, which only has ahead at level of difficulty for Brembo the tracings of Montmeló, Motegi, Red Bull Ring and Sepang, the most demanding points are the curve 1 and 6, renamed yesterday as Dani Pedrosa. In both, a deceleration of 1.5 g.
is produced. The components of the braking system are made up of carbon discs and pads, with aluminum monobloc calipers, with a super efficient performance from 200 degrees. These components for MotoGP offer many peculiarities. A disc level: the range of temperatura of efficiency ranges from 200 degrees to 800 (for a street sports bike is from -50 to 600 and are steel discs instead of carbon like those of MotoGP); they have a duration of of 800 to 1,000 kilometers (of 50,000 km on a street); and a weight between 1 and 1.2 kilos (1.4 in street). At the pastillas level: the temperatura maximum that holds is 800 degrees (of 400 on a street sports bike and instead of being carbon like those of MotoGP are made of organic materials); a life from 700 to 900 kilometers (from 7,000 to 9,000 in a street); and a peso of 50 grams (125 in a street) .
Difficulty level of circuits for Brembo
GP of Qatar: Middle
GP of Argentina: Middle
GP of the Americas: Middle
GP of Spain: Duro
GP of France: Medium
GP from Italy: Medio
GP from Catalonia: Very hard
GP from the Netherlands: Very easy
GP from Germany: Medio
GP from the Czech Republic: Duro
GP from Austria: Very hard
GP from England: Medio
GP from San Marino: Medio
GP from Aragón: Duro
GP from Thailand: Medium
GP from Japan: Very hard
GP from Australia: Easy
GP from Malaysia: Very hard
GP from Valencia: Medium
Photos from as.com