Zidane: "There will be no debate about the goalkeepers, it will be clear"
The coach insisted that there will be changes, but defended his staff: "It is disrespectful to talk about cleanliness in summer, we must respect those who are here."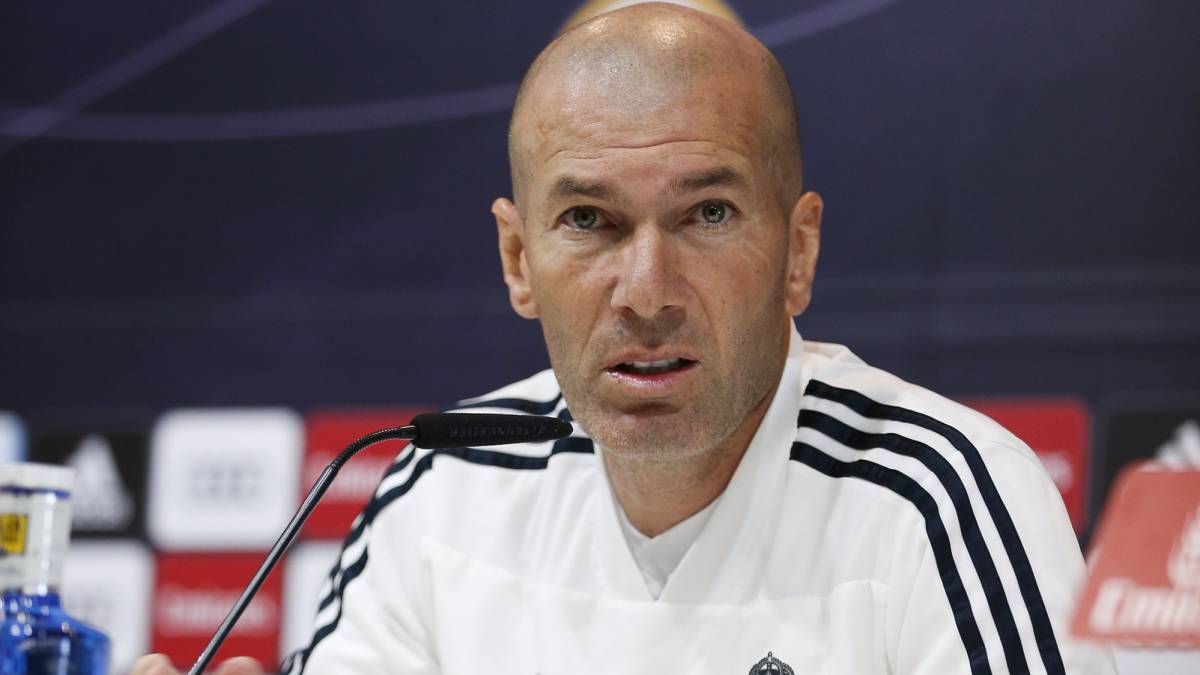 Zinedine Zidane appeared before the media in preparation for the League match against Valencia (tomorrow, Wednesday, at 9:30 p.m. at beIN Sports). The coach of Real Madrid addressed the current situation of the team: defended the ownership before the Huesca of his son Luca, spoke of the future of Varane and, although he confirmed that there will be changes, said that it is disrespectful to talk about cleaning in summer ...
How important is it to keep the rotations in Valencia? "He said after the match against Huesca that we are going to have changes in Valencia and that is what we are going to do, change some players and make a good game. The game is very nice, of those who like to play. We're going to try to make a good match even with a slightly late schedule, but nothing happens. "
Did it bother you that Luca's personal side is attacked instead of the sports side? " It does not change anything. The people who know me know that Luca is here on his own merits. He is a player of this squad, of this club for 16 or 17 years, canterano. We can talk about Carvajal, the debut of many players here and Luca is one of them. Then the people who think and want to go for the personal side do not care. "
Varane wants to leave. Can you imagine a Madrid without Varane? "No, I do not want it either. We do not want. He is a player who is young, they are eight years here, he is doing well. They are things in life, but I see it well. He did not say anything to me. Then, if you know something ... What I'm going to tell you about. The important thing is what the player tells me and for the moment he is in the best club in the world. He has won a lot of things and I see him well. "
Do Madrid need a cleaning in the summer? Do you think Bale will continue? "It's the same. There are many things that are spoken to change, what will be done ... And there is no need to talk. You have to respect all the players that are here. Talking about cleaning seems to me a lack of respect. I'll confirm: changes we're going to have to make, but it's not the time to talk about that. We're going to have time to talk about that later. "
Can doorkeepers be mixed in competitions? " It depends on the goalkeepers you're going to have next year. At the moment I have three good ones and we will see what we do next season. There will be no debate next year about the goalkeepers. It's going to be very clear. "
Would it hurt to tell players that they have given everything they do not have? " This is life. Winning three Champions there are players who play less, but in a template is always going to be like that. It's not going to happen to me that I do not have a player. But if there are changes, I'll have to tell a player that I do not have him. At the end of the season we will see and be honest with the player. I'm not going to change my way of being. "
Do you decide highs and lows? " I'm the Real Madrid coach. Something I have to say. But here is an institution. It is an important club and there are people who rule. Things become joint. I am the coach and I make decisions of any kind ".
What would you like to reinforce? " You will see, you have been direct and me too ".
How do you see Marcelo? " He is a player who has played little lately. I love Marcelo. As a player, what he has done here has been phenomenal. When you play a little worse, you discuss a lot. We will always need you. It's good and we're always going to ask for more. Lately he has been questioned a lot but I love it and I want him to play many more games from here to the end. Without detracting from what Reguilón has done, which is the second side and will also play. "
When will the planning begin? " I talk to the club about what we want, we are already doing it. they are going to do at the end of the season ".
Is the template mentally weak? " It's costing us a bit, but I tell you, when I say that, I tell you that they are professionals and when they enter the field they want to win the game. Can we do it better? Yes. And we're going to try it, we do not have to say anything more this season. "
Do you need a nine for next season? " Sorry, I accept your question, but my answer is we'll see the next year ".
How do Bale's whistles affect you? " I do not know, whistles are never a good thing They also whistled at me, you have to accept it, you have to have personality for it and the players who are here, they have it. I'm talking about a difficult season. But before the fans encouraged all the players and it seemed good. Of the future of Gareth and other players, at the end of the season. There are nine games left and it will be seen. "
Is it the last week to think that the League can be won? " It's very difficult,But we are going to fight to stay as high as possible. For football and for living it as a player, everything can happen. We have to do it well. Regardless of one team or another.
Work methods: "I do not think I have changed What I thought nine months ago I think about it now and in that sense, I want to make progress to the team I lead. to play when you prepare the game, the important thing is that the opponent can do it and we can do better than them and when we have the ball we must show what we have worked. here at the end of the season ".
" Have you already told the dressing room that you want to leave?: "He has not said anything about it, he has not said that and I want him to stay" .
Photos from as.com