Zaldua: "It is normal for people to be angry when there are no results"
The right-back San Sebastian plays at the Camp Nou 100 games with Real Sociedad at the most difficult time of the season.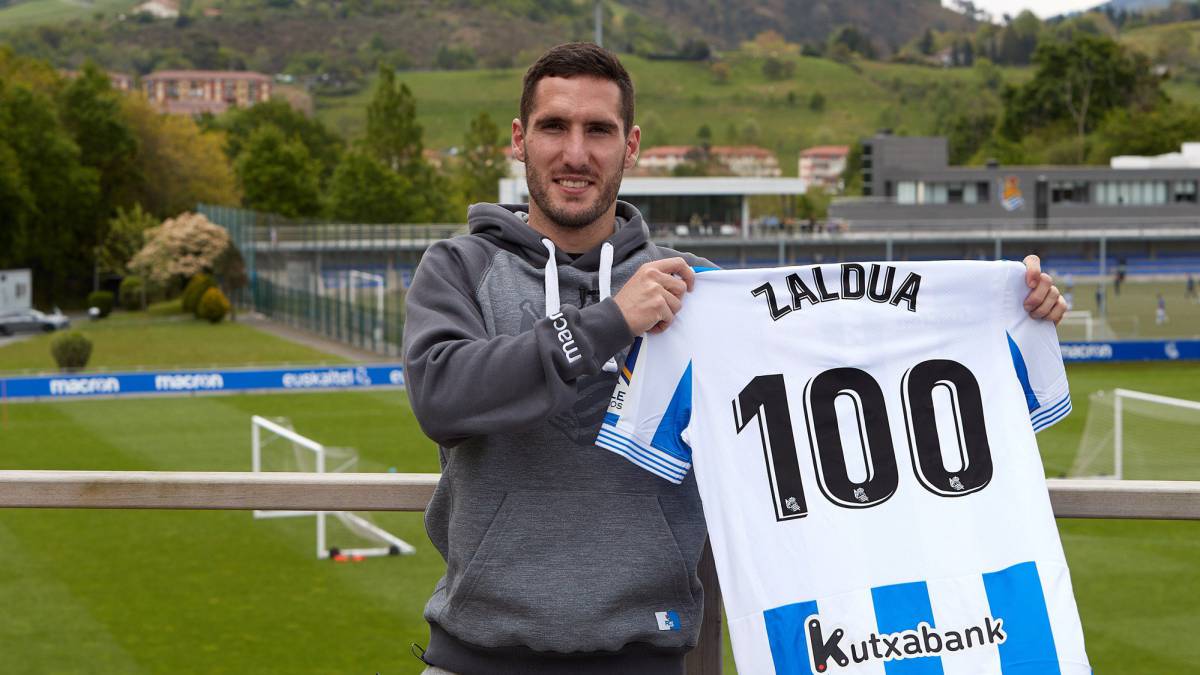 Joseba Zaldua, canterano of Zubieta, right side and Donostiarra, who had to leave a year loaned to Leganés to return with more strength and gain a spot in Real's eleven, will play his 100th game with the first txuri-urdin team in a complicated moment, with Europe increasingly complicated and the fans very disenchanted.
-How do you feel that disenchantment of the fans reflected in the whistles they received after the draw against Eibar?
In the end we do not like it, but people You have your right to show what you feel. We will try to change those whistles for applause, for that we work, although sometimes we do not get the way we want things. Tell them to continue supporting us, that now more than ever we need your support, that we will surely have it as always, and that together we will manage to finish the year.
-But do you understand it?
A see, when things do not go It is normal to get angry. We also go home annoyed. But that's the way football is, sometimes this happens too. Assume it, face it, see the mistakes we make and try to improve.
-In this context you get 100 games, at least one joy ...
-Yes, very happy and proud to be a figure with the Real. I expected to have arrived earlier, but everything is coming due time. And I hope they are the first of many more.
-He says it because he had to leave on loan one year to Leganés ...
Well, yes. But I needed to clear my head a little, take a breath, because the injuries and other things were not enjoying as I expected. And my time in the Leganés helped me to feel important again, to recover confidence and return with more strength to the Real.
-What moment do you have of these 100 games?
The best moment for now has been the debut. It's with all we dreamed all the kids that come to Zubieta, but I hope more good times come.
-Do we leave this bad time of the team to the many casualties they have?
No, it does not have to be an excuse. We are a broad and competitive plant. It is true that we lack important players, but today there are some and another day will be others, but we are a team and we are all important, to face all the good and the bad. Ahopra we have to live a situation a little complicated, but surely we turn it over.
-¿And can influence the slump of the last games the bisoñez of the template, with an average of 23 years in the eleventh of the last game ?
I do not believe. Rulli and I were the oldest against Eibar. But for me it is a good fact, because it is to see that Zubieta and the quarry are still functioning and continue to draw players, which is the future of this team.
-Among those young people was Barrenetxea, who is only 17 years old and was a starter against the Eibar ...
It is a player who has a lot of quality, it is very good, but it was not the best match to start and dissapear, taking into account the opponent, but he has many years to grow and a great player is sure to come out and we enjoyed with him.
-What happened against Eibar in the second part?
We were not at all comfortable at any time, they were better, and we were not able to counteract them, but within the bad we managed to get a point, which As the match was, it is positive.
-Europe to eight points, do we really keep looking there having to visit the Camp Nou and receive Madrid?
Yes, why? no? It is clear that it is very complicated, we know it, but the mathematics are there, they still give us the numbers, and until they give, we must continue in the fight.
Photos from as.com