Write: "Aspas is perfect to play against Huesca"
The technician reveals that the Moañés was not hindered by inactivity. He left out the call to Araujo, Sisto, Hjulsager and Jensen by technical decision.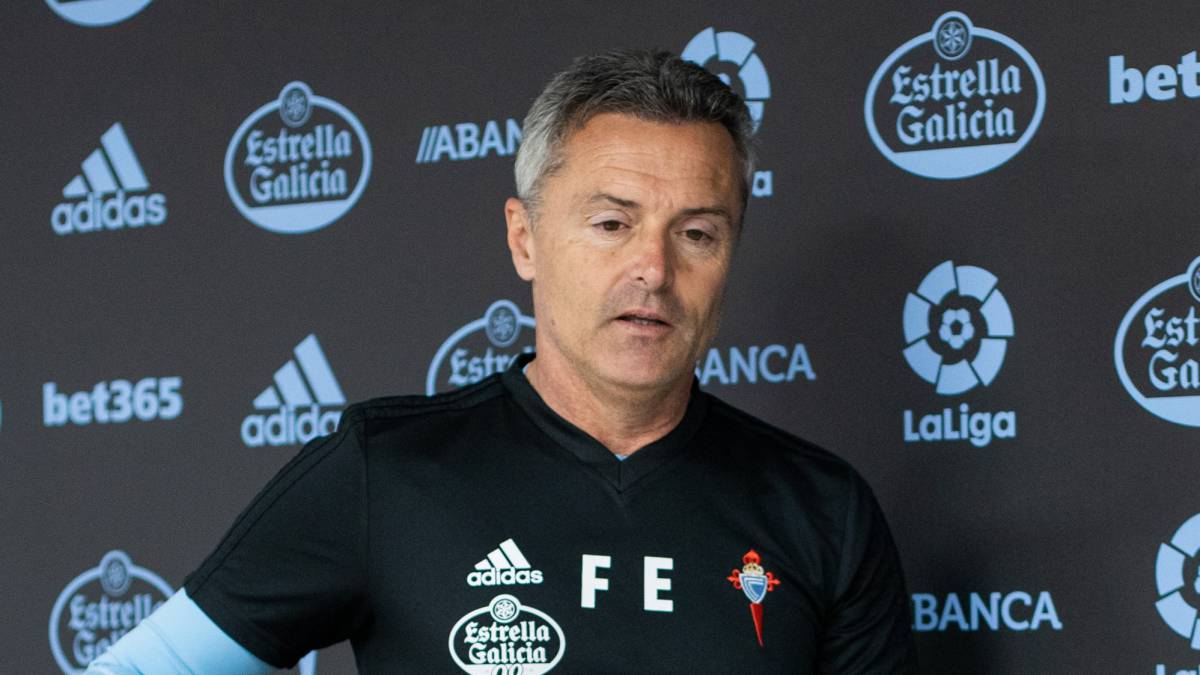 Fran Escribá appeared before the Press after the session this morning. Later he facilitated the list of summoned, in which they did not enter Néstor Araujo, Mathias Jensen, Pione Sisto and Andrew Hjulsager by technical decision, besides the veto Radoja and the injured Juncà. Yes travel the goalkeeper of the subsidiary, Iván Villar, in the list of 19 players.
How is administered the rush last Saturday?
"With much normality. We enjoyed the euphoria of the fans, but the next day we already had all five senses in the game of Huesca. We analyzed the things we did well and badly on Saturday and it will be good for us to face an opponent as intense as Huesca. "
Is there any injured?
" Only Juncà, who is still recovering. The rest are all available "..
Will rotations?
" More than rest, they are all perfect, there may be some change because there are people who are training very well and because the party, even being similar in some things , is not the same type of rival. "
Olaza finished with cramps, how are you doing?
" He has not played for a while and still reached the 80th minute without complications. In the end the pace is given by the competition, added to the training ".
And Aspas is ready to take another beating?
" Yes, yes. He ran like everyone else and then his intelligence makes him weigh his efforts well. It's perfect. "
El Huesca comes from competing in the Bernabéu and is doing it in all games.
" Yes, it has been competing for every game for months. It is a team that never gives itself and has arguments to believe in salvation. It is a team that competes very well, which generates many actions in the opposite field based on direct play, of deep people and I am sure that it will be a very uncomfortable match. It will be in the line of the other day, of the small detail, of suffering. Until the 90th minute, anything can happen. "
Did the team give too many facilities in the center line of defense against Villarreal?
" Defensively we gave a lot in the first half. Analyzing the game, we suffered several counterattacks in the first part in our area because we were not able to stop them in the beginning and they caught us badly placed. I already said in the post-game that one of the keys was to correct our position behind the ball and from there we did not run anymore. Tomorrow will also be key, because they have fast players like Ávila or Cucho Hernández. "
What do you think of Enric Gallego?
" I see him as an important player because he plays well. Not only is he a great player who is good for direct play, he combines very well with the other type of strikers he has. Holds the ball very well so that the second line arrives and then in the direct shot is a guy who has the ability to score. The fact that he has arrived so late at Primera and has had such a quick adaptation proves what he is, an excellent footballer. "
Is it important to play with Huesca's anxiety?
" I do not see them with anxiety. I understand that it is the team that goes a little more off the hook and has some more need, but if they have been able to prove something, it is that they have never been seen in need. Not at times when they were much more off the hook than it was now a team that transmitted that, on the contrary transmitted intensity and courage, in addition to good football and order. They have a good template, but it is conditioning the bad start they had. "
Wait for a special mark on Iago Aspas?
" No, logically they will have worked on the type of game we have, now conditioned with the return of Aspas . They know that it is another type of striker and they will have worked it. They will do everything they can to annul him and the rest. "
What will be the keys to the match?
" At the soccer level, it's a team that runs very well, so when we attack we can do a lot of damage in transition. Then they have another very good thing, they are very powerful at set pieces. We have to try not to give silly fouls and then be focused on the direct action and the second play ".
Habrá full in The Alcoraz. Are you afraid that the environmental factor is decisive as it was on Saturday?
"It is an environment that we all like, be it for or against, and it is something that will happen in all fields from here to the end of the season . I am convinced that we will spend Sunday here against Real. In the field you abstract, the inside ones have little effect on you. "
This morning there were queues in Balaídos to get tickets to the Real.222222
"I think it's fantastic. People had already shown that they are aware that we are playing a lot and they want the team to get out of there. On Sunday we will have full and sure that the rest of the matches will be the same. If the coaching staff and players can do something to make the environment even better, we will collaborate in everything we are asked. "
How important is the Huesca game in the race for permanence?
" Mucha. First because we would link two good results, which I always said would be key, that is why the importance of the week. If we are able to link three good results, we would see the future in another way. Even though we are aware that nothing will be done, two good results will make us think that we are closer to the objective. "
Does it claim seven points this week?
" Ambition makes us think we want the nine, but if before starting the week we would have talked about getting seven out of nine, we would have all said it was an excellent result. Even so it would be, but now the ambition makes us think that we would only sign the nine. "
Why did you leave out Fran Beltrán in the last list?
" Fran is an example of a player. There are people that it hurts to leave out, but then the game proved me right. He had to take a minimum center and also Kevin because Olaza's situation made you think he might not reach the end of the game. We thought about leaving a defense outside, but then we would have encountered a problem. That's why I sacrificed Fran, but it's nice to see him train and it hurts to leave him out. The case of Araujo is that he came half ill and, in fact, trained on the sidelines because he had gastroenteritis. Now, except for Juncà, any discarding will be a technical decision. "
What role does Cabral have?
" The first one he has is that of a footballer. I do not have another vision of him and I know I can count on him and he will not disappoint me. The second is to be a support of the wardrobe. I talked to him before going to the Bernabéu and I told him that I wanted him to come but then he could stay outside, as it happened, but he wanted the wardrobe to know that there was someone important like him and that instead of being at home he was there. And, in fact, he made the harangue to the group as if you were playing for me, but I am also here ".
Photos from as.com