Valverde: "The best coach is Guardiola, whether he fell or not"
Valverde breaks a spear for the City coach and talks about the celebration of Coutinho: "I did not think disrespect to anyone, it's a gesture."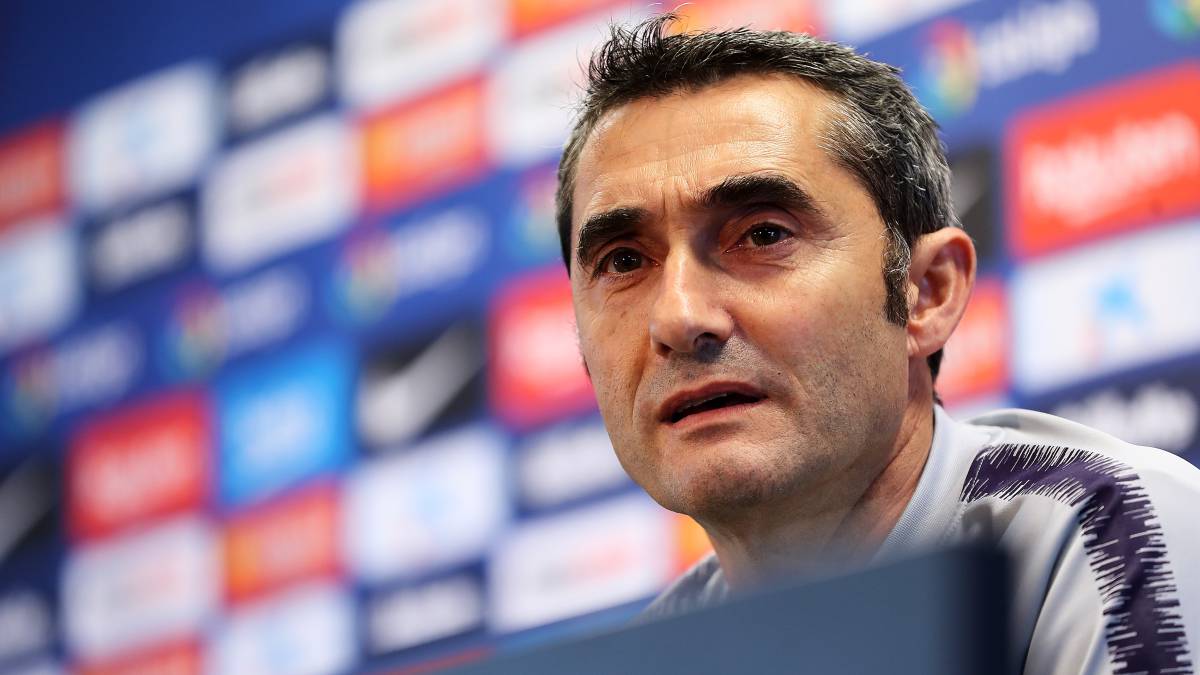 Ernesto Valverde, Barcelona coach, appeared before the media in the preview of the Barça-Real Sociedad this Saturday (20:45 hours) in which the azulgrana intend to bring the title closer. These were his impressions.
Is it optimistic to close LaLiga as soon as possible?
Nos comes Real, a team with many arguments and that relates well with the goal. But what drives us above all is the need to win. It is a week of nine points and they are the points that we need to be champions. Winning tomorrow for us means a lot from all points of view. You have to get to LaLiga and for that tomorrow's match is very important.
What would you say about Liverpool?
A powerful opponent with a forward that is showing its potential last season and this one. Right now they are in the semifinals, they have made a great tournament and they fight for the Premier. It is a very attractive match for all and it will be very difficult indeed. But the final is on the horizon and we will put everything. That said, Liverpool is very good.
Coutinho's gesture has raised dust. Was he wrong?
I have not spoken to him. It is true that he made a gesture. What surprises me is that they talk more about the gesture than the goal. It's a gesture but I do not know. I did not find anything special and I did not think it was disrespectful to anyone. We give a lot of hype to anecdotal things. Coutinho has a year in which he has suffered criticism but the important thing is that we played a quarterfinal match and I am left with that.
How is Umtiti?
Let's see how he is. The other day he did not participate in the training but we think that today he will be fine and he will participate normally.
A month ago he talked about an almost final week. The most important are the nine points?
Nos encantaría. It would be champions. In the previous ones you are approaching. Now you are close to the final moment.
What is it like right now, vertigo, illusion, responsibility?
As matches come so fast, now you almost do not have time to look. Vertigo is not there because we do not have anything either. Teams are fed with victories. When this started in July, we dreamed of being in this situation and that is how we are.
¿Criticism affected Coutinho a lot? Do you think I changed the goal of the other day?
The players are fed sensations like everyone else. When they make good games, that's exponential. And with regard to criticism, we are in the world of football and subject to continuous criticism. And you always have to face them. And Coutinho is the same as all.
Messi is in a spectacular moment, about 600 goals with Barça.
I would like to have an assortment of words but what can I say about Leo. He is breaking all the records, and those he will still beat. And it makes the public always expect something special from him and he gets it. We know what it is, what it means from the global point of view and we are enjoying that.
What is your position on Umtiti?
I have nothing to say. I understand that everyone does their research. What we want is that Umtiti is in the best conditions to compete.
What coach admires more?
For me the best coach is Guardiola without a doubt, regardless of whether he has fallen or not.
What happens can you demand more from Barça?
It's been a good season but we want it to be round. We are first in the league, we have points of advantage and we want to make it happen. We are going to play a final against Valencia and then we will see if we are in the Champions League final. We are where we want to be, but we have to specify things knowing the difficulty that it has. There have been two times in history that has won the triplet, not 57. If we get it will be ... pretty good, right?
Are you surprised to be in this situation?
We are going to win tomorrow and that will come moment when we say that we are champions. But we are not champions yet.
¿Amateurs will see an alignment more similar to that of Huesca or Atletico?
I do not know. An alignment to win.
Photos from as.com