Total crisis in the Lakers: Magic resigns "tired of stabbing"
By surprise, Magic Johnson leaves office. He says he was not happy and that he did not want to fire Walton against the opinion of Jeanie Buss.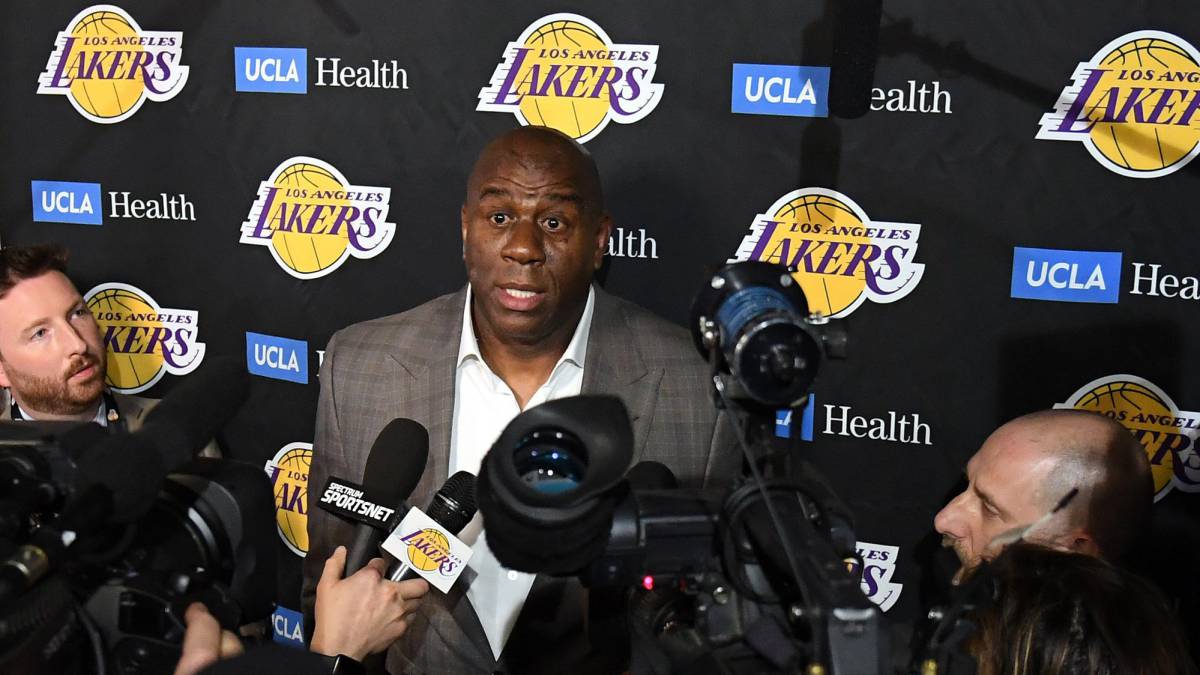 Could something else happen in what is now, in its last throes, one of the worst seasons in the history of the Los Angeles Lakers? Yes, and the last turn has been surprising to the scandalous and of course very significant: Magic Johnson has resigned his position as president of the franchise.
Magic, which in August will turn 60, is one of the great legends of the Lakers (and of the world basketball) and the great responsible for the franchise becoming what it was for two decades and what it is costing him to be now: an incarnation of Hollywood, an impressive global brand and a perennial competitor for titles of champion. Your return to the Lakers took place in February 2017. On the 21st of that month he officially replaced Jim Buss, son of the legendary owner Jerry Buss (deceased in 2013) and who was almost a father figure to him. Jim's sister and close friend of Magic, Jeanie Buss, gave a coup d'état in the balance of power of the franchise and took the lead with the idea that the Lakers would definitely return to their jurisdiction, which he considered "a mandate "that his father had left him. His solution was to put in the offices to Magic as president and Rob Pelinka, formerly among others of Kobe Bryant, as general manager.
Now Magic leaves after calling the press by surprise and making an announcement that caught almost all of them unprepared. the Lakers, also Jeanie Buss. His stage closes with a disappointing 79-108, 42% of victories that represent the fifth worst mark of the West at that time, and without having returned the team to the playoffs even with the arrival of LeBron James. That was his great achievement, and what was known is that he played a key role as "finalizer" in a private meeting with LeBron just before he made his decision, but everything else has gone extremely wrong in an annus horribilis that began with bad planning of the staff, followed with a plague of injuries and the farce around the future of Anthony Davis and is supposed to end the dismissal of Luke Walton, a technician who does not like Magic, who pressed him almost since the beginning of the season, and with a search for another great free agent in the market that has been looking increasingly complicated.
Y in recent days, as a dessert, endless information in which they have been leaking details , many of them hard, about how badly a franchise with so much history has been managed in recent times. Magic, of which he had just said that he was seen as "an absent president, who used to be away from the team," suddenly says that is "stabbed with backstabbing and whispers" because he did not want to tell Jeanie Buss that he was going to fire Walton and, finally, because he was not "happy" in this assignment that he assumed due to his relationship with the Buss family and from which he got off the ground, without completing much less what he promised with a Rob Pelinka that surely is the next to leave since it is now in an untenable situation, also very touched by everything that has leaked over his work in the offices. The situation changes radically, however, for Luke Walton, who now has the possibility to continue since Jeanie Buss was always his great defender and Magic, his scourge. In the last hours it has even been leaked that from the surroundings of Anthony Davis, the great one wanted, the figure of the still technician of the Lakers was seen with very good eyes. Another possible obstacle to his dismissal, which some saw fulminant as soon as the season officially ends for the Angelinos.
This has been the highlight of the surprising appearance, literally between laughter and tears, Magic Johnson:
"I want Jeanie Buss like a sister but today, after thinking about the meetings I've had with her in recent days, I'm going to resign my position as president of the Lakers, I have a wonderful relationship with her, she gave me the power to do things I think that I will always prioritize our relationship, and I love her very much, so for me everything was much more fun as I worked as an elder brother and as a counselor, as an ambassador for the whole world. of Dwyane Wade in Miami, today ... and I could not even tweet about it. When Ben Simmons wanted to talk to me for advice, we did everything the right way. But even in that case it was painted as if I were the bad guy. But I could not do things I had always done, I could no longer be part of the lives of people who came to me for advice. Everything was better for me before and I thought about it now, before tomorrow I had to make a drastic decision about the life of apesona (in reference to the dismissal of Luke Walton). That's not fun for me, it's not who I am. I did not want to put everything in the middle of my relationship with Jeanie. I know that she loves that person very much, even though she gave me the freedom to do what I considered best. I just want to have fun again, be the person I was before accepting this job. LeBron came and we were in the middle of the road ... I think this summer with the other star that arrives, the one that they finally bring, this team will be in a position to compete for a title with the young players who are growing so much. Jeanie does not know I'm here saying this, because I know that otherwise I would be crying like a child in front of her ... in fact I'm about to cry now. This is the right decision. So that person can continue to lead the team, train it in the right way. I got tired of the stabbings in the back and the whispers. All that does not go with me, I do not like anything that is happening. I just hope that the Lakers starting tomorrow can continue on the right path, which I think they are. The injuries have done us a lot of damage. But I have really enjoyed working with Jeanie, side by side with her. But sometimes you have to think about what is best for your life. Now with all the tampering and all that I can not even put a tweet, I could not congratulate Russell Westbrook the other day when he did his 20 + 20 + 20. I have had a great life. I have a great life beyond this work. So I'm going back to that beautiful life I had. Someone will have to tell my boss ... because I know he's going to make this sick. But I could not tell her face, and that just yesterday I was with her. "
Photos from as.com