These are the arbitrators appointed for the day 34
Adrián Cordero will call Alavés-Barça (Tuesday, April 23), Hernández Hernández, Atleti-Valencia (Wednesday, April 24) and De Burgos Bengoetxea, Getafe-Real Madrid (Thursday, May 25).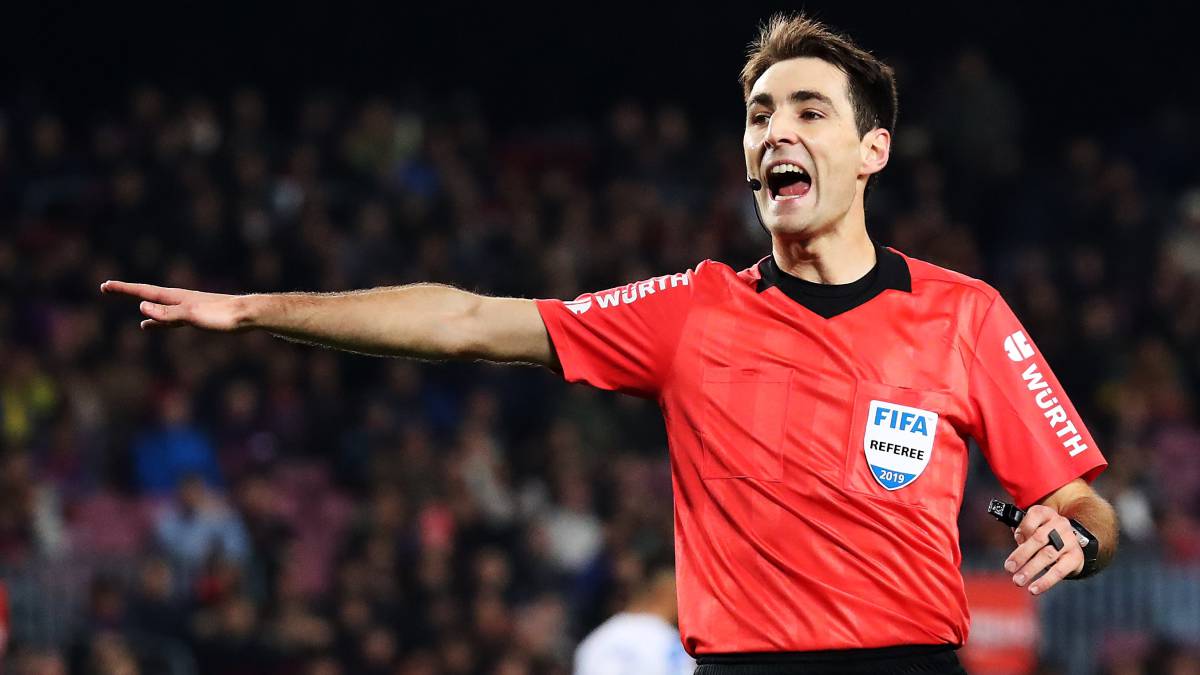 The Cantabrian referee Adrián Cordero Vega will lead the Alavés-Barcelona, of the thirty-fourth day of LaLiga Santander, which will be played during the week, and which will also see Alejandro Hernández Hernández at Atlético Madrid-Valencia and Vasco Ricardo de Burgos Bengoetxea at Getafe-Real Madrid.
The 34th will start on Tuesday 23 of this April, with Huesca-Eibar, by the Catalan David Medié Jiménez; to close on Thursday with the aforementioned duel from Madrid.
The appointed members, by the Technical Committee of Arbitrators (CTA), for the 34th round of LaLiga Santander, are the following:
- Tuesday, April 23
Huesca-Eibar David Medié Jiménez (C. Catalán) .
VAR: Carlos del Cerro (C. Madrileño)
R. Valladolid-Girona Juan Martínez Munuera (C. Valenciano) .
VAR: Mario Melero (C. Andaluz)
Alavés-Barcelona Adrián Cordero Vega (C. Cántabro) .
VAR: Antonio Mateu (Valencian C.)
- Wednesday, 24 April
Atlético Madrid-Valencia Alejandro Hdez. Hdez. (C. Las Palmas) .
VAR: Pablo Gonzalez (C. Asturiano)
Leganés-Athletic Club Ignacio Iglesias Villanueva (C. Gallego) .
VAR: Alfonso Alvarez (C, Catalan)
RCD Espanyol-R. Celta Alberto Undiano Mallenco (C. Navarro) .
VAR: Eduardo Prieto (Navarro C.)
Levante-R. Betis Santiago Jaime Latre (C. Aragonés) .
VAR: Xavier Estrada (C. Catalán)
- Thursday, April 25
Sevilla-Rayo Vallecano Guillermo Cuadra Fdz. (C. Balear) .
VAR: J. María Sánchez (C. Murciano)
Real Sociedad-Villarreal José Luis Munuera Montero (C. Andaluz) .
VAR: JL González (C.Castellano-Leonés)
Getafe-Real Madrid Ricardo de Burgos Bengoetxea (Basque C.) .
VAR: Jesús Gil Manzano (C. Extremeño)
Photos from as.com