The Levante is complicated and the Huesca knows little about the point
The Granotas again missed two advantages and lost another chance to leave salvation a stone's throw away. Roger and Morales scored but Huesca equalized twice with goals from Gallego and Avila.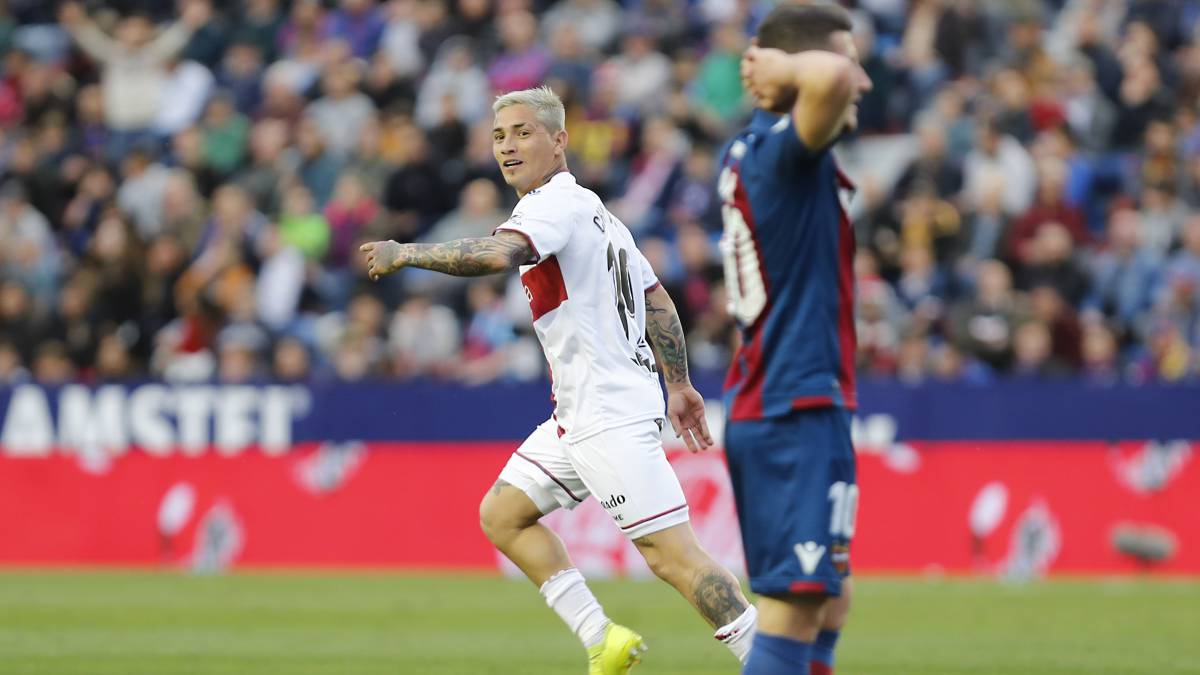 El Levante seems determined to complicate his life. And the Huesca, in staying a year more with the great. The Granotas, again, they let themselves be traced and the 42 points still remain very far. Those of Francisco, again, pulled to claw to draw a draw that is worth little but keeps them in the fight. From infarction, the seven days that lie ahead.
Avisó Roger just started. Top to center back of Coke. He folded Santamaría's hands, but Dieguez took it out of the woods. Y the second did not fail. Jugadón de Morales and the gunman waits at the far post to finish at pleasure. The Levante was advancing, but the contra was suffering. Postigo and even Rochina had to work hard to extinguish fires behind. The speed of Cucho, Avila and company was constant danger.
Problemas for Paco. Mandatory change Postigo and Chema broke camp. Man for man. It did not change anything else. And Cucho was still doing his thing. The best she had in the first part crossed her a lot. He left the band. J111111usto before, Rochina had his classic left-footed shot from the front to make the 2-0. But this time it was not like Villarreal or Eibar, it came out to the hands of Santamaría.
Justo before the break, Morales had the clearest. He did not take advantage of Dieguez's gift that he did not succeed in clearing and it was clear to the Commander . Empty door, but she bit her, she did not expect it. And the Huesca goal was quick down. This is how we came to rest. Many fabric to cut yet.
Franciso moved his chips. He took out Ferreiro and he hurt. The Huesca little by little peeked each time through the area of Aitor. And each time with more danger. He had no other. Levante had gone to a 4-4-2 that did not finish coupling and the hands had caught the point. Each center was a ¡uy! Until the woe arrived Late lateral to the far post. Enric wins the back to Coke and head butt almost at pleasure.
El Huesca had life. But it did not last long. Two minutes exactly. What it took Mantovani to raise Morales in the area. The Commander did not fail. Francisco's had 25 minutes to hold on to Primera. And they did it, again, on set pieces. Where the Levante hurts. Each ball hanging to the area is almost worse than a penalty for the granotas. And Avila took advantage of a bad clearance to shoot Aitor.
En the final stretch, madness. The third could appear on either side. Gallego, the crossbar. Mayoral just left to have it with Santamaría. And Juanpi, on a counter, released a left-footed shot that found a good hand from Aitor. No one guessed right. None failed. But seeing how the thing tightens, they have much left to row to sign a salvation, which will be more expensive than it seemed.
Francisco: "This is the Huesca I wanted and the people of Huesca."
What is your assessment of the match? In the end a point is not worth it. Of very little. We always look for the three. The team is showing that they know how to overcome many clubs to go behind on the scoreboard. We had chances to score some more but it's worth little because the days are passing and we do not add three in three.
In the break he preferred to put another midfielder ... In the end one decides according to the situation of the match. We have generated chances with Cucho but he was not comfortable and successful. We have got David who has given us a lot. Then Juanpi too. The important thing is that no one hides despite the situation. The team is giving it all after eight months at bottom.
¿ What happens to them in the first stages? We have faced a rival that 85% of the parties have played with a line of three and today it has changed. The team has had several good times. We had a goal canceled too. We have changed in the second part because we have tightened more because we lacked a tad of intensity.
Aposed by three strikers ... We have to take advantage of their moment. Today two of them have scored again and Cucho has done his job. We have adapted to the rival.
Two points of nine ... Mal. But we can not blame anyone. They are not worth us at all. Now we have to compete with Barcelona but we have to continue. The delivery is maximum and that's what we have left.
Marcan but they fit ... Nothing is worth anything to stay behind. If we want to make goals we have to neglect a little. But the team has to be brave and daring. We will be close to losing but also close to winning and so we will continue.
¿Satisfied cn his work? This is the Huesca that I wanted and the people of Huesca. For me it is a pride to see the people that dismiss the team with enthusiasm. We have our limitations, that's why we are there, but we can not reproach anything.
Paco López: "We are sad but not down" .
What analysis do you make of the game? Have you won one point or have two been lost? We had the illusion of winning three points and the feeling is losing two. After watching the game, with so many alternatives, we have lived different times and do not know what has been better if we do not lose or only draw. We started very well and something that worried us before the game has happened. We knew we would get ahead, we were convinced. And we had the doubt of how to manage it. And in the field it is more complicated and both times we could. Again set pieces. Two very, very, very controllable actions. It has penalized us a lot. The team after the draw has not been comfortable and we could have the anxiety.
How is the locker room? Right now, after the game, we are sad, but we only have one option. We are sad but not dejected. We must try that this does not happen again or that it happens as little as possible. We must continue showing the identity that we have shown in many matches of the championship. There are many teams involved and the one that manages it better will cope better. We can not let this take our toll. We must stop fears and concerns.
Is it time to affect the psychological? It is one more aspect but it is very important. You have to know how to live the moments of the game. You have to try to be us and have personality. You have to have a cool head and be smart. We are not going to give up. The dressing room is strong and we know what to do because we already had it last season.
He has played Jason at home again ... I do not want to be heavy. I said that we will always do the best for the team and we will continue to do so.
Francisco has said that if someone wanted to win the game it was them ... I think it's a bit daring. We wanted to win, I do not know if more than them, another thing is that the game leads you to one thing or another. I do not agree.
Other time the match has not been closed ... If we had the magic wand we would close the game. We had to make the 2-0 and the 3-1. You try to make the changes based on what we see on the field. Due to the characteristics of our players we do not know how to get into the area. Our way of closing matches is to score a goal more than the opponent. If we had bet to sign players of other characteristics would be another thing.
Photos from as.com