The Champions is not a dream if you have an Angel
The Canarian resolved with a great goal an equal match and with little level. The azulones will continue in Champions for the seventh consecutive day.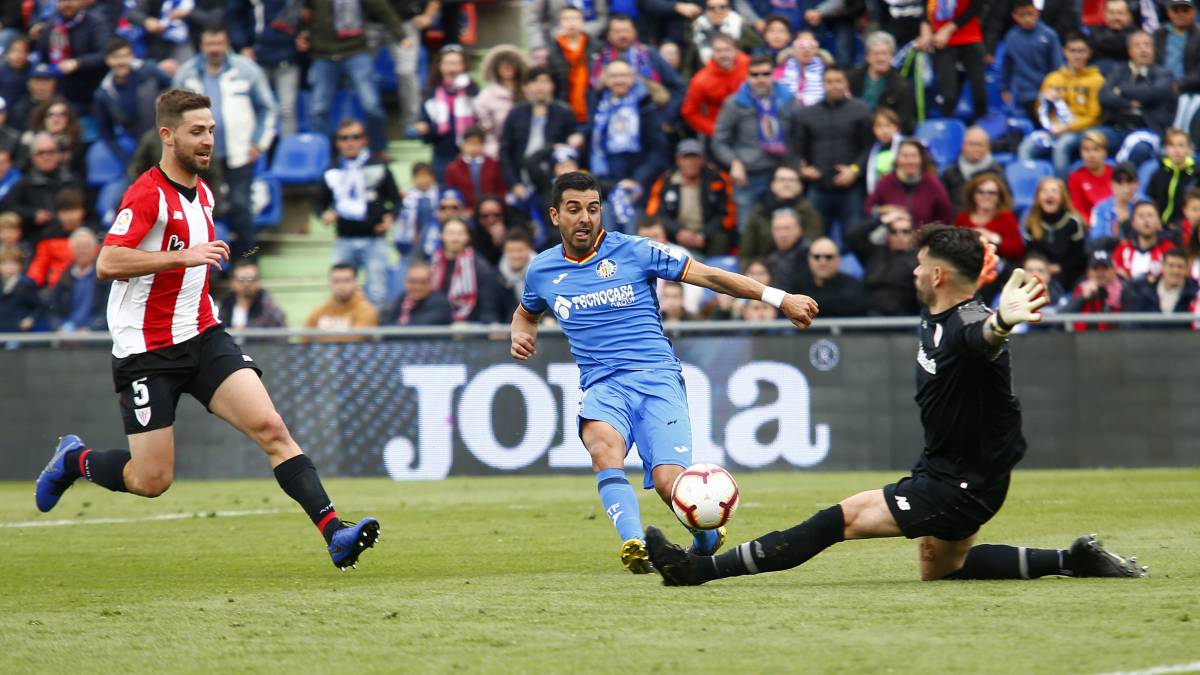 Once upon a time there was a front row that reached its thirties with more work than name. They got together in a very humble team and took him to conquer distant lands of the old Europe. As in the previous chapter, the protagonist of this is called Angel Rodriguez. Canario, by profession talent with talent. His soul friend Portillo assisted him with mastery. The story that is every day closer to becoming reality ends with the Getafe playing Champions League. Next episode in Pucela.
Starts the first time. End of the first half. That's all there would be to tell of 46 infamous football minutes in which three passes were not shared between the two teams. Something better Athletic, that at least jugó more time in the field of the opponent. And he also had the only chance that Córdoba decided badly, scoring at the hands of Soria. On the way two changes. In the Vizcaya by Ibai I left the band to Susaeta. In the Madrileños of Foulquier, that stood out in the general awkwardness not guessing or in the controls. Bordalás replaced him by Portillo in search of some light in the darkness.
Bordalás was so reservón of exit that cada change was an ode to the attack. Of six defenders in the eleven passed to three pure forwards and the party was leaning on his side. As soon as Angel entered the field, the other two batters made the best occasion azulona. Molina put the intelligence and saw Mata that cut well in the air to make the necessary space, but his shot was licking the post. The declaration of intentions took effect and the Coliseum began to push. It was not great, at least a few minutes of entertainment.
With the game fully opened, the final leg was reached with the feeling that none bothered to tie. Continue in the European fight without taking prisoners or letting down. If anything Geta at least had more gunpowder on green. It was then that Angel appeared to define as such. He partnered with Portillo made an oriented control of sublime quality and beat Hererrín on his way out. All the good of the game gathered in one play. The move that puts Getafe in Champions at least until after Easter. Athletic must resurrect from this club that away from Europe.
Garitano: "We made two mistakes and one condemned us
What is your assessment of the match?
The game has developed like all League games here. you pass because they do not let you in. In the first half we were better and we did not take advantage of their only mistake, we committed two in the second and they took a game that was going to tie.
The key could be the occasion that failed Córdoba?
Es There were only three times in the whole game, we were very good in the first half and in the second they took a step forward and we did not generate anything, they had two, we knew that they do not give almost any error.
¿Too much punishment ?
I think it's just the result, we did one occasion and they both, both teams defended very well. years to Getafe do nothing and then we were somewhat worse and attacked much less. An error condemns you and we committed two.
What did the team lack to draw at the end?
Nos lacked game. We did not link. We no longer won the disputes and duels as in the first time. In the second we have not arrived.
Have you missed an opportunity to get closer to Europe?
We have missed an opportunity and we are angry and disgusted. We went very well to the match and we finished it worse.
Why did they finish worse than they started?
Because they go fourth. Removing Barça, Madrid and Atleti they are the best of LaLiga and you have to give them credit. They almost always win here.
What happened to bai?
A drawback for us. I was playing well and has a lot of damage, an injury for time.
? The Champions is already ruled out?
I do not pay much attention to that. We will try to improve because we have a good path. You can not always win. In this field it is very difficult to guess how hard they are and today those mistakes have condemned us.
Beñat could have generated more game?
Here games are direct game. Only that and second plays. That's why San Jose played today
Bordalás: "I've told the guys not to talk about Champions"
How do you leave this match? 444444
It's a fantastic joy. It was a match against a rival in a run and that had been put to four points. We have overcome them and we left a distance of three more points and one day less. The first half was thick, we were not comfortable and lacked play. In the second half the team let go, we risked and Angel defined phenomenal. It has not been a game of many occasions, but the script that we assumed. Give thanks and congratulations to the fans.
Does the Champions look to be a goal?
A few days ago I told the players that we were not going to talk about the Champions League. We add three more points and we are happy. Our goal was very different and now we will go step by step to see how far we are able to go. Other teams do have that obligation and the fight is exciting.
Why did he make a change in the first half?
Because the team was not comfortable with the ball and we lacked fluency. Portillo could give us pause and gave it to us. In the second part the team improved. Portillo brings us many things with the ball and Foulquier tried honestly, but it was not right.
How do you explain to the forwards that one has to stay on the bench?
We have a fantastic wardrobe. Everyone wants to play. Today we played many minutes with three forwards, on Tuesday as well. We manage it in the best possible way and they know they have to work to help us.
Han punched several direct rivals.
In principle they were not direct rivals, now they are. It is normal to think of more ambitious goals and understand the illusion, but the reality is that we must go step by step. There are many points left and we compete with teams that triple us in budget and potential. You have to enjoy these moments. We are where we are for our work and for our own merits.
The team came out with six defenses and finished with all the forwards. Was it a script planned?
Ya we see normal that the team plays with two points, when few teams do. We wanted to have strength before a very physical team. We brake those strong beginnings that Athletic has. The team changed and the script went well. Sometimes you foresee some things and do not go well, today yes.
He said Garitano who are the best of LaLiga after Barça, Madrid and Atlético.
Thank you and honor that a coach honors the work of Getafe. We are not the best behind the big three, but the reality is that we are there. Let's see how far we are able to go.
Photos from as.com