Suarez: "We did not take a step but two to win LaLiga"
"For the meaning, I would say that it is one of my most important goals in Barça," said the Uruguayan. "I do not know what happened to Costa, the referee said he insulted him," he added.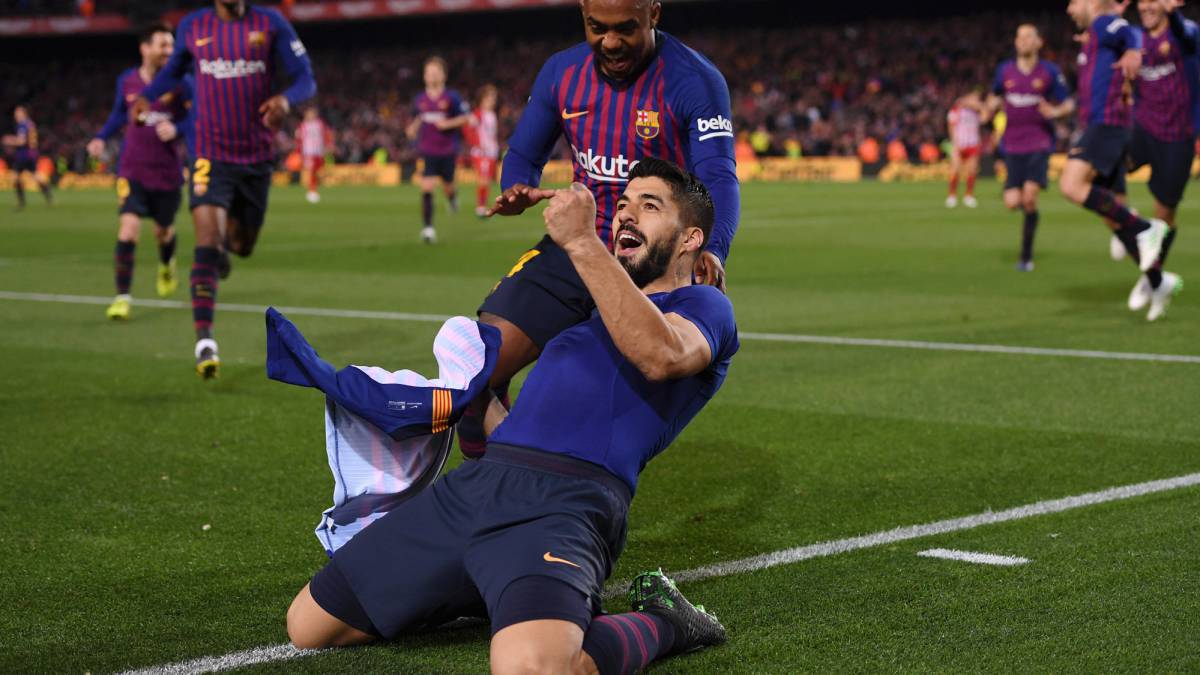 The celebration has been of title.
We know how difficult LaLiga is, so you have to give it a lot of value if you have the chance to win it. We have taken a big step forward and that is a great satisfaction for all.
Is the distance definitive?
Obviously, we take an important margin to Atletico. Some matches remain but we did not give one but two steps forward for LaLiga.
Has it been one of their most important goals in Barça?
For the meaning, I would say yes.
Backed after the expulsion?
We knew how to go be the party They are very ordered. We looked for depth and rhythm in the game and that was noticed in the second part, We had attitude, we created chances and I think in the second part we generated many chances before a goalkeeper who was the figure of the match.
Now all in Manchester.
A rest and think about Champions, yes. To try to advance
What happened to Costa?
The referee said he had insulted him but I do not know.
And what happened in a play he was leaving and stopped when they had not signaled foul?
I was upset because they whistled and I know where the whistle came from. He had been one of the substitute bank of Atlético.
Sergi Roberto: "Let them talk about what they want, we did our job"
The fourth captain of Barça vindicates the value of them three points scored by Barça: "It is difficult to escape the title ".
Sergi Roberto spoke in a mixed zone as soon as he finished the match against Atlético de Madrid. He was happy and wanted to claim the success of the azulgrana club.
Do they see themselves as champions?
We must be realistic. The game we knew was like a final. It is difficult for us to miss the title but in football everything can happen. We are happy to get eleven points from Atlético de Madrid. We had the game controlled and we had to go for him.
Do you know that there is more talk about the expulsion than Diego Costa than LaLiga?
We are happy, they talk about what they want. We have done our work. Today's goal was to win. We want the Champions since the beginning of the season and we hope to be at a great height on Wednesday.
Arthur: "With Suárez and Messi everything can happen"
"Barça is a great team. I am very happy with the final result. Atlético was waiting back and you had to have patience. We had the conscience to do that and that's what we talked about in the dressing room. We did it and that's how we conquered the result we wanted. When you have players like Suárez and Messi you can surprise at any time. The Luis has been a great goal and that's why he plays for Barcelona and is one of the best nines in the world. And Messi we all know what he can do. All players are happy but there is one of our players that is that they are final. It has been incredible. When you listen to the people in the stadium after a game like these against Atlético, who is an incredible opponent, it is a rival that will remain marked in my head. I think we have to rest and enjoy but tomorrow we have to think about Manchester and be focused ".
Photos from as.com