Setién: "Destitution? I do not think about it at all"
"I dedicate myself to work, I will go tomorrow to tell my players that we have to go win the Levante, we always point to someone, but sometimes there are no culprits".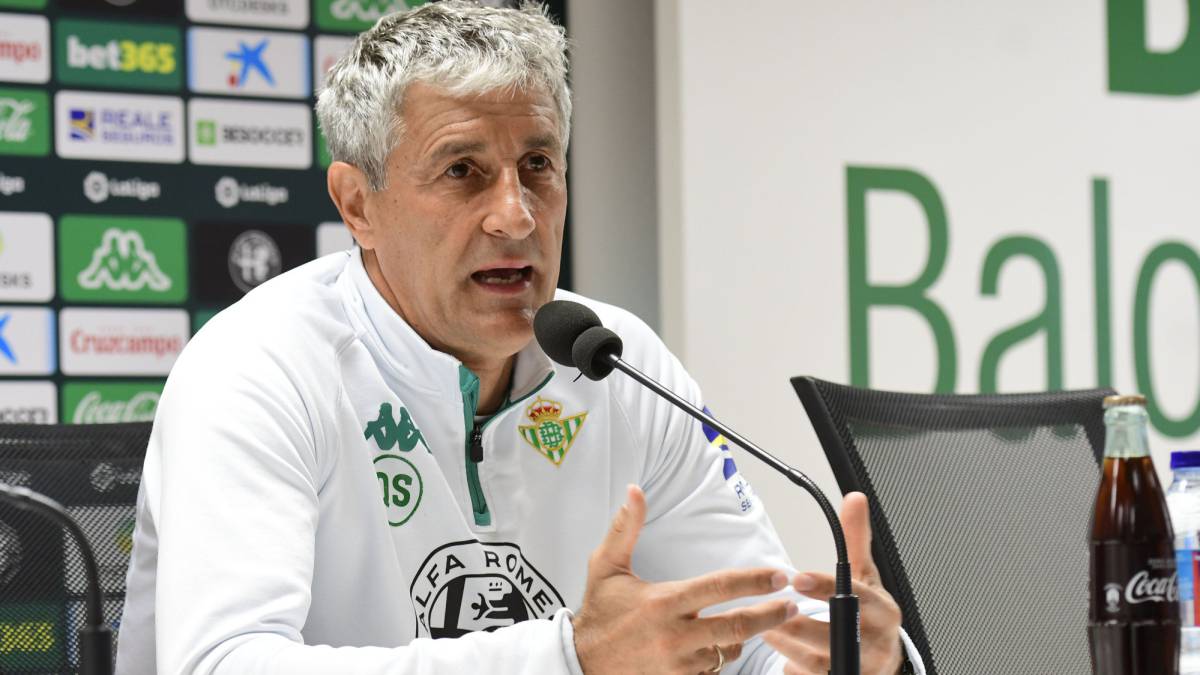 Quique Setién, coach of Betis, valued the duel made by his team in the defeat against Valencia.
Valencia: "It's sad because I do not think we deserved to lose this game." After half an hour we did, we deserved to score and practically did not give In the action of the goal we could not defend well, that affected us a lot.In general the team was quite good, gave the face, tried and there are things that we can not control ".
Insisted on the merits:" In the last fifteen minutes we played in his area, we tried to score and the penalty got us closer, but we have to get it right and it is not easy to put the ball inside the goal, I think we have done things well but he has not given us to win " .
Lack of punching: "This generates frustration for us all, the domain is overwhelming and the reality is that we have lacked more efficiency above. It's what we can do to make that change. The goal of Guedes, there were five players defending two, and they have gotten it with an extraordinary shot. We had a lot of dangerous arrivals and we did not manage to achieve them.
Options of Europe: "The more the League advances, the fewer chances there are, there are mathematical options and we will continue fighting until the end." The team is not broken, has insisted and has locked We will try to maintain this level and overcome the rival goal, this is the subject we have left. "
Canicians of the stadium:" The fans have expressed their opinion and there is no other option but to respect it. The day he chooses to be a trainer, he is faced with integrity and humility. "Dismissal?" I do not think about it at all, Lorenzo and the president are there to value my contribution, I feel supported by my work and they show me this way. to commit to anyone here, there are things that I have assumed as a coach, they have confidence in my work, I work, I will go tomorrow transmit to my players that you have to go to win Levante. You always point to someone, but sometimes there are no guilty parties. This is a group, a whole team, if we want to advance and grow ... ".
Planification:" Last year Loren appeared and put us in Europe with his goals. By circumstances that point of inspiration has not appeared. Sergio León has not had the continuity of last year, the role changes. You not only ask them to score goals, but more things. This year I said that if Jesé were lucky enough to score six or seven goals, we would go to Europe, but it has not happened. The other day he had four heads-up against the goalkeeper and did not put in any. It's the history of football. "
Sensations:" I do not see the team at a critical moment. It is true that the results are not there, but we played an extraordinary game against Sevilla, we played games that we did not deserve to lose in these last two cases. You do many things better than the rival. Then the goals come and the frustration is great for me and the players. We have overlapped and closed Valencia, we made 27 centers to the area. The ideal is that we put them in, yes, but it costs us. At the end of the season we will realize that in some things we have made a mistake. Mistakes have been made and must be corrected when possible. I can not control many things in football, we have to value to a certain extent what has taken us here. "
Jugadores:" We have deserved a lot more than what we have achieved. It is normal that the wardrobe is affected. It is not easy to overcome. When the team plays poorly and loses, I have few resources to convince them. But like this, I have many things to convince them of what we are doing. The soccer players are not stupid. They know that we lack the cherry, and that comes and goes. "
Photos from as.com