Serra Ferrer closes ranks with Setién: "There has been no debate"
The sports vice president of Betis, on the front: "Maybe we were wrong in the departure of Sanabria." Denies the option to resign.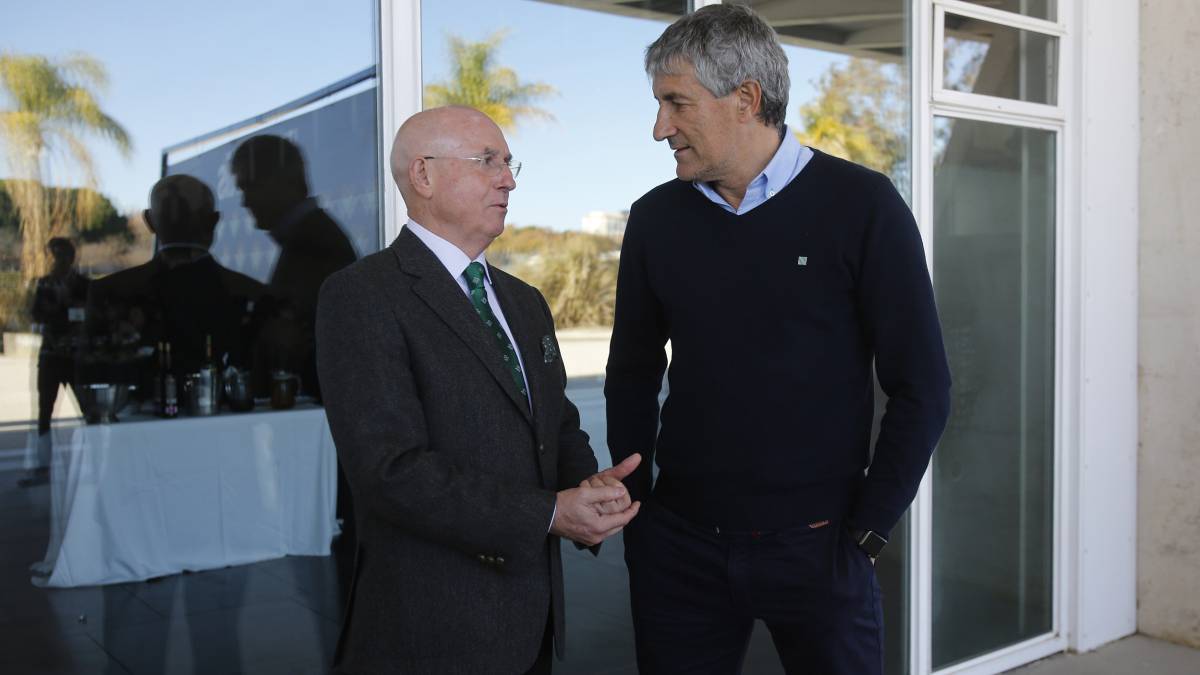 Lorenzo Serra Ferrer, sports vice-president of Betis, assessed in the official media of the club the situation of the team at the edge of the derby against Sevilla and influenced his support to coach Quique Setién: "It is evident that things are done in a concensed manner. Things are talked about in the good of Betis I can tell the bético that this situation has not been discussed by the coach ".
Victoria against Villarreal: "It was a convincing triumph that leaves us with good feelings, the last matches were in a difficult situation of low flight, that affected the self-esteem and the environment of beticism, but a competition is tough and demanding and sometimes it does not go as one has programmed and wants, but there are opportunities and against Villarreal he got well, Suffering, we will have to try to change it, we would like more if the player had a strong mentality, we have to be up to the goals ".
Europa "It is one of the objectives, we are in the final sprint well placed to achieve the goal of playing again in Europe, we have a very good squad and the coaching staff is already well integrated and aware of our possibilities. a final section of very good competition and we are going to classify ".
Exigencia:" We can not be pigeonholed in a position because yes. Things come as a result of work and planning. We are growing, we are in a very good position at this point. If we were six points behind UEFA, it would be more complicated. I believe that we are well, beyond having had some ups and downs and small disappointments or that we have not been at the desired level. We are not alone. There are teams with very good templates that can aspire to the objective that we think. Then there are surprise teams. Then there are eight or nine teams disputing these places. We'll see what happens in the end, I think we're good. Being among the first four does not have to be a requirement. Still need to do so, although we have possibilities. "
Lo Celso:" Throughout the competition has brought a magnificent talent, we had no doubt about this player. It has been decisive. The béticos will remember him as a footballer who is contributing a dose of very high talent. He had a physical and psychological exhaustion that is not easy at his age. "
Juego:" The team played with a high intensity and a strong attitude in recovery. It was also more vertical, although the Villarreal propitiated it as well. There were six or seven very clear occasions, the baggage is good. It is the path to follow: the combination of all the characteristics is what makes a team more solid and more reliable ".
Eliminaciones:" We compete well and play well. We put things well against Valencia in the first leg, but it was a shame. In the qualifiers these things can happen. In Valencia I think there was not much difference. But this makes us in good line to get things. In Europe I think we were fine. It was a shame because we could and should have qualified the team against Rennes. But to win things you must have lost some. It remains as experience and revenge for the future. "
Dimisión:" I never said this, it is clear that I have not even thought about it. I only think about collaborating and contributing in what I can, without bothering. This is what I intend to do until the end of the season, when we will review what we have done, what we could do and what we did not do ... We should be one and we are ".
Setién:" A serious club that wants to grow must be respectful in everything the work of professionals. There will be moments that we will analyze well if we have not achieved goals that we could have achieved. But also in ourselves. The requirement must be present in all areas. In this case of the coach, there has been no debate ".
Planification:" We knew which positions we could improve by having a very good level template. But there are injuries, low level ... It was valued from the beginning and spoke with the coach to not have a too broad template. The opportunity to the boys that are forming was there. We have not had the luck to consolidate these new guys and we have had injuries that have upset us as with Junior. Last year the three forwards gave us a good performance. It was not as we thought, we did not find an indisputable headline for the finalization. Maybe we were wrong to let Sanabria out before signing the center forward. The chances were not given in the end to bring the center forward. Vino Jesé, who is a striker with enough talent. They came Lainez and Emerson, they will give us in the present and even more in the future ".
Derbi:" This is how football is lived in Seville. It runs meI want to be next to the beticismo and I do it with pride of having collaborated in many nerves, having had more joys than disappointments. The sensations are very good, there is a whole week to prepare it. It will be nice also for the rest of the country. It is a classic that goes beyond. We know that we have talent and a good technical body with experience that has not lost the matches that he played. Making statements that can divert concentration I will not do, I try to let them work. Last year? Now we start again, we must recover our self-esteem to compete in these games. It goes beyond the three points ".
Photos from as.com