Paco López: "The results will not give us confidence, the other way around"
The coach of Levante spoke about the next game against Athletic Bilbao, a team "we won 3-0 and they did not look like anything, but they are showing that it is not like that"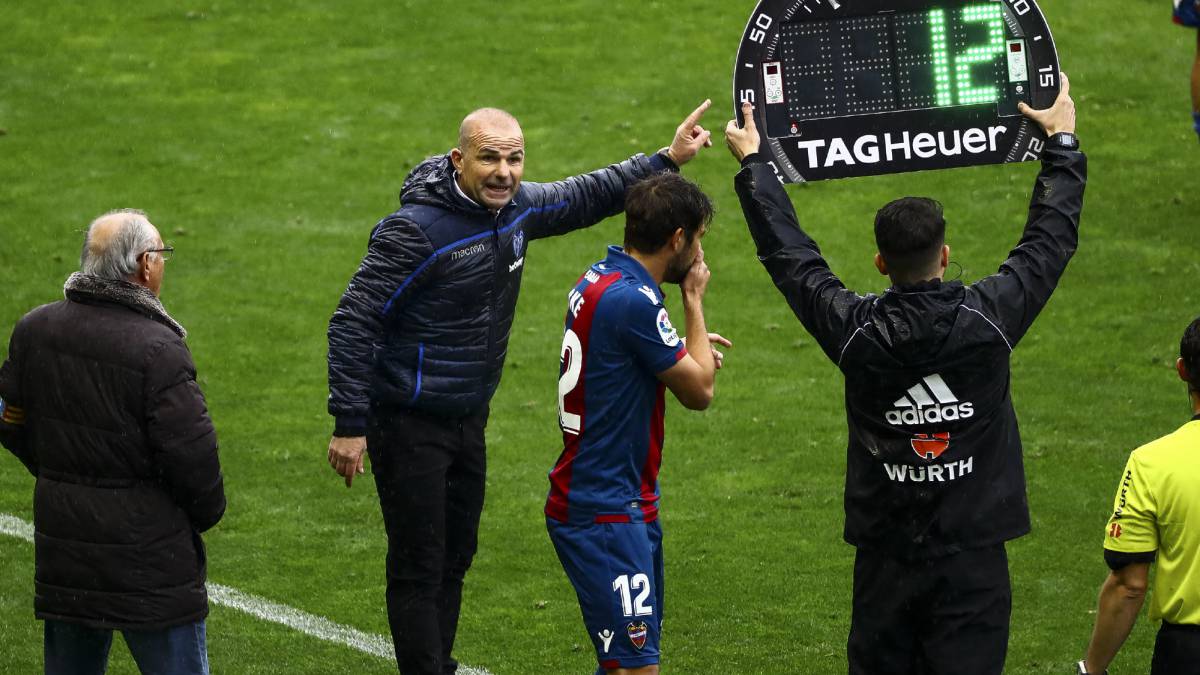 He said after the game against Eibar that he had noticed a rush and nerves in the stands and that some have interpreted it as a criticism of the fans ...
Maybe I'm wrong, I almost always do it, not to thank the fans for their support. And more considering that it was raining and everything. They were 10, they deserve my recognition. What I wanted to say is that the hobby for us has to be supportive and it has to give us energy. Whenever I have placed myself in front of the microphones I have appreciated the support of the fans. Last season, in games like Las Palmas or some other, which we won at the last minute, it was mainly thanks to that push from the people. Here the only thing that matters is that Levante is next year in the First Division and I will do everything possible. A few months ago they were all praise and I knew that this moment was going to arrive so I am not surprised by one thing or another.
But did you notice rushes and precipitations in yours, perhaps a product of that unrest?
No. What I said and I speak in general is that the rush, the anger, the urgency, are negative things that influence performance. And that does not help us. The staff keeps doing what they do every week. There is evidence and that is that we are in a negative streak of results. And what we do every week is analyze the game, what we do well and what we do wrong and from there we try to be positive. The sensations, beyond the results, are not bad. In the games we have played in 2019 we have always been very close to winning. With the Eibar we had it with 2-1 and we have a stick and an empty goal. On the day of Leganés or Real Madrid we were close to winning. The day of the Villarreal also. And I'll take that and that's what gives us the confidence. And the illusion we have intact.
What party awaits in San Mamés? Could there be rotations?
El Athletic, besides that it is a good team with very good players, we won 3-0 here and they did not look like anything. But now they are showing that it is not like that. Muniain, Íñigo, Susaeta, Beñat ... would not stop. But I say the same as always: this team is capable of winning in any field and against anyone. He has always shown it. And that can also be lost, as unfortunately is happening lately. But let no one doubt that he will always face it.
What's wrong with Jason? He has gone from starting 25 games to a minute ...
The reasons are always sporting. I repeat that I will always do what I consider best for the team. He is one more and works for the team. And if he has to play he will. In San Sebastian is about to leave before making the draw and finally entered Postigo.
El Eibar created a lot of danger with centers to the area. Athletic is cut by the same pattern ...
It's like that. But yesterday was recovery day. Today there is little time but what we can is one of the things to work. When there are games on weekdays is what you have, that there is little time to do it.
Do the costumes are prepared for a final straight like this?
The calendar is what it is and there is no reason to complain. We have to be prepared, of course, yes. The emotional states are what is important and the results should not affect us. The results will not give us confidence, it has to be the other way around. May confidence lead us to results. We can not let anything affect us. Only work and correct errors that are evident we have them.
Can take Athletic as an example of reaction?
The clearest example we have in our players who spent what they spent last season and they threw what you have to throw . They went through many difficulties and the situation was critical and it came out. This year we are overcoming many adversities that people do not take into account. And we are going to throw everything to try to turn this around. And the people who do not trust, we are going to give them facts and reasons to change their opinion. When you fall seven times you get up eight.
Photos from as.com