"Get out of the pressure, that in Eibar they're going to eat your ass!"
Simeone sees the second place close, but he does not conform. Request maximum concentration for Ipurua. Eibar's ability to recover in a rival camp, leader of that facet, is worrisome.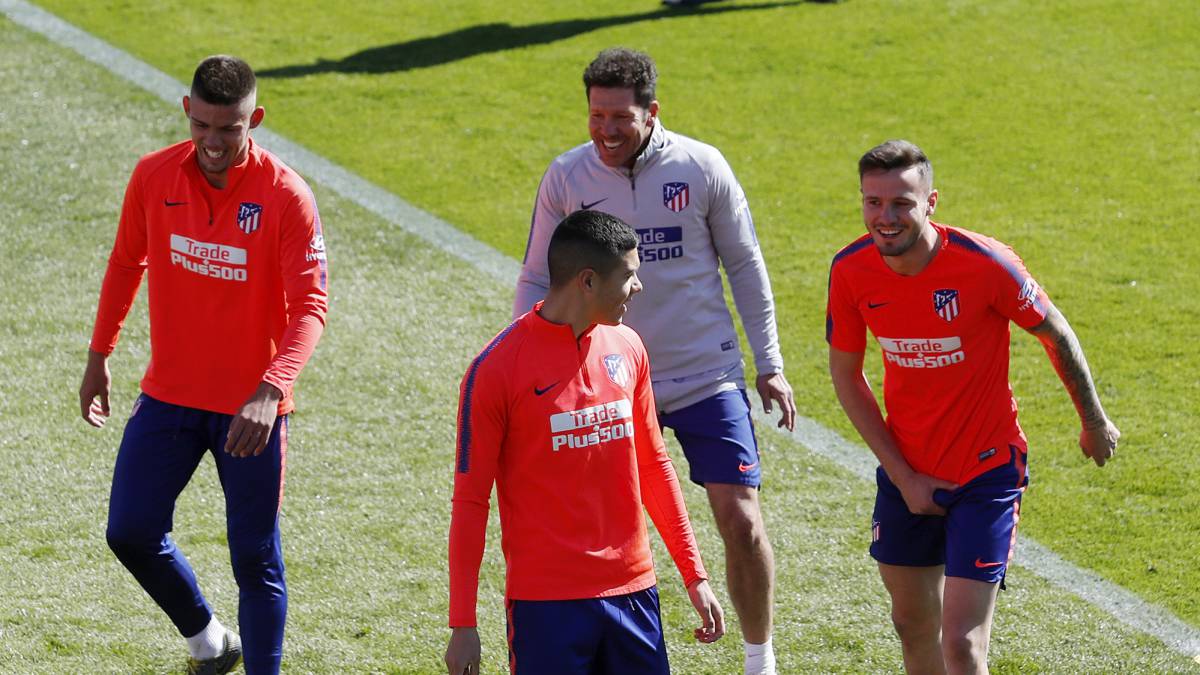 Simeone started preparing the Eibar clash. The coach saw on Monday how Real Madrid rested again in Leganés and left two new points. El Cholo has given the battle for the second position almost title range for Atlético and he does not want to allow himself to loosen the prey he already has between his teeth. La Supercopa plus the second place in LaLiga, ahead of a Real Madrid with still 250 million more budget, would present the season of Atletico with qualification of notable. At least in the eyes of his technician.
If the Madrid was let go during many minutes in Butarque, Simeone did not give place to the relaxation in the session of Majadahonda. To nobody. The coach led a very intense training, technically and mentally, preparing, already four days before, his players for the fight with an Eibar, which has already reached 40 points, but which keeps its identity intact. Simeone ordered a first exercise in small dimensions with teams of few players, simulating what they will find their men in Ipurua.
It was about overcoming the rival pressure with few touches and as quickly as possible, promoting mental agility and dynamism . El Cholo threw more fuel on the fire, with vehemence, his voice rumbled over the walls of the sports city: "Get out of the pressure, they're going to eat your ass in Eibar!" The warning was heard several times before of going to a game in the entire field, where he made Lemar play second-hand and where he had to put into practice what he had learned minutes before. Cholo does not want jokes to be measured with a Mendilibar that always makes it very difficult and that has not been able to win in the last two games.
El Eibar, leader of recoveries.
Simeone, obsessed with the details, has not overlooked a relevant one. Eibar is the team from LaLiga that recovers the most balls in a rival field, even ahead of theirs. It bites, in a word. Mendilibar's have stolen 658 times in the domains of the other team. A barbarity. Second of that ranking is Atlético who has done it 497 times. The technician of the eibartarra team turns the pitch into a minefield and from very early this week Simeone wants his players to learn to decipher the access roads. There is no room for relaxation in Atlético, second place is not an empty speech in front of the gallery.
LaLiga 18-19
Teams Recoveries in opposing camp Eibar 658 Atlético de Madrid 497 Athletic Club 480 Barcelona 479 Real Madrid 460 Sevilla 447 Getafe 443 Real Sociedad 439 Valencia CF 407 Celta de Vigo 400 Girona 400 Huesca 400 Leganés 395 Espanyol 391 Levante 386 Alavés 365 Villarreal 365 Real Betis 362 Rayo Vallecano 347 Real Valladolid 335 TOTAL 8456
Photos from as.com