Marcelino: "It would be a serious mistake to entrust ourselves to the Rayo"
The Valencia coach is pleased to be able to count on Dani Parejo, to whom Competition has canceled the card he saw against Real Madrid and will be able to play in Vallecas.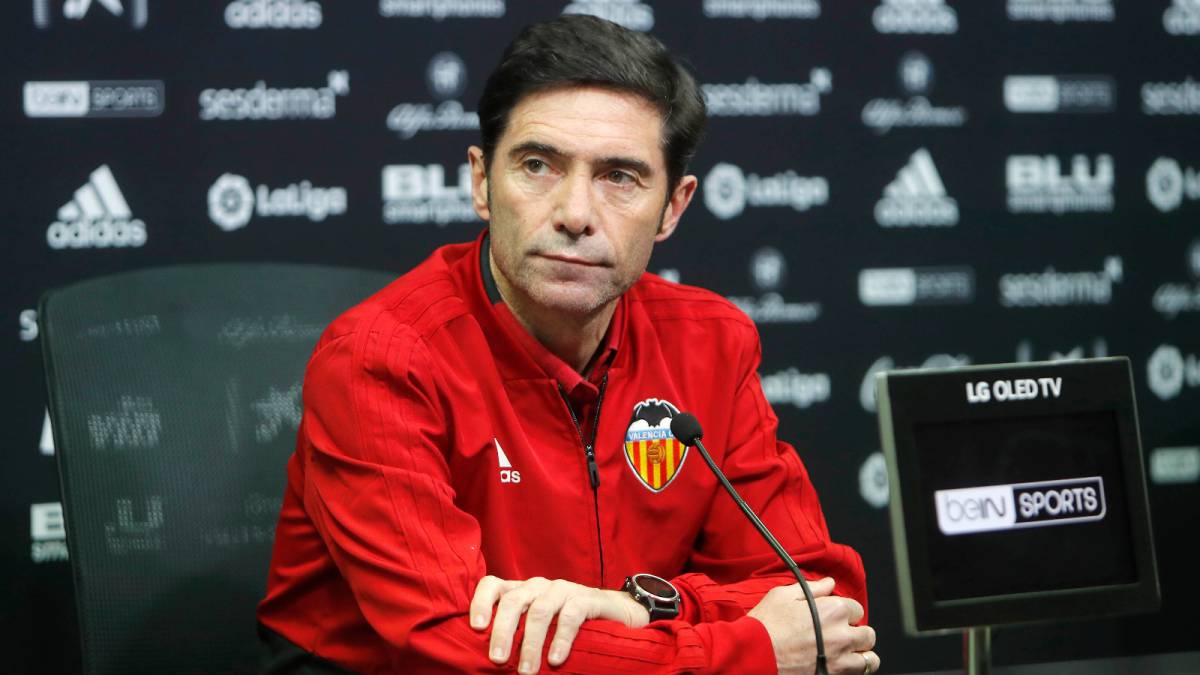 Has the concept of a party changed a lot since it has Parejo?
The concept is not the same; what it is that offers us a solution of an important player and that is at a moment in an extraordinary way. Not being able to count on Coquelin would have been to modify the position of Soler or Wass, we remain established in normality and that is good news.
Cuesta center the team after a week like they have lived?
May be. We should be intelligent enough, constant, remember at what time of the season we are to realize that we can not afford any mistakes. You have to have the utmost respect, intensity, humility to win. It can lead us to error two extraordinary matches we have made, against two great rivals and two good results. It would be a mistake for us to trust and a week that can be great for us, because it gives us the chance to add 9 points, stay at 6 we would not like. We have to be very humble, respectful to the maximum on the opponent and from the effort, intensity and be a team as we showed against Madrid, put it into practice against Rayo.
In six days will play three games: against Sevilla and Madrid only made a change; are more expected against the Lightning?
Some more change is planned to do. We come from an accumulated effort, we will see what is the evolution of those who have participated, but we do believe that we have to make some changes.
How are Coquelin and Piccini?
Piccini it seemed that everything was fine, we even considered that it was against the Madrid. Today there was some discomfort and we assume that it will not be very serious. Coquelin is going well and if all goes well will be available against Villarreal.
At what point do you see Guedes?
We can all be a little impatient with Guedes and perhaps too aware of their level. That brings us to analysis of being very good or bad in three days. If we analyze Guedes every three days we will not go to the correct analysis, which is a dynamic. You have to be prudent and demanding with your performance. But you have to understand that you can have an irregular performance. He had an injury that, because of its characteristics, hurts him, because it is explosive. All that will progressively improve. We are satisfied with their evolution.
Are they one point away from the Champions League: do you get the feeling that the rivals who were comfortable see Valencia for real?
Eso is a thought of others. What is clear is that European positions are very close. There are up to seven possible candidates. Anyone can go from one week to another from being fourth to seventh and vice versa. The dynamics and performance have led us to be close, but all the teams that are there are qualified to occupy those positions. We have to look at us.
Do you have seven players on the verge of penalty: that conditions the planning?
We are more aware of putting the players we believe, according to the efforts and the match, are the ones to win. You can never foresee who gets a card. What you have to try is that two players from the same position draw a card on the same day, the rest will fall according to the game action. I will not make decisions based on the number of cards the players have.
Photos from as.com