Marcelino: "The tie is a nuisance for both teams"
Marcelino, who had words of encouragement for Joaquín Caparrós, recalls that Villarreal is demonstrating in Europe its "true potential".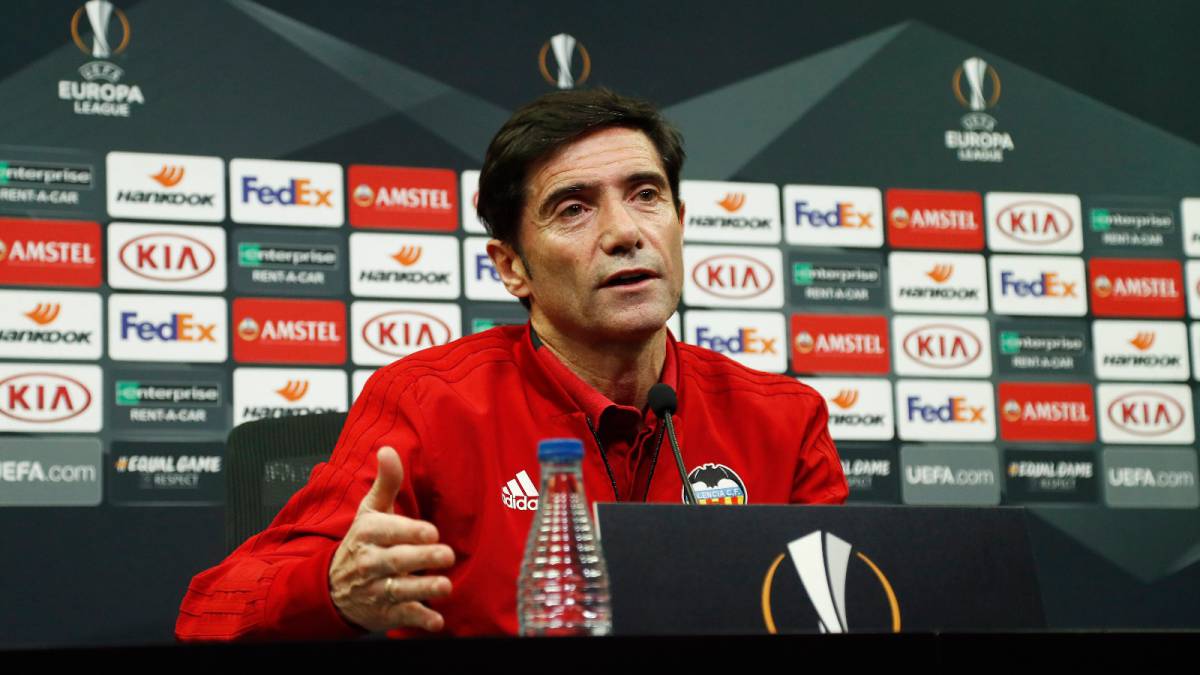 Marcelino, in the press conference prior to Villarreal-Valencia of Europa League, wanted to send a message of support to Joaquín Caparrós, who on Sunday announced that he suffers from leukemia: "I would like on behalf of the staff and coaching staff to convey our full support to Joaquín Caparrós We are sure that with his strength and vitality that he demonstrates every day, he will come out of this difficult situation ". That was his last sentence before the media in Paterna. Previously, the Asturian coach had stressed the quality of Villarreal, a team that in Europe is demonstrating "its true potential" .
Calleja sees them as favorites, do you accept that role?
Independently of putting qualifiers or not to remove or put pressure on us, The truth is that we played two good teams. His career in Europe is 10 games, zero defeats. For them, it has been a liberation and serves to demonstrate their true potential. Football has things like this, a club, a team with capacity, the biggest budget in its history and in the League things are not going well. The role of favorite has none. There is rivalry, it is derby, inducements alike. We are two games away from playing a European semifinal.
In Liga there are 7 games and in the Europa League there are 5. Are you going to put more effort into one to reach the Champions League?
Before the rest period said that the previous week he was going to tell us the options we would have in the league. We are in the fight in League, there are 21 points left to play and Getafe takes us 4 and Sevilla to 3 with the average goal in favor. We would have signed it in January. And in the Europa League we are four matches away from a final. We must focus all our attention on the immediate match. So far we have been able to maintain the concentration in several competitions and we have to insist on that road.
A when choosing a player for the eleven of Villarreal, does not affect Sunday's game against Levante?
Here are the days that there are Between one match and another are very important. Last week we played three games in six days. Between Vallecas and Vila-real there are five days. Depending on players who have discomfort, we choose the priority for the immediate match and then think of the other. We are going to try to put that team that we think is best to achieve a good result in Vila-real.
Coquelin and Piccini are to play 90 minutes?
If nothing happens, both will be on the list. We will see later if it is prudent or risky that they play at home or play all.
Without Kondogbia, Coquelin can no longer catch a cold, but has four cards? Do you have what to do without him?
It is foreseeable that you will not play everything and it is It is foreseeable that they will see a fifth card. To date we have put Wass or Soler and before the Alavés, a tactical variation. We will see what we do when we pass.
Is it positive to play against an opponent that has so many urgencies in the league?
I do not believe. The result of the draw did not like me at all. For both it is a nuisance. In Europa League you want to face teams that you do not usually face. They are different competitions and Villarreal has very good numbers in this competition, according to what was expected. But in the League they get into a dynamic and that changes them. But in Europe he won 1-3 at Zenit and won at Sporting in Portugal. On a good day, he scored four goals against Barcelona. Those who think that we are going to find an easy eliminator, move away from a realistic reading. We are prepared for the difficulty and to know that we have to perform at a very high level.
Photos from as.com