Marcelino: "How much was the Ajax pass paid on bets?"
Valencia coach Marcelino García Toral confirms that Rodrigo will not play against Villarreal either, while Piccini has a hard time getting to the match against Betis.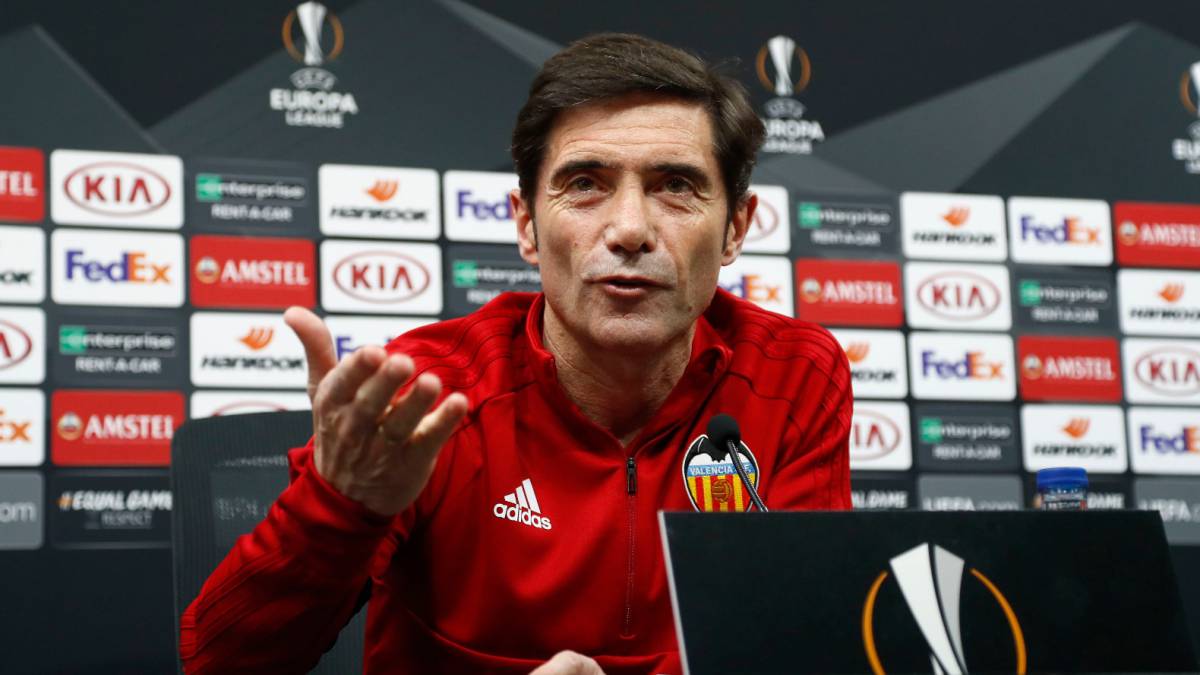 What happened to Kondogbia?
You know I'm not precise enough to talk about that. I only know that both are low. Kondogbia had a rebleed in the part of the blow and had to return to be intervened quickly. It is far less than it was. They are ten days more and now it is possible that it is not for this season.
What happens to Jaume, because a gastroenteritis is passed in a short time and is not the case?
It has a problem in the stomach and from there, with some strong pains and pending evolution. If everything goes smoothly, you will be with the group soon.
There is a lot of talk about the tie being on track, are you going to do rotations thinking about the weekend?
The eliminatory is on track. We would all have signed on 1-3 before playing. But if you are on your way to solved there are 90 minutes. We should not trust. We came with a 0-2 against Celtic and the first time we had a bad time. Any situation in which the opponent is ahead, you can enter the doubts. We will continue making rotations, we can not play all the games that we have left with the same players, because they will not reach us and because we trust all the players. They know they must give everything to meet the objectives.
How are Rodrigo and Piccini?
For the Villarreal game both are low. Piccini does not have mobility yet. Rodrigo is already entering little by little. We will see Piccini if it arrives on Sunday or the next one. Rodrigo, if everything goes smoothly, for the day of Betis would arrive.
How does it convince the indecisive one that he does not know whether to go to Mestalla?
You have to convince yourself. The team needs you always. There is the near, but not consummate, possibility of playing a Europa League semifinal. We will have moments of difficulty, as in all the games. Hopefully there are many people and many people supporting the players of Valencia.
How is Parejo?
Tenía a strong blow, in the part the lumbar gluteus I think. That's why he did not train yesterday. But I think tomorrow will be available.
Are you going to condition the four players who are ready?
We have not thought about the lineup yet. We will try to avoid any problem or accumulate that yellow card that would make them miss the first leg and as all pass clean to the semifinals.
Fans will be aware of the Naples-Arsenal, who would do better to Valencia?
As in the previous of that party, if there is luck and we are, I will speak, I will tell you. Now we play against Villarreal. If tomorrow we are in the semifinals, we will gladly answer you.
This is match 52 and in none of the above a result would eliminate Valencia.
This is football and we are seeing things that happen. How much was the Ajax pass paid yesterday in the bets? We can not trust. We want to play a good game, win, that's the best way to avoid any surprise. We want to enjoy We must avoid that situation. We suffered against Celtic and also against Krasnodar.
If I were a coach of Villarreal and I was in his situation, would this match bother him?
I do not know. We could think the same of the first leg and there he played the same line-up that he played three days later against Girona. We are not in that situation, but I could not tell you, the one who knows the decision he has to make for how his players are doing is the Villarreal coach and he will decide.
Photos from as.com