Lendoiro: "They asked me for 12 M € for Cristiano and the party was over"
The former president of Deportivo was honest with the Idols program and reviewed the signings that were and were not and other interiors of that historic SuperDepor.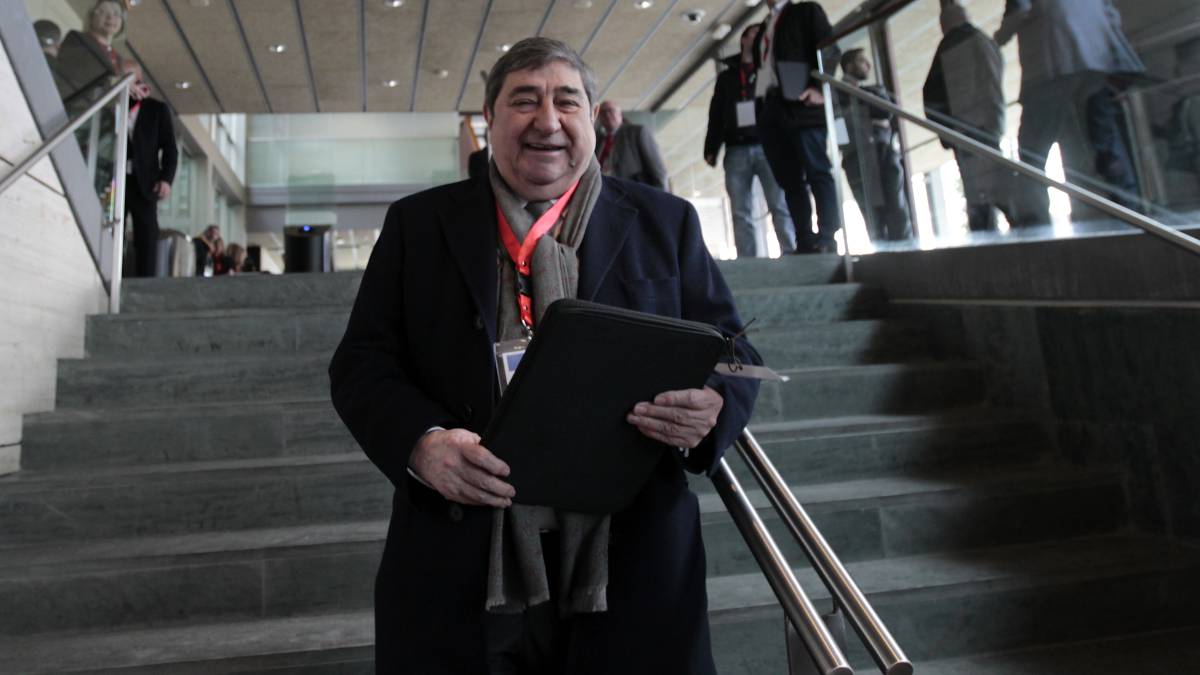 The former president of Deportivo de La Coruña Augusto César Lendoiro attended to Idols in the historic Hotel Riazor. The place where were forged some of the most renowned signings of the Galician set and where they could forge many others , such as those of Cristiano Ronaldo, Casillas, Canales or Eto'o.
El exdirigenterepassed those same signings that could be and were not, as well as the importance of moments like the penalty of Djukic or of men like Jorge Mendes in his life as a leader.
"I asked for a price for Cristiano Ronaldo when he was 18 years old"
"Beci (Eduardo López Beci) , the technical secretary of the Deportivo at that time, vio played Cristiano Ronaldo and warned us. From there e I started to watch videos of his with 17 or 18 years and we asked for a price for him. We pidieron eleven or twelve million and the party is over because we do not We could reach those levels, the player we paid the most for at that time was Rival It cost us six million euros. Christian was a kid we did not know what he could get, although what was observed was spectacular, but arrived Manchester United, paid the twelve million and took it ".
"Eto'o refused to come to Dépor with the contract already signed and Deco did not sign him for bad sports reports"
"Beci, as well as Cristiano Ronaldo was going to be a great player, did not see Deco, that was a terrible insistence of Jorge Mendes. I told him several times "but you did not see him!" We did not sign him for bad sports reports, he was a player that did not surpass what we had, but it was very well priced. It is also true, so as not to discredit him, that we had very important people in the center of the country ".
" By Manuel Pablo they offered us 4,000 million pesetas. I cut him that flight with Real Madrid. And then, if Manuel Pablo and Molina left, were 6,000 million plus two years on loan Iker Casillas, which was when he started playing in 2000, "says the ex-manager, whose signing of Samuel Eto'o was frustrated by the very refusal of the striker Cameroonian: "The one who opposes the business, already with the signed contract, is Eto'o. The attitude of him was very bad with Florentino Pérez and was one of the powerful reasons why Eto'o did not return to Real Madrid. When Mallorca was in a great moment, Eto'o had more parties in Mallorca and they paid him more money. He did not want to talk about conditions with us ".
You were signed Oleg Romántsev, but he flew to Russia not to return. "It was a curious case. We ascended to the first division and Oleg Romántsev was all in Russian football: coach of the national team, coach of Spartak Moscow, president ... we tried to sign and came here. He was staying here, at the Hotel Riazor, and he asks us to spend the night watching videos of the first and second team matches. He had to take a scare from the level that we had, as much as yo told him "look we're going to make a great team ..." . Apparently we convinced him, he signed the contract, he left for Russia and we told him to come and tell us "Do not let me leave!" . He was a colonel of the Russian army and he apologized that they would not let him leave. "
" El Deportivo was left with 50% of the rights of Canales "
Another name that Riazor overcame was that of Sergio Canales, before reaching Real Madrid and before even being of age: "He never signed with Deportivo. On the occasion of the relationship between Racing, with the departure of Munitis and the arrival of Aouate, we incorporated a clause for which we were left with 50% of the rights of a cadet that was Canales. What we had rights, but not the obligation to acquire the player. We could or not ".
" We had to pay 260 million pesetas to Real Madrid to buy back Fran and continued in the Dépor "
" He had signed a contract without a copy with Real Madrid. When it begins to stand out, we do the renewal, we present it in LaLiga and tell us They did not accept it because Madrid had put a contract of the last century. And we had to buy it back to continue in Deportivo. Apparently I had the document, which I never saw it. But LaLiga had Jesús Samper, that He was also the lawyer for Real Madrid. Everything was played at home ".
" Jorge Mendes is the best agent in the world, the number one "
"from Portugal just to have a coffee and sometimes, not even that .222222 It occurred to him to come and it turned out that I had other things and could not attend to him. He has done it many times, he loved La Coruña. He is a very smart and hardworking guy. It is a man stuck not to a telephone, but to five. At a certain moment, phones start to sound ... But he is a person who is constantly attending. It happens when you have so many things in your hand. It's a phenomenon. He showed it from the first day because he started from scratch, out of nowhere ".
" I think he's the best agent in the world. He is undoubtedly number one, not only because of the quality of some of his players, but for the number of players he has. It is difficult for any major player in Portugal not to be with him. Some of my tips have been used and others not ... ".
The Cup final:" Winning the Cup to Valencia was a revenge for Djukic's failed penalty "
Lendoiro recognizes that do not worry about the famous penalty missed by Djukic, which meant that Barcelona will win the League 1993-94: "I never look back. It was not the match that I suffered the most because of the result because it was not the match we deserved to win. Here we did not score a goal or the rainbow. We were not playing well, but I was not coming to see God and, suddenly, God He turned his back and missed the penalty. At that time you put your hands to your face and people think you're crying, but no, you throw your hands in your face because you think that how you can have so bad luck. We had been leaders throughout the season. Normal is a minimum of luck and we did not have it. After, we celebrate not being champions, but we really celebrate ... I take it to the letter and until 10 o'clock in the morning ".
However, keeps good memories of the Cup won at Valencia: " The idea we had from that we lost the league was to go back to work to be champions. It was a revenge to win the Cup. And that the Valencians preferred that we were champions ourselves before the Barcelona. But the cousins sometimes bring as a consequence those things. But that they have recognized them. The universal flood cuts the match and God helped us by dropping water like I have never seen in Galicia. That day he was with us. "
The Halloween party of Betis and Lopera:" If I had been him, I would have stayed for the party "
" I liked the night. It was to negotiate at night with a glass, or two or three ... is not a technique, is that I'm going night. When Lopera said, with Benjamín's Halloween party, it coincided with a tribute to Pepe Domingo Castaño's mother. And they asked the president of Celta and he said 'I put a cannon shot to these guys, they were going to remember'. And they ask me, what would I do? The truth that I would have stayed at the party. It was much more pleasant, since you arrived there ... the next day, in any case we'll see ".
Photos from as.com