"Do I whip Griezmann? I do not like people being against anyone"
Ernesto Valverde understands that the French striker made the decision last season to remain at Atlético de Madrid.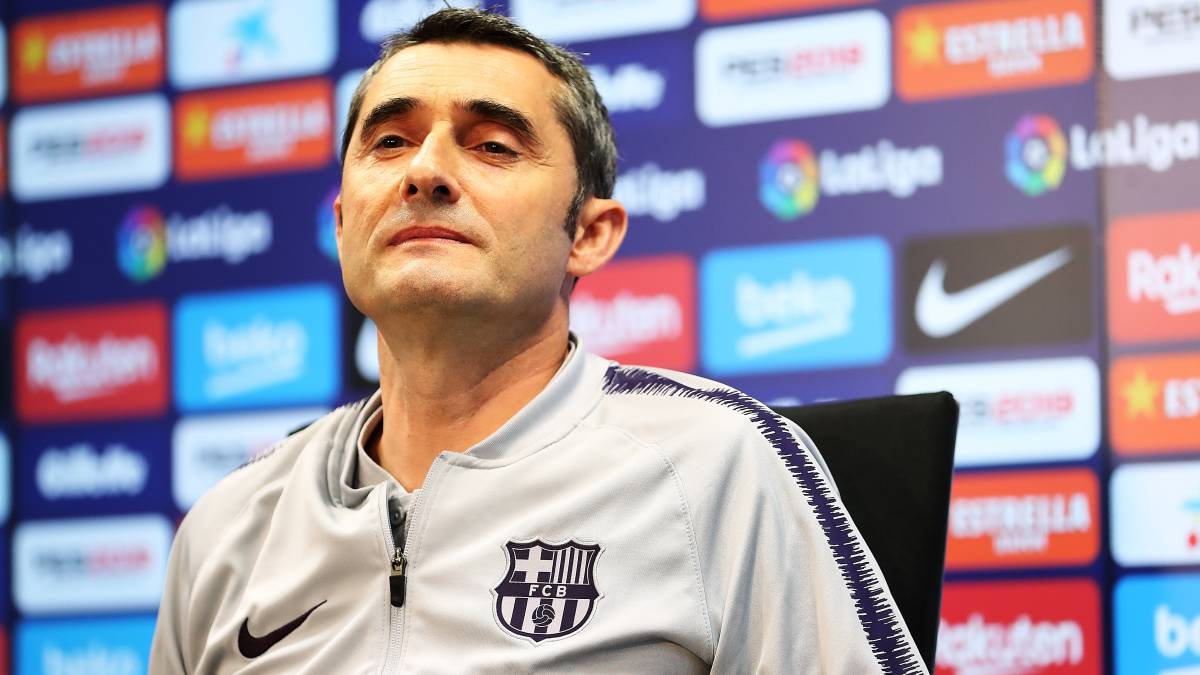 Ernesto Valverde appeared before the media in the pre-match meeting that this Saturday Barça will play against Atlético (20:45, Movistar Partidazo). The coach tackled Barça's current situation before this vital match for the outcome of LaLiga.
-Will Atlético's urgencies make a difference to the Wanda match on the first round?
I do not know, we will discover tomorrow. We will be faithful to what we have been doing regularly but it is true that the value of the three points is very important. Anything is possible.
Is the distance definitive if Barça wins?
Mathematically it is not. It would not be definitive. There are people who sentence LaLiga in January and then say that LaLiga returns. Is that nobody says he is sentenced. We have to continue until the end.
How is Dembélé?
It is not going to be tomorrow and we do not know if it will be on Wednesday but in any case we are not in favor of taking risks. It will be incorporated little by little.
-Griezmann returns to Camp Nou. Would you understand if people whistled at you?
-What I want is for people to look out for us. I do not like it when I go to another field and they whistle to a player of mine. What I want is for people to be with us, not against anyone. Players make decisions about their future and each one is free to take theirs. You have to be careful with him and you're already.
-Does the Old Trafford game condition?
-No. It has a great importance and we give it to you. They are four days and the best way to raise that game is to compete in this.
Do you worry about Arthur?
No. It gives us a lot of things.
-How do you see Umtiti?
-Samu has been standing for a long time, with a long-term injury and now has to adapt. But downloading or loading the entire arsenal on a player entering at a certain time is not new. It was not a great match on our part and our defenses suffered.
-Is it worth the draw?
-If you're losing two goals three minutes from the end ..., if it's a great result. But our intention is to win. There are no spaces for speculation. Then the match can go anywhere but we have to direct it to win.
-What does Barça lose without Vidal?
-We lose a player who knows the energy and character he has. He is a player who transmits many things to us and for a match of these characteristics it would be good to have Arturo. They are strong.
-What Arthur does not play is a technical or physical issue?
-Arthur is a player that I sometimes change because we know him well. We know his values, how he has and how he is.
-Piqué rested ...
-I thought it was a good time to rest and I hope he has not lost his form. There are parties in which you have to be one hundred percent.
How is the body with racist episodes?
For it is a matter of education, we have said it here as well. It's general education and what happens outside. But I would do it not only on the issue of racism. Equal in other times had to put some brake or be less permissive.
-Rexach said he would not sign Griezmann.
-I am the coach of a team. I would not like to talk about the players of the opposing team. Everyone who thinks what I want but I am in favor of the respect.
-Does an Atlético wait for the defensive or to look for them?
-I do not know but you have to foresee everything. They have a high pressure when they do it. Sometimes they do it at the beginning and wait. Sometimes they deceitfully let themselves be dominated to jump on the counter. And then they have great pitchers like Koke or Saul. We will see both things.
-Do you have Umtiti at the level of what Rakitic has?
-I have absolutely everyone. We talk about the next season as if it was over. I have all and the season will be over.
¿Malcom has options to play tomorrow?
-Well, like everyone else. Has ability to overflow and goal.
-Do you think it unfair that people think it's unfair to renew?
I do not pay much attention to the polls. I do not have much to say. I think people respect me and we want to extend the run of results, titles and leaders.
-Are you happy with Boateng?
-This is like everything. In the end it was talked about that Morata could come here. Boateng has come, we hope he helps us. It is entering little but that alreadybía.
Photos from as.com