"We have deserved this League"
"We have been the best," added Aleñá, author of the 0-1, in the best demonstration that Barça already feels champion: "I would like to win it playing at home."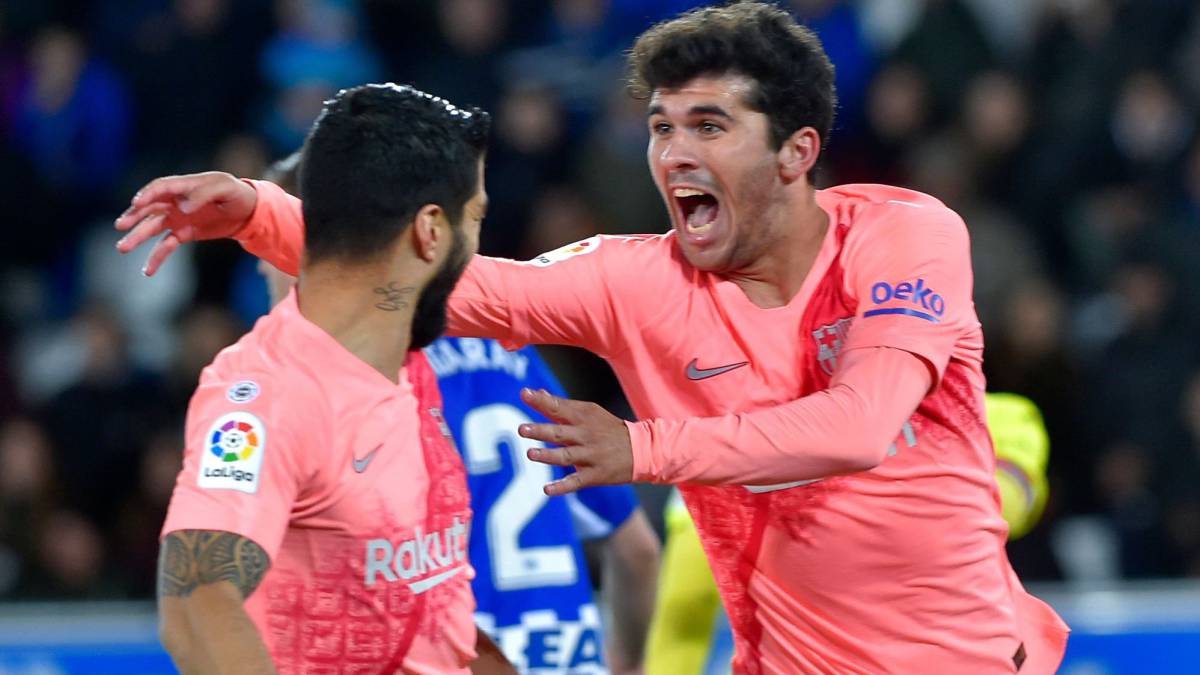 Carles Aleñá spoke at the microphones of beIN LaLiga. The youth squad, author of the 0-1, spoke as a player of a team that feels champion: "I'm happy to help the team as much as I can." The credit goes to Luis, who sees how I enter and he leaves me without touching it. Suarez is a crack, the best nine in the world. Valverde asked us to break more space, to enter more to the second line We have to wait to see what Atlético does and if it does not fail, on Saturday we win. League because we have been the best, I would like to win it more on Saturday , depend on us, win and celebrate with our people, if you win tomorrow well and if not, welcome is the title ".
Pina:" I imagined that I could review the play of the penalty "
" We have competed well, we have been intense, but when you make the first goal everything is complicated, more if it is Barça The penalty shot has made it more difficult but we have not given up. positive, we come from a It is difficult but in a game against the best team in Europe it is difficult. The results indicate that it may be getting long but today we have been fine. What happens is that Barça is a great team and puts you in complications. It's difficult but in the first part we had a dangerous start. I imagined that I was reviewing it but I feel there could be doubts and it could be reviewed. When the referee has approached I imagined that I was reviewing it. I have to see it. He hits me on the chest and he can hit me in the hand. "
Busquets:" I prefer to win LaLiga at home with our fans "
Final Barcelona midfielder Sergio Busquets has assured that he prefers to win the Santander LaLiga title" at home "this Saturday against Levante and not this Wednesday by a slip of Atletico Madrid against Valencia, and recalled that what they are getting in recent years in the domestic championship is "barbarian" .
"Personally, I prefer to win (the title) at home, playing with our hobby and being able to celebrate there, but in the end LaLiga will be won when it is won. The merit of what we have done in this league is great, we have been a superregular team, losing practically a game. What we are doing in recent years is a historical thing. I am very happy about it and hopefully we get it as soon as possible, although if it can be playing, better, "he said in statements to beIN LaLiga.
Sobre on Tuesday at the home of Deportivo Alavés (0-2), the Catalan said who had been "superior at all times" . "In the first part, except for the two occasions that we have had and that Pacheco has saved, it took us a bit to reach the top, but we had control, it was hard for them to get there and they were locked in their camp, "he said.
" They defended with a lot of men, the striker was almost close to me. It was a job more to wear and to try to get tired to take advantage of it maybe in the second part, and that's how it was. In the second we have taken advantage of one of our arrivals, which has been magnificent. That has given us peace of mind, "he continued, and finally, Busquets confessed what Ernesto Valverde had asked them to do at halftime: " He asked us to keep Dembélé on the outside continuing to overflow, that we moved quickly because we were sure we would find more spaces because they were going to physically go down ", he finished
Photos from as.com