Hamilton: "In Vettel's statistics the spins are minimal"
The British pilot defends a 'Seb' in low hours and sees Mercedes inferior: "They have overcome us, we can not go jumping for joy".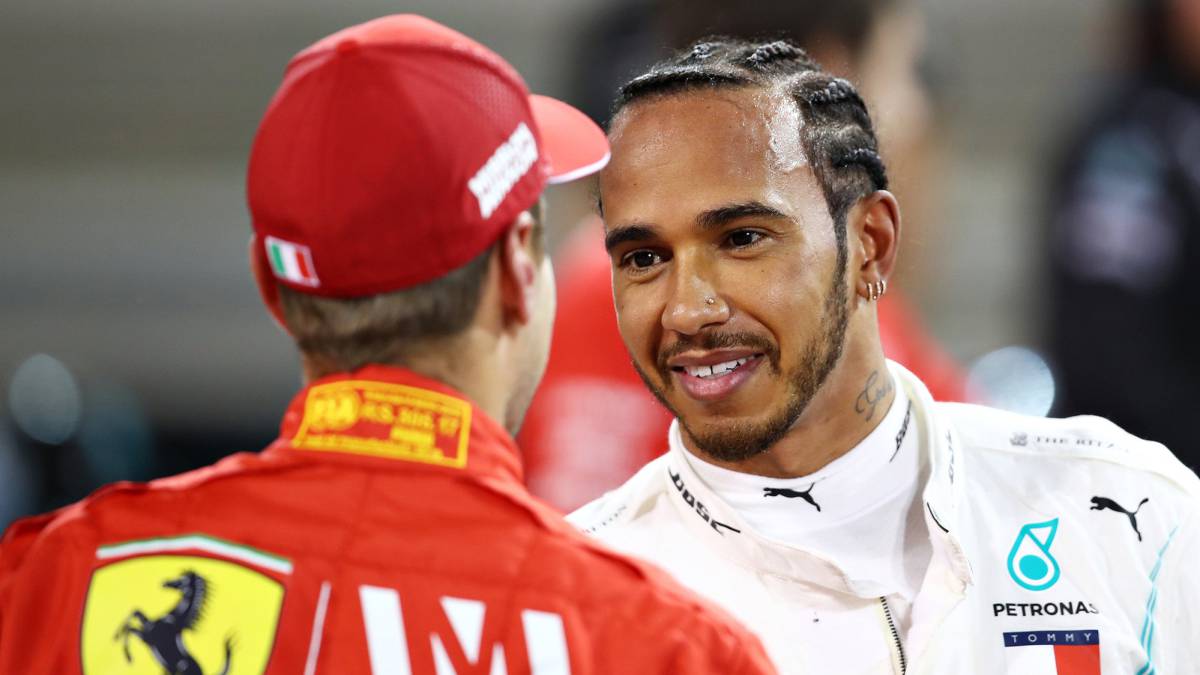 A few hours after finishing the race, although several minutes late after a long 'briefing' with engineers, Lewis Hamilton appeared to chat with As and a very small media group. Mercedes had conquered a double, as two weeks before in Australia, but the faces of the team did not convey that absolute happiness of Melbourne.
-Why?
-It's been a different weekend. They beat us, the Australian thing was a surprise. I heard that people thought we were ballasting the car in Barcelona or not telling the truth, but we said it as it was. As far as we knew, considering fuel loads or engine modes, we were behind by three or five tenths. We went to Melbourne and we saw that they did not have a sudden rhythm, so of course, we were surprised and very happy to have such a good result because the winter had been hard for the team and for all.
-But are you worried?
-Here we are happy, but we are also aware of the luck we have had to make a double. We worked very hard, but we were below. Sometimes you get lucky in a big prize and this has been one of them, you never know when the situation is going to change and we will have bad luck. But we can not go jumping for joy. We know, and I know, that Charles did the job here and seemed the winner, if it were not for the reliability.
-Although he had to overtake Vettel to be able to win the race ...
-Yes, of course, you have to be in that position to aspire to opportunities. The overtaking of 'Seb' was decisive in that sense to unlock the victory options. I am very happy with how I rode in the race, because we suffered with the balance of the car and we worked a lot on the configuration during the weekend, taking a big step forward. I have been working on my outings, but this time it was not very good, I have to keep working. Fortunately I was still there, I passed Valtteri, and the battle with Sebastian was great. Also on this track I have suffered many times, Valtteri was very fast like other times Nico, so being in front makes me very happy.
-It is not the first error of Vettel in those circumstances.
-I remember a couple of times. But at Monza 2018, we touched, he was behind, at some point he lost the air and he went back to me. They are too few to notice so much, I have seen the repetition and we did not touch, which is good, because there was a lot of wind in that area. I have no idea what happened, I do not have much more to say.
-Do you think the psychological aspect has played a trick on you this weekend?
-It's not that it affects you psychologically. It has happened to all of us, that being a several times world champion does not mean that you can not have a bad weekend. If you watch Vettel's career there are many more great performances than races in which he did worse, or he spun. That is minuscule in its statistics. It can always happen that you do not find the correct configuration for the car and that things do not work, the difference is very small and seems giant. I do not know why the two cars seemed to have such a different pace but in my case, with Nico, in Barcelona we were very quick in a test and then there were huge differences in the race. And the next race is different. I do not know why, but this time it was one of those times for him. But he's a world champion, he'll recover and he'll still be there.
-How do you prepare to fight Leclerc, a much younger driver?
-I'm still pretty young, right? (laughs) Whenever you approach a new driver and have no experience against him, you do not know how he is going to behave. If it is erratic, super aggressive or relaxed. I have not had time on track with him to confirm it. It seems very stable and clean, balanced, but during the season we will see it. He has not made a mistake all weekend, so my approach to him is identical to Sebastian's. Each pilot is different, to some you must leave more spaces than others. With luck there will be many battles during the season.
Photos from as.com