Fognini goes back to Coric to meet with Nadal
After falling in the first 6-1, he overwhelmed the Croatian in the following two and will face the Balearic, with whom he has had some friction, in the semifinals. Lajovic got rid of Sonego (6-4 and 7-5) and will play against Medvedev.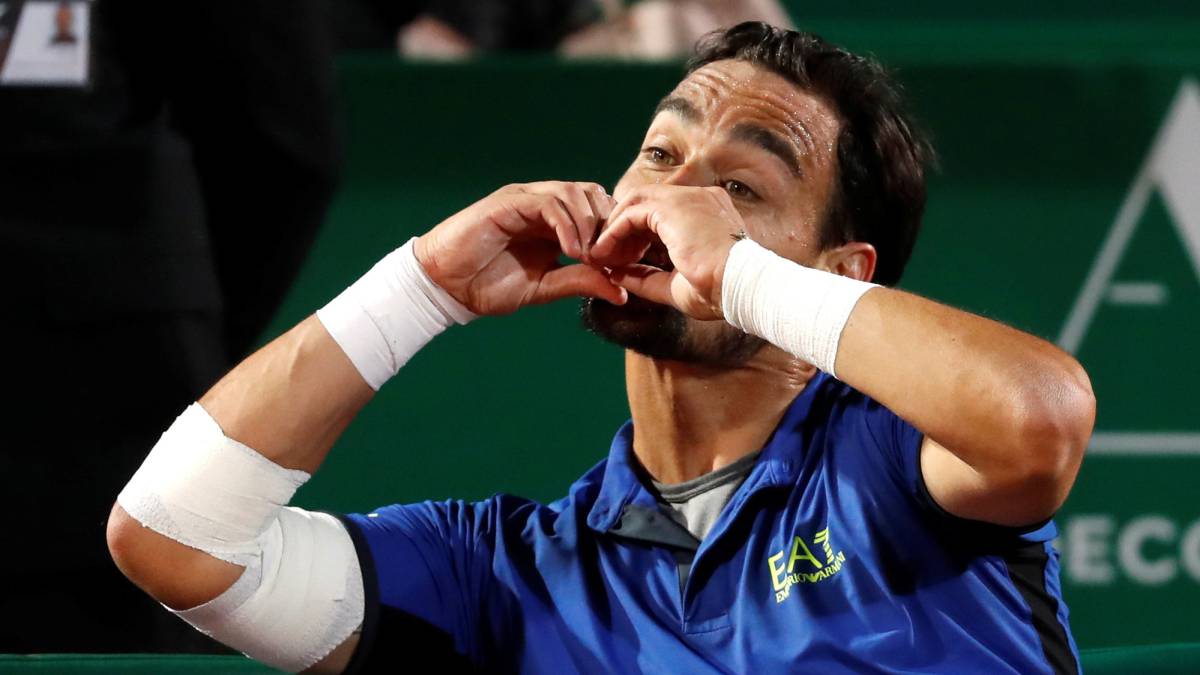 Italian Fabio Fognini, thirteenth favorite, rallied to Croatian Borna Coric, ninth (1-6, 6-4 and 6-2), to reach the semifinals of the Masters 1000 Montecarlo, where he will meet the current champion, the Spanish Rafael Nadal.
Fognini, who had already beaten the Balkan on the only occasion in which they had coincided, in Umag in 2014, took two hours to seal the victory to stand at the doors of what would be his first Masters 1000 final. The Italian player, 31 years old and currently ranked 18th in the ranking, re-started after a bad start , in which he was overwhelmed by the Balkan.
Fognini took the pulse of the game little by little, with a solid tennis, forceful with his right, which led to the decline of Coric, that declined gradually to take his farewell to the competition after two hours of game.
The player of San Remo 111111 1 returns to run into Nadal, with whom he was not for almost a year, in the 1000 Masters of Rome. It was the eleventh victory of the Spanish over the transalpine in a series that has accumulated fourteen clashes so far.
Only three times Fabio Fognini could beat the Balearic. They were all in 2015 and two of them on clay (Barcelona and Rijo de Janeiro ). Nadal aims to be in the twelfth final in Monte Carlo. Fognini has never been in the last match of a Masters 1000.
Lajovic beat Sonego and will be with Medvedev
Serbian Dusan Lajovic became the first semifinalist of the Monte-Carlo tennis tournament on Friday by winning 6-4 and 7-5 , the Italian Lorenzo Sonego, who came from the previous phase.
The player from Belgrade, number 48 in the world ranking, signed in the first turn of the central court the biggest achievement of his career, since he had never before accessed the round of semifinals in a contest of Masters category 1000.
Dusan Lajovic won against Lorenzo Sonego by 6-4 and 7-5, in one hour and 47 minutes. He continues without giving a single set on the clay of Montecarlo.
The Serbian, of 28 years, debuted before the Tunisian Malek Jaziri (6-4 and 6-4); in second round he surprised the Belgian David Goffin (6-3 and 6-4), sixteenth favorite; and in the last 16 he eliminated the Austrian Dominic Thiem (6-3 and 6-3), fourth seed.
In the semifinals, Dusan Lajovic awaits to the Russian Daniil Medvedev, tenth favorite.
Photos from as.com