Fernando Alonso presents the McLaren of the Triple Crown
The team made public the Chevrolet engine car with which the Spaniard will try to win the 500 miles and close his great challenge this year.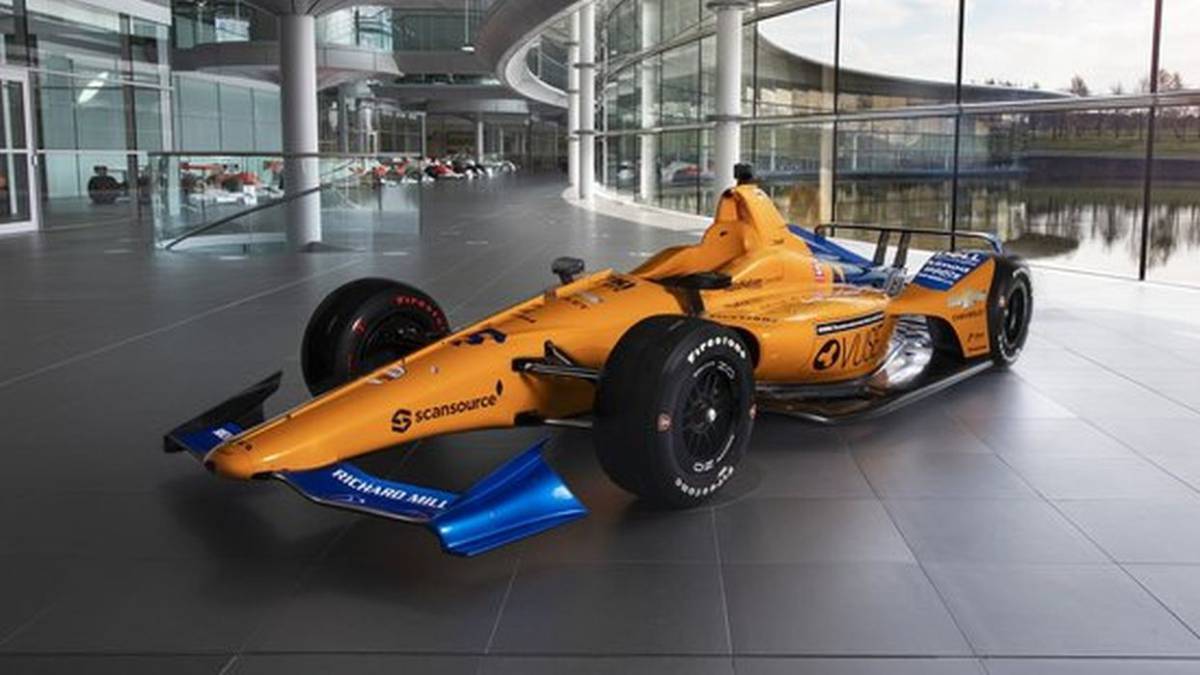 Happy and motivated. When your world does not make you beat it is about looking towards the rest of the universe. That Fernando Alonso did when circumstances, let's say so, made their results in Formula 1 were falling until finally decided to leave the big prizes. But before that withdrawal, which is sometimes definitive and sometimes momentary, he had already thought about one of the great challenges of his life: the Triple Crown. It was on April 21, 2016 when he made public in an interview with As in the Chinese GP. "There are three competitions that are at the top of the legend of motor sports, the Formula 1 GP of Monaco, the 24 Hours of Le Mans and the 500 Miles of Indianapolis and I know it is difficult to win all three, I already did it in Monaco, it would be a great challenge and if I am happy and motivated I will try to achieve that challenge ", he said then. So happy and motivated that he already won last year with Toyota the 24 Hours of Le Mans in his first participation with a stellar performance and so much that in 2017 he tried to take the 500 Miles with a first class car, McLaren-Andretti-Honda, gave show, he was a leader and had to leave because of engine failure.
But this year he tries again and he does it with a car entirely McLaren although aided by Carlin, an average team of the Indy Car although with experience of success in other single-seater competitions, and with a car that they have presented this afternoon and with who is going to test on the Texas circuit this Tuesday. We are talking about the monoplaza number 66, McLaren orange ... and blue, color that predominates in the front wing and the rear deflectors. Remember that the Spaniard has that dorsal as a tribute to Mark Donohue, American pilot who achieved in 1972 the first victory of McLaren in the legendary race of the oval. He always carried that number, in his five participations and all with McLaren.
In his first participation, when he was still in F1, when he did not participate in the Monaco GP and even the British were with Honda he ran with Andretti and the Japanese engine, but This time it has not been possible for several reasons, including that the relationship between McLaren and Honda is not the best logical after its failure in F1. A pity because with that car Alonso would have had the most powerful engine. Now he will do it with Chevrolet engine, which has a little less power, although it is usually shown more reliable and in fact the current leader of the Indy Car, Josef Newgarden carries that engine, although of the three races that have been played two have won the propeller Honda.
In McLaren claim that the car has been manufactured in Woking in a team that is responsible for Bob Fernley, but also Gil de Ferrán, who led the F1 team last year with Alonso and was coach of the Asturian in 2017 in Indy 500, is involved. It is also true that Carlin's help has been essential to build the car and also in terms of logistics in the United States. In fact, Fernley himself acknowledged that "the chassis that we will use in the two test days is being built in Florida by Carlin, we had to divide the tasks to have the car available on this date" .
Now, already with the public car it is about putting it on the track and checking if it is fast, from there improving it and getting Alonso to have a tool to win on May 26, before this test and another on April 24 at Indy. Win. Difficult, but ... Win. And that continue motivated ... and happy.
Photos from as.com