Eusebio: "We have already won in complicated stadiums"
The Girona coach is confident that the team will respond well to the dismissal of Stuani: "The collective is above the individualities." Doumbia, starter at the tip of attack against Atlético.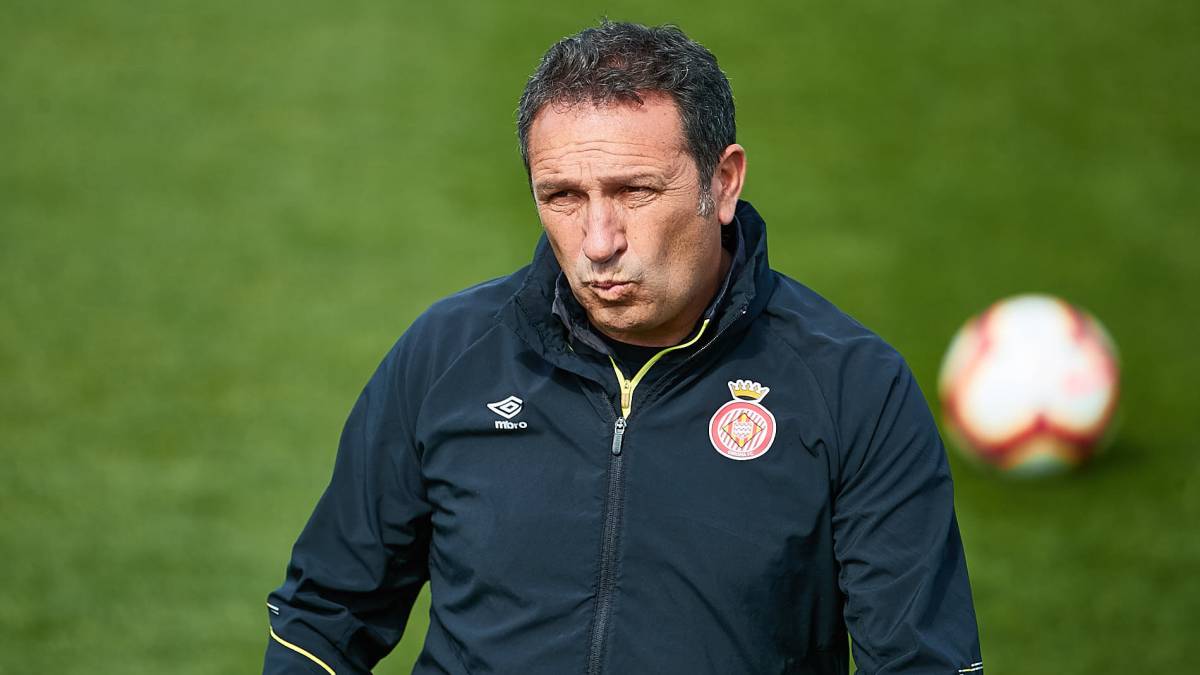 The casualties of Stuani, Raúl Carnero and Bono: "Stuani has some discomfort, they do not allow him to be tomorrow, but we trust that everything goes well and he will be with us on Saturday, Raúl is for rest, we have players in his position. tomorrow I will play at the start and I think that to be on the bench we have other players ... everyone is working well and they deserve to be in. Bono, like Stuani, we trust that everything goes well and on Saturday it is to play ".
The return of Douglas: "It's fine, recovered, to play, it's been a long time without competition and we have to keep it in mind to manage it and give us everything it gave us and take advantage of it for tomorrow's game" .
Good numbers without Stuani: "We work everything the year with the same mentality, that we are a team on top of the individualities Stuani is decisive in the face of goal, but the team is able to compete all season to a good level and, although we lack some pieces and that are important, we can compete and have options in the matches. The collective is above the individualities, we can not depend on whether a player is or not. We prefer Stuani to be, but we have to know how to live without him. There are other players like Doumbia, who went for him this summer. He is an experienced player, decisive in front of goal and who moves very well in the area. No more minutes arrive because Stuani is at a great level and now he will have a prize for his work and hopefully receive the prize and help us get a victory. "
Game system:" Each match is different and each opponent has different conditions . In the time we have decided to change to the defense of four, there have been games in which we have had to adapt and play with five backs, as in Leganés. We want to give continuity to what we are doing, but there are variants within the initial approach that allow us to seek that Atlético does not generate us many problems and we generate them as many as in the previous occasions ".
La lucha por la rescate:" We have to mentalize ourselves that the League continues to be as competitive as the whole year, they all squeeze and are capable of changing dynamics. We have to keep working to get the prize we are looking for. Each game is an opportunity to add and find the final prize. This is our mentality, knowing that we have to think about ourselves, be strong and get up from the other day's stumble. The games that go well we have to give continuity and if we do not do well we have to get up. We trust that we will do well against Atlético ".
Atlético de Madrid:" Against Alavés they won well and showed that they have recovered from the previous setbacks. He is always a strong opponent and at home he has very good numbers. It has been replaced many times and it is still very large. Our respect and we know where we are going and who we are going to face. But we are aware that this season we have already been able to win in complicated stadiums. We have to do things in the best possible way, give one hundred percent and we can achieve it. "
Bernardo to replace the sanctioned Juanpe:" We have treated his substitution with the delicacy he requires because he has always had a very high performance and his professionalism is spectacular. His predisposition to work is great. It is very important in this team. In recent weeks he has experienced circumstances that he was not used to because with the change of system we have had to sacrifice a player and it has been up to him. But I am delighted with him ".
Doumbia, the substitute of Stuani:" It's the most natural thing. Lozano can play in that position, but where he has had his best performances, at least that's what I think, in other attack positions. Doumbia works more there and is willing to take on a role with fewer options to play despite being a player with great prestige and who has been very important elsewhere. It is important for him and us that we give him the possibility of occupying that position. But Lozano can play in any attack position and gives us different things. Keep working because at any time you can enter the team ".
La defeat to Athletic of the last day :" We have analyzed and giving it back and my analysis determines that this team has no relaxation. I have a group of hardworking players, very competitive and with a big commitment, but it is true that with the favorable results we would have to continue doing the things that have led us to have an advantage. Many times, when we win, we change the way we play, understanding that it will be easier to keep the score. We can not be conditioned by the result ".
Photos from as.com