Carlos Sainz: "The essence of the Dakar Rally is recovered"
The Spaniard says: "I would like to finish the job started last year with Mini, but if it can not be Toyota it is the other option, if Alonso is, it would be fun".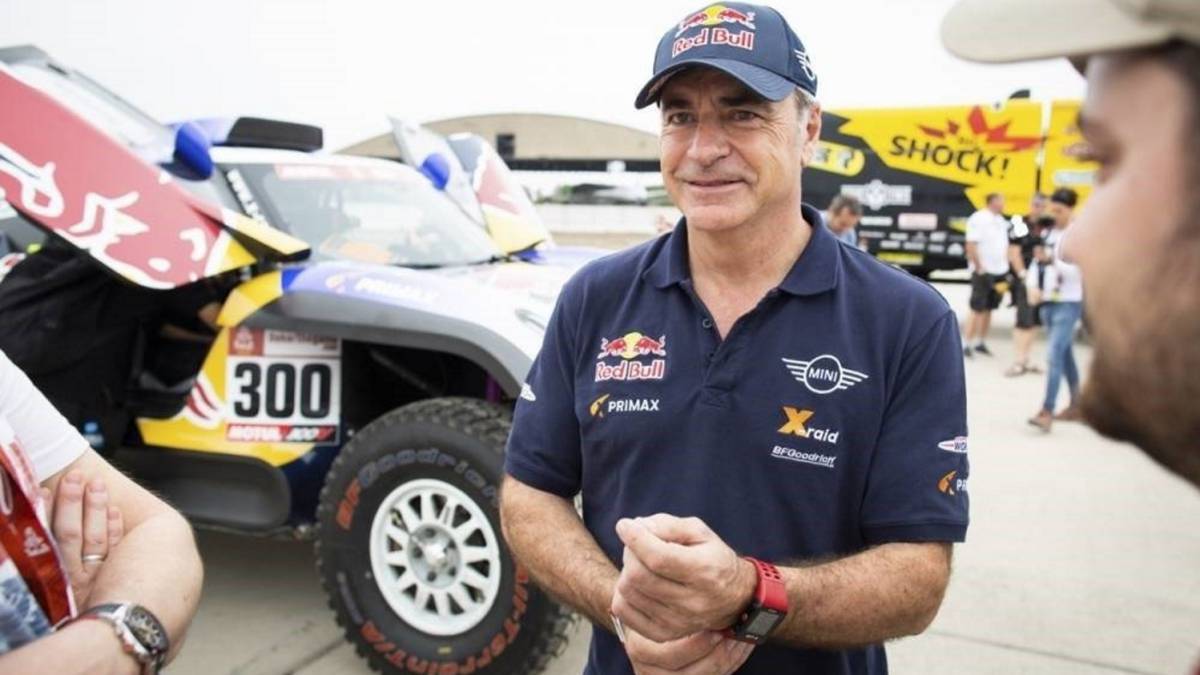 Expectante as all Carlos Sainz has shown before this new era of the Dakar. The Spaniard, who is traveling to Baku tomorrow to the Grand Prix of Formula 1 of Azerbaijan, did not want to miss the presentation of the event, although he has not yet secured his future.
- After running in Africa and South America, how see this new era of the Dakar in Arabia? - Perhaps it is the perfect time for the organization to find a new ground for the Dakar. In addition, it is an unknown terrain for all, which brings more attractions. For Arabia it is a great opportunity to make known to the world what this country is truly from within, discovering all its corners. In that process of open doors in which he is immersed, it is good for both the organizers and the country. - Win the sporting event with this transfer from South America? - Without a doubt. I think that if you could choose the type of terrain for the Dakar, for what they comment and we have seen in the videos, this is the ideal type of terrain. And it is also a very unknown terrain, and that will also give the test that extra drama, that extra ignorance, excitement, going to a place where nobody has run, and where you do not know what you're going to find. - Was the Dakar in South America already exhausted? - There have been years in which there has been very little repetition, but for example this last year the terrain in Peru was small and in the end it was practically all very similar. It was a very unusual year and that's why here I think that here you will have the opportunity to do a rally with the essence of the Dakar, with a hundred percent adventure, without repeating terrains, moving day by day, and I think that was One of the goals of coming here. - Will we see him on January 5 in Jeddah - I would like to run the Dakar, but as I always say, with the guarantee of fighting for victory with a team that allows me to fight. We are waiting to see what happens with Mini. They have not yet decided their plans, but to me the truth is that, after the work we did last year, I would like to finish off. The first year we knew that it would be difficult and the next year would be another year of collecting the first job. - And would not you be happy to share equipment with your friend Fernando Alonso in Toyota, the team with which he achieved his two world rally titles? - Toyota is a winning team also in the Dakar, and as I said to my I would like to run in a team with options to win. And right now there are only two teams that can give you the option to win, Toyota and Mini. But as I said, I would like to finish the work started with Mini, but if it can not be for what it is, it is clear that Toyota is the other option. And if it is with Fernando it would be fun without a doubt. It would be an added incentive because we would have a better time.
Nani Roma: "It's a return to the origins"
"I'm happy because in the images we've seen it seems to me that this new Dakar can be a return to Africa, to the origins I have seen a very open terrain, a type of deserts with large extensions, and I like this, I was lucky enough to be able to run in Africa, and it will be important at the sport level for the race, David Castera will have a lot of freedom to be able to design specials as he wants, I think the change can be very good for the Dakar ".
Joan Barreda:" We all start from scratch "
" It's good. The Dakar has to look for new territories and here it seems that in this new era, just as it was in Africa and South America. They have reinvented themselves and I also think it's good that Arabia is a country that people do not know about. That is going to make there even more expectations, and for the drivers it will also be good because we are all starting from scratch because there has never been a race here. And David Castera is going to put us hard, with desert, but also trialeras, mountains and stones. "
Laia Sanz:" The Dakar needed a change "
" On the one hand, it's bad for me to leave South America for the love of its people, but I really think that the Dakar needed a big change and here it can be a return to the origins, which is what we all need, it can be very interesting, they have a lot of terrain with all kinds of characteristics, varied, and it's going to be unknown, and not like it happened in Peru, I did not run the Dakar in Africa, and although South America gave me everything, I am very excited about the change ".
Photos from as.com