Carlos Betancur: "I want to go back and play races"
The Colombian Movistar cyclist will work for Alejandro Valverde in the Ardennes Classic, where he will arrive after winning the Primavera Klasika de Amorebieta.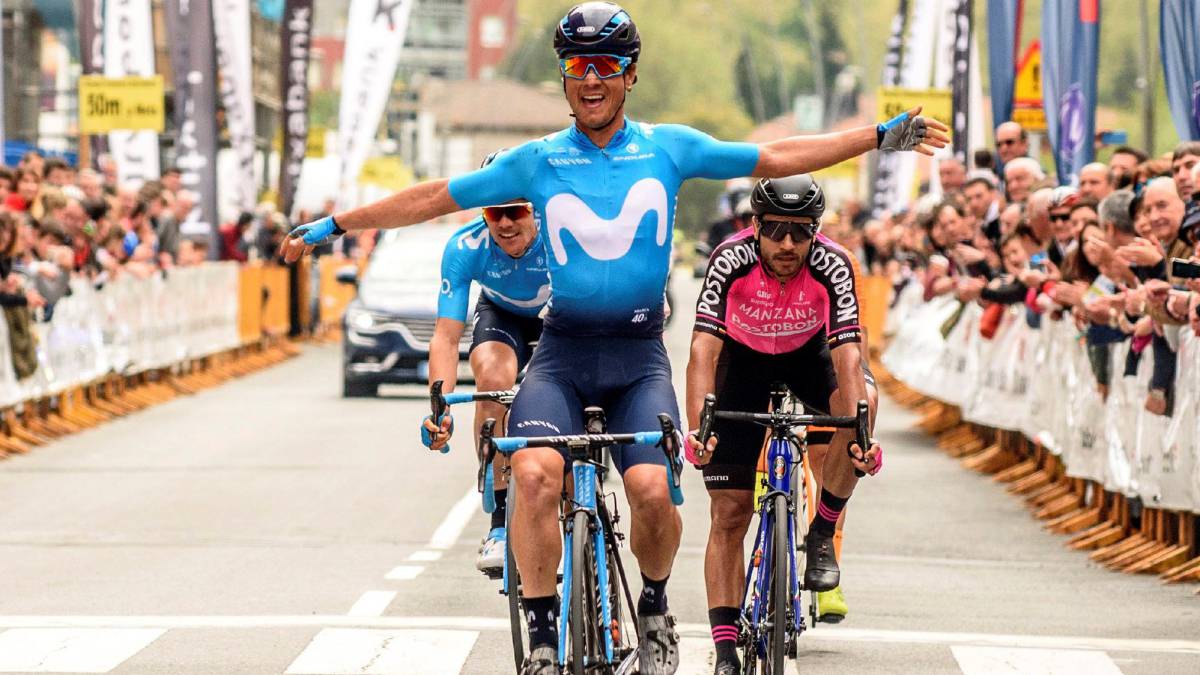 Carlos Betancur (1989, Movistar Team) is back. He has not yet reached his best version, but that is his purpose, and the victory in the Primavera Klasika in Amorebieta is a good sign. "More mature" wants to work to contest each race. Before, he puts himself at the service of Alejandro Valverde in the Ardennes classics.
Betancur has his family behind him and feels the support of the entire Movistar Team, started by Eusebio Unzué, "the boss". The Colombian cyclist wants to return to play races in the second part of the year and points to the Vuelta a España.
- What did his victory in Amorebieta mean?
- The truth is that I am very happy. This year I started with much desire, I was in Pamplona since January, certainly with some overweight. I started very motivated with the support of my family, I began to feel very well step by step, feelings that I felt in my first years as a professional. So I started a lot of strength, very lively, and I was filing the body little by little. In Basque Country I had a bad day, I got a pájara and I was not able to turn the body for several days. However, I knew that the previous days my sensations had been very good. Although I did not get a good Basque Country, I was confident that it was good, as I showed in Amorebieta, because winning in any scenario is very important.
- He has not lacked support in the Movistar Team.
- Especially the support of Eusebio (Unzué), the boss. It is someone who tells you things as they are, even if it hurts. He still trusts me a lot, has always told me, and supports me at all times. Your help is very important. Without a doubt, he wants the best for me. Maybe the first years I did not understand it; Now, on the other hand, more mature, I understand. Sometimes you do not realize the mistakes you make and you have to listen to people who have more experience.
- Your teammates were also happy for your triumph.
- There is very good energy in the team, I get along very well with All of my colleagues, and they were all very happy for my victory. Many wrote to me congratulating me and that makes me happy too, that they are with me in the good times and the bad ones.
- What will be their next races?
- Normally, I will do the classic ones of the Ardennes and Romandía before concentrating a month , a month and a half, in height, in Andorra. And then, I want to be with the best, one hundred percent, compete in the race where they take me or help one of my leaders. Now I go to the classics, motivated, with Alejandro who will play them and that in history has proved to be the strongest runners in those races. Alejandro is a great person, a great companion, an excellent professional that every runner would like to have close to learn from him. It's an honor to run with him.
- The best version of Carlos Betancur as far as he can go?
- I want to see myself there again, at the head of the races, I am convinced that I can achieve it; or at least give a hundred percent to get to the races, whether Dauphiné or Switzerland, to dispute, as when he was in the Acqua e Sapone that despite being young was forever to dispute. Then the road will put everyone in their place. I'm not talking about winning, but I want to see myself among the ten runners who compete in the race. I know that I have capacity. I just need to polish the body, lose weight, to function normal.
- As for the big laps, which one would you like to dispute?
- I would like to do the Vuelta a España because I have more time. Also, I have something pending, because in 2017 I was pretty good, I think I was to be with the best, and I suffered a strong fall.
Photos from as.com