Bordalás: "I'm forbidden to talk about the Champions League"
The Getafe coach appeared in Movistar Partidazo after the draw against Real Madrid. Ángel Torres also spoke: "We can not sign ties".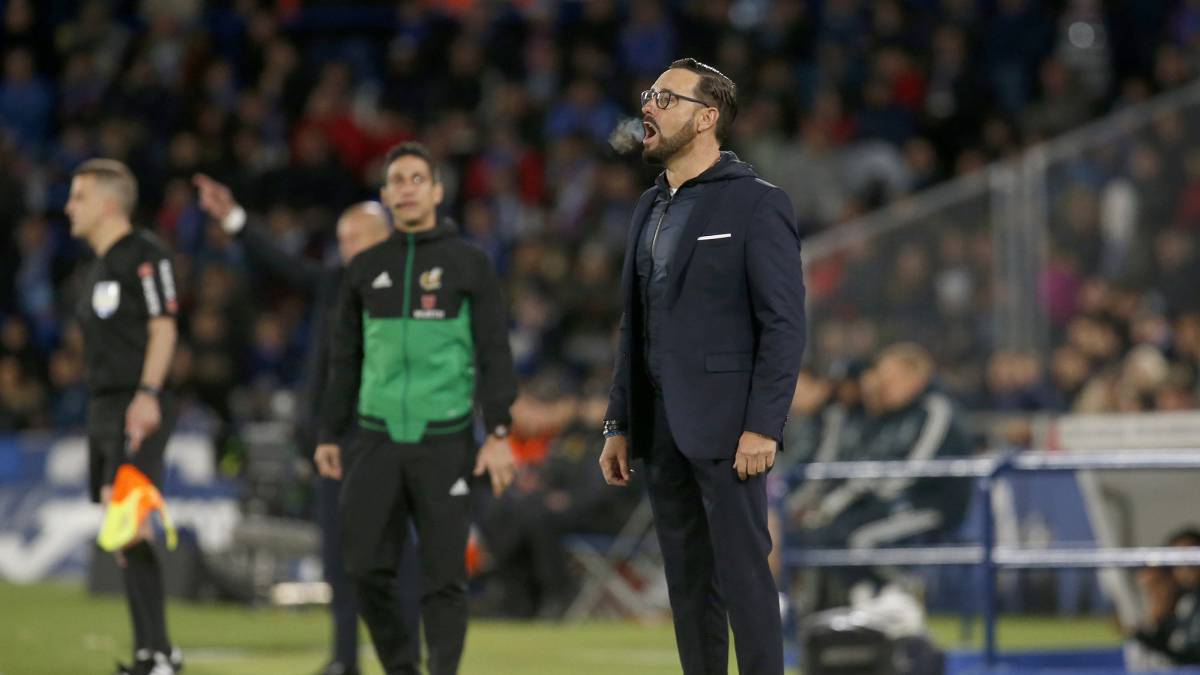 Empate against Real Madrid: "It's always a good result, in the end we pushed, we had situations to score, in the second half we were better" .
A risked for the fourth place: "We have even been with four strikers in the field. We took risks and luckily we did not lose, it's all very close, we are still there, dreaming, working match by match. "
Possible penalty :" It was a very distant play, I have not seen it ".
Equality with Sevilla and Valencia: "Step by step, it's not easy, it's a day less, we've added" .
A new duel at the weekend: "We have a few days, it's very complicated, it's the Real, we're going with the greatest enthusiasm and respect".
At a press conference, the Getafe coach added the following:
What do you know about this point in the fight for the Champions?
We do not talk of Champions, but going from match to match. You have to feclicitar the team that has faced a great rival. Real Madrid is always a big game even if you do not play a title. In the first time it was difficult for us to contain their attack and in the second we improved and they did not generate us. We risk a lot with four strikers at some point. We tried to get the victory and we continued adding with the maximum illusion.
The last minutes went to open grave. Why?
We had offensive court players at the end and everyone wanted to go forward. We take a big risk. They could hit us and we also had our options.
What has been missing to see goals?
No was a game of great occasions. The two teams worked seriously. Casemiro was well positioned and we only messed up at the end. We knew that it would be very difficult to turn around if you went ahead.
How do you rate the calendar that you have left?
I do not value it. I only think about Real Sociedad on Sunday. Recently there was talk of an affordable calendar. The teams compete even if they do not play anything. Today we saw him with Real Madrid. The Girona will play the descent here, the Real is very good team, the club wants to win always and so until the end.
Cavajal penalty to Mata was requested. How did you see it?
I can not comment because I have not had time to see it
Why do Portillo and Angel play so little?
There are other colleagues who are doing well. Everyone wants to help and when they come in they contribute and today they have returned to help.
When will it allow to talk about Champions?
People can talk about Europe, but I am forbidden. There are teams that play a lot and have that goal. We will fight to the end. There is time to get it and to stay out.
Hugo Duro has settled in the eleven. What does it mean?
He's a guy who gives everything and today we needed people who worked hard. Today we had very young people, also Olivera. Hugo gives everything and nothing can be reproached.
Ángel Torres: "We can not sign any draw"
Tablas in the Coliseum: "It was not our best match, but we did not want to lose. I'm happy. "
Did he sign the draw? :" We can not sign ties being up, we always try to win everybody. "Madrid, however bad they say they are, is third"
La controversial: "I have not I saw the penalties clear, I would have to watch it carefully. "
The heat of the crowd:" We have missed a lot of people because of the schedule, but the fans are responding. "They are excited and we are very happy.

Photos from as.com