Benzema, record in Madrid: "I did not know, they are good figures"
The French striker has scored the last eight goals of the team, something that had never happened in the 117-year history of the Madrid club.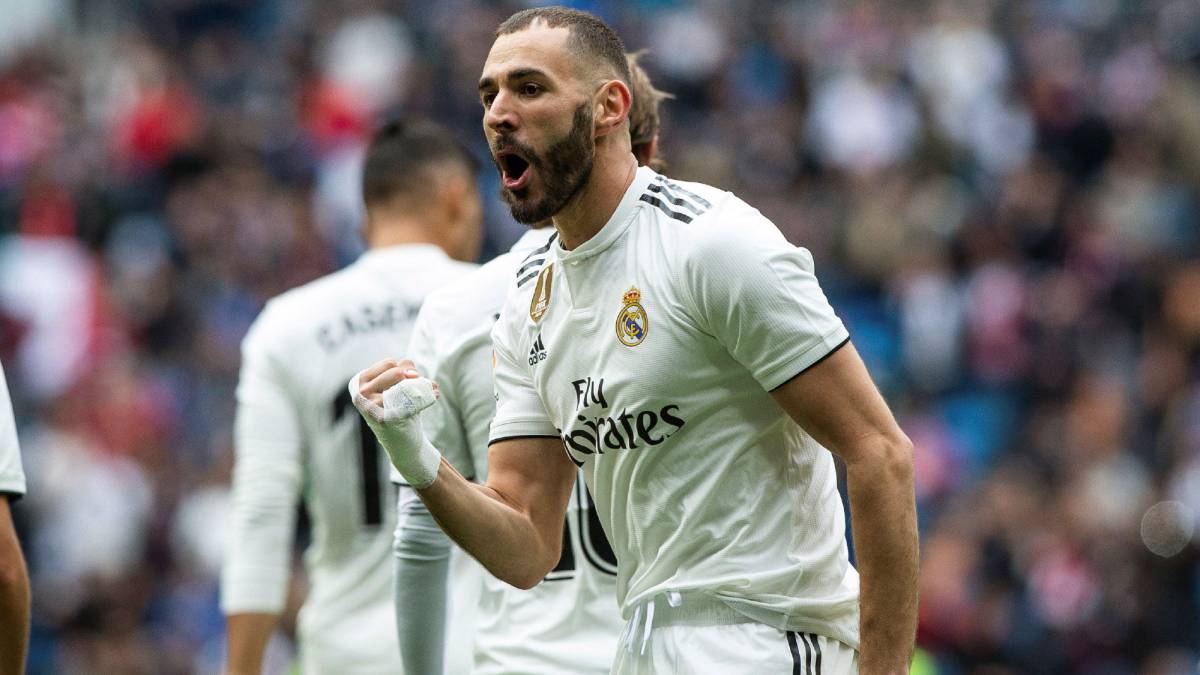 Karim Benzema (31 years old) has been key again, this time in the triumph of Real Madrid over Athletic to be the author of a hat-trick. The French striker, who has scored 30 goals in 50 matches this season, spoke to the media in this way:
Analysis: "This game was important for us, against a very strong opponent, as we have seen in the first part, which was a little hard for us, we made a great second half, with goals and without conceding, which is very important for us. "
If you feel the only one not discussed: " I do not know, I'm here to help the team, my teammates It has not been a great season because there have not been titles and we are here to win titles, it has been difficult, but what has happened has happened and we have to continue until the end, we must continue and win the remaining matches ".
With a '9' next: "I do not know what the center forward is for, for me, being a forward is a lot, not just the goals: contributing to the team, moving ... I play here with '9', today I played on the system the team like a '9', but I do not care if there is another '9' to play next or not. "
Record: " I did not know. I'm very happy. The most important things for me are the points, playing football well. These are good numbers ".
A Two goals of his best record in Madrid: " There are not enough games. When I enter the field, I focus more on what I can do to help my teammates, to earn points and, of course, to score goals. "
If you want to follow: " Yes. I'm in the best club in the world. "
Bale Points: " That's over. To all. I am always with him, I always want to help him, he is a great player ".
Titles: " I think that everyone, we also want titles. Each year it is more difficult to win them. The most important thing is that we are here until the end and hopefully next year we can win something else. "
If he has felt alone in the scoring responsibility: " No, just no. I need my partners, like them to me. It was a difficult season for everyone, we always want titles, we play in Madrid and we must always win. But in football sometimes things change, it was a difficult course. There are five games left and you have to win them all. "
Improvement Improver: " Today we play with a system with nine nine, I do not need to go down to touch the ball so much, but it was a great match for everyone ".
La Zidane's return: "It means many things, we are all very happy, not just me. The fans too, is a great coach ".
The farewell of the Bernabéu to Agustín Herrerín: " He was a very good person, I have many memories with him ".
Convince Varane not to leave: " He has not said he wants to go, many people talk but he is fine, he is focused on his game and wants to continue in Madrid. "
So the '9' white was surprised and happy to have made history again in Madrid. In the club's 117-year history, a player had managed to score eight goals in a row of the team with no other teammates in between, and is two goals away from improving his personal best record at Real Madrid (32 goals in 2011). -12) .
On the other hand, with 21 goals, is twelve goals away from Leo Messi, top scorer of the Liga with 33 goals, Si one more goal, will equal the historic goal record. eguidos of the same player for a certain club throughout the history of the League, a statistic shared by Quini (Sporting), Kodro (Real Sociedad) and Messi (Barcelona) .
Photos from as.com