Sum 11 goals with the head, which more than the major European leagues. He takes four from the Juve Christian. "It's impressive," Zidane congratulates.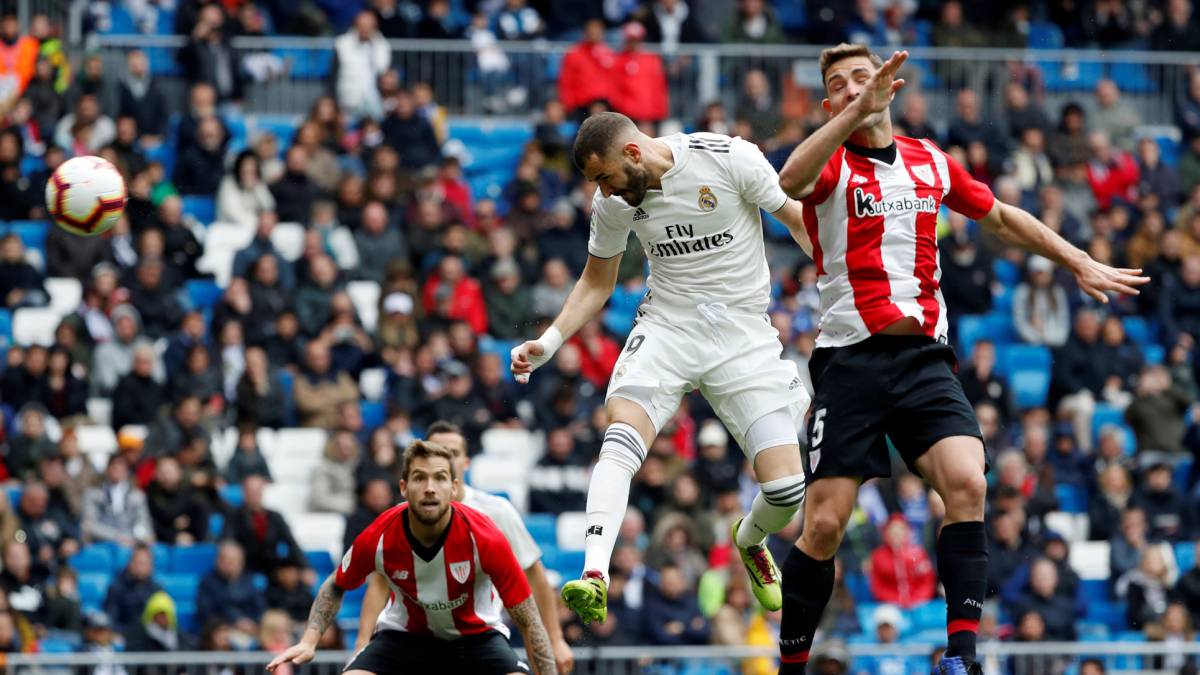 "I have to step on the area more." Benzema announced before the start of the season his intentions and seeing his previous eight years at Madrid, he raised more than one incredulous eyebrow among Real Madrid, the team closed a convulsive year but the Frenchman fulfilled his promise: with his hat-trick Athletic reached 30 goals and 9 of his back home better than ever with his benefits.At the end he is a battering ram.Of those 30 goals, 11 have arrived head, more than a third.
From his exhibition against the lions he improved with two historic streaks: the one of consecutive goals in League with Madrid, which Puskas had (with seven in the 1961-62 campaign), and the one of goals followed between all the competitions, the seven of Monjardín (1926), Santillana (1980) and Morientes (1999) In fact, he also has to shot the absolute record of any player in LaLiga.This eight consecutive league goals ivas are one of the nine that managed Quini (Sporting), Kodro (Real Sociedad) and Messi (Barcelona) .
The barriers that can break down do not end there. They have 21 goals in the league and have five games to attack their 24 goals of 2015-16. The 30 totals that accumulate this course are two of his record as Madridista, 32 of the 2011-12.
Now is a leader ..
The Frenchman always left the feeling of being much more comfortable in the slipstream of alpha males like Ramos and Cristiano. Until now. The Portuguese crack is winning even in one of his weapons, the top goals. Benzema is the one that has scored the most goals among the players of the five major European leagues, with 11 among all the competitions (eight of them in the league, where he is also the best). Four goals more than the ones with Juventus made by Cristiano (7) , the best modern specialist with the testa.
"Karim does not surprise me, but what he is doing is impressive", Zidane congratulated himself yesterday. At 31 years of age, Benzema's maturity is full, or at least it seems . It is increasingly common for family images to sneak in on Instagram among luxury cars and other miscellaneous extravagances. He is taking it to the dressing room. "He is one of the leaders of Madrid", confirmed Marcelo yesterday in the flash interview. The club negotiates for a nine (Jovic, the Serbian sensation of Eintracht) that is complementary to it rather than a point that could threaten the ownership. Because without Cristiano in Madrid was betting on Bale, wry dragon Welsh, but who has ended spitting fire has been Benzema.
Photos from as.com