Belén García: "What did I do the day after I won?
The Catalan appears as the first woman to win a victory in this event organized by the FIA for four years. It combines the circuits with the studies.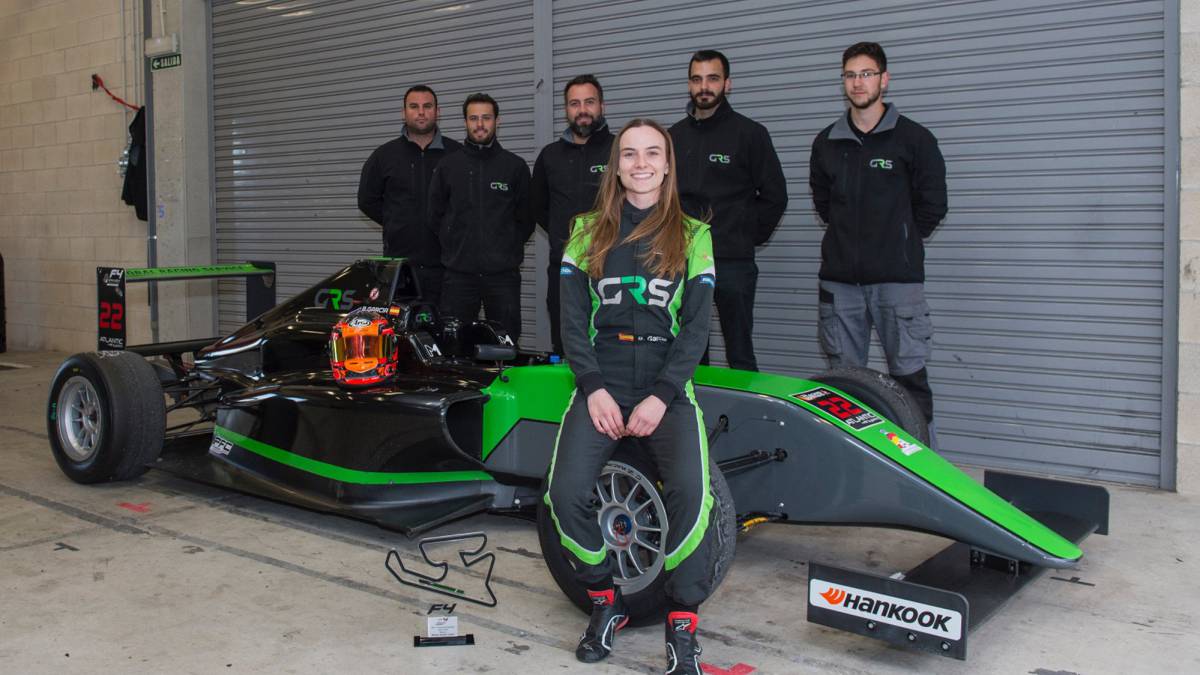 Belén García Espinar (07/26/1999) is a name that will be recorded for eternity in the history of F4 Spain. Since Sunday April 7, 2019, the Catalan is the first woman to win a victory in this event organized by the FIA for four years. Garcia, who combines the races with a telematic engineering, attends As to talk about the sensations he felt at the podium of Los Arcos or his dreams in the medium and long term.
-Who is Belén García Espinar? How would you define yourself in a single sentence?
-I am passionate about sports. Basically it's what I like the most, it's what I want to dedicate myself and what I work for every day.
-Do you have any references?
-I have many references. Many. Both in athletics, motor racing, tennis ... As I said, I am passionate about sports and I look at all athletes and try to focus on the best of each. It is very difficult for me to stay with only one.
- What is your daily routine? Because I intuit that combining the races with a telematic engineering will not be easy.
- Well, a lot. The truth is that it is very difficult because it requires a lot of you, but in the end you save it as you can. My routine is from eight in the morning to two in the afternoon, I study until five and a half or six in the afternoon, it depends on the day, I train two hours, two and a half hours or three, it depends on the day as well, and then I I put back to study. And then the days that there is a race, then for there.
-Study almost as much as you train. What kind of training do you do to stay fit?
-I train mostly in the gym. In the end, the kilometers on track cost a lot of money, but I try to shoot everything I can do. After karting there is nothing, nothing.
-Reviewing his sporting career we can see that he has participated in the Spanish karting championship or in the Kobe Cup with the Promise Women Team. What experiences or anecdotes would you highlight about these competitions?
-Karting, first and foremost, is the basis of motorsport. He has taught me a lot. In fact, in the third race at Los Arcos, every lap I took was like a karting technique and I was remembering the whole karting race. The Kobe Cup was great as I debuted in circuits.
-Have you found more difficulties to be a woman in these categories?
-In principle I have not had any problems, in sports. Then off the track, as always, but no more. Not too much to note, luckily.
-What advice would you give to a girl who wants to start in the world of motor
-Start, it's too heavy, fight for what you want in the end everything ends arriving.
-Let's talk about his victory at F4 Spain, what was the first thing that came to mind when he saw that all the cars, except for Nerea Martín and you, did not stop for the red flag?
-When I entered and did not see anyone, I said: 'Uh'. But no more. Then I was already aware of what was the procedure, what they decided at the end, when the race resumed ... And I did not have much time to think about it, but it is striking that it was like that, the truth. A red flag has to be respected.
-Once the crashed cars of Ivan Nosov and Carles Martínez were removed, the second race resumed. I was thinking every turn I could end up winning or was isolated by completed?
-No no, in fact I did not think about it until my team told me. I followed my own, fighting to maintain and gain positions and get into the race. Then when I got out of the car and they told me, I said: 'Well yes' (laughs) .
-I imagine that the sensations when he climbed to the top of the podium to collect the trophy that credited him as a winner are indescribable . What did you think at that precise moment?
-Yes. The truth is that it was very rewarding. You think about the work we have done in recent months, the work I did in karting, in all past races, in everything you have fought to be there ... And in the family.
-The family is always a support very important in all areas of life ...
-Yes. Of course. Without them there would be nothing, really. Thanks to them I am running. Thanks to them I have been able to run in karting ... And thanks to them I can continue to be like this, regardless of whether we find sponsors or not, which is difficult. I owe everything.
-Talking about sponsorships, one of the great novelties this season in F4 Spain is the incursion of Fernando Alonso with the Formula Renault Eurocup team.Drivex. How do you rate this news?
-I think it's great to involve figures like Fernando Alonso in the lower categories because in the end they are the examples we have to follow. And I think that this type of action should also be promoted.
-After this first win, what are your goals for the rest of the season with Global Racing Service?
-In the end we are looking to accumulate kilometers, because I am one of the pilots who has the fewest kilometers on the grid. We did not expect this result at all and repeat it we know it will be difficult. Therefore, what we want is to go forward every day, working as we have worked until now, to go up positions, lowering times and being as high as possible to then try to fight to be on the podium at races.
-¿A medium term?
-The goal is always to reach the top, but in the end in this sport you are always looking to keep running, never stop running. Go step by step. If you can move forward, then great because it's what I love most, but time will tell.
-Finally, as a curiosity, what did the first woman to win a race in the F4 Spain the next day?
- Well, get to study (laughs). Put me to study because I had an exam, the next day another ... In the end, you have to be everywhere and the fact of winning races is great for your sports career, but in college and in life everything remains the same.
Photos from as.com