"Surely Barca will not fail and on Saturday will be champion"
Simeone praised "the beauty of seeing" that has been the game and the three goals of his team "that have given us a victory that we needed".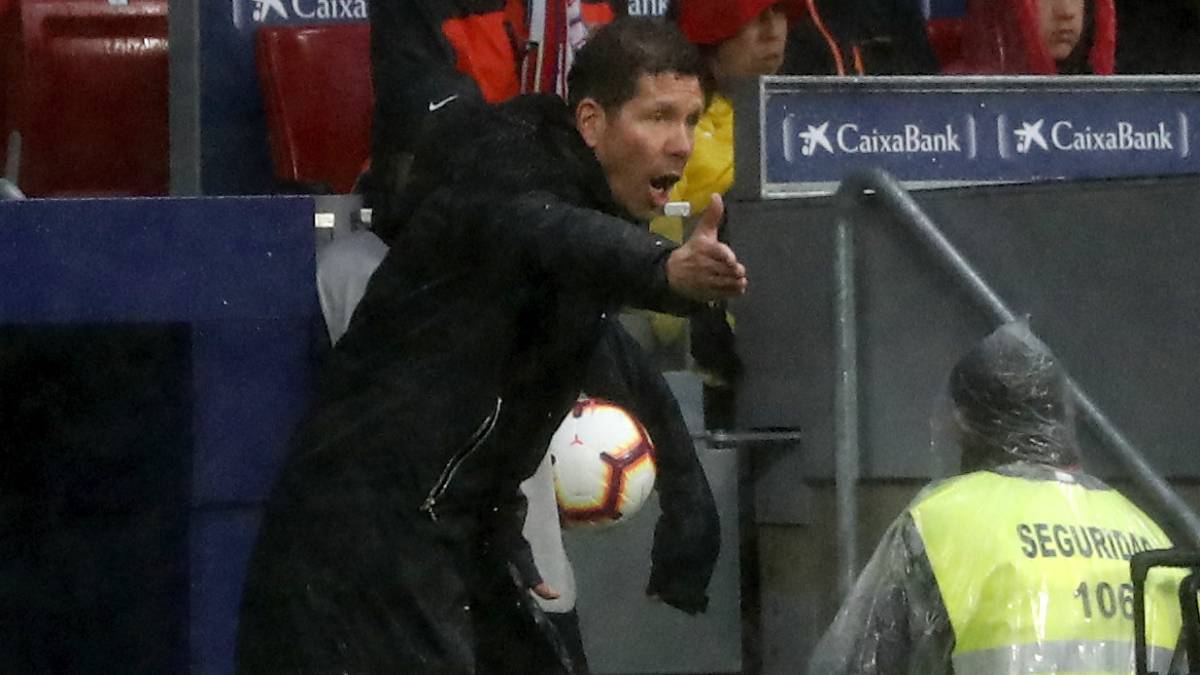 Diego Pablo Simeone appeared in the 'flash interview' of BeIn Sports to give his first analysis of the victory of Atlético de Madrid against Valencia.
Análisis: "We played a great game, which we controlled in most of the game and that We were able to take the final, a victory we needed, it was a very nice match for the spectator, with five goals, they were very strong in the times they arrived and we, too ".
Golazo de Correa:" Not only the one of Ángel, also Morata, who was a great play, and Antoine, with a great center from Lemar, who grew a lot ".
Barça's alirón is postponed:" We are doing what we have to do, which is win and continue until the end, until we have opportunities, although Barcelona has had a great season and will certainly not fail and on Sunday will be champion ".
The technician or said at a press conference:
It has been the best match of Lemar?
I'm very happy for him. It is taking care of wanting to improve. It has very good conditions, and a speed technique that we will surely take advantage of in the future. At the start he was comfortable, being deep in the duels and vertical. And with work. He has worried a lot about it and the work is paying him.
The third goal came between Thomas and Correa. Two of the changes. What did you expect with them?
We looked for depth with 2-1, because I saw that we were running out of strength. Then Thomas entered through Lemar and we looked for speed with Correa from right and Koke's vision from the left. Before his draw he already wanted to get Thomas and then Arias entered the final stretch. The changes responded very well. Today could not enter Vitolo, who did well in Eibar, or Kalinic, who with very few minutes, has a very good predisposition.
Cuesta some maintain the gene competitive?
What was seen in the boot was a team with ambition and wanting to attack. Until we made the goal and they started to have the ball. The second half was more stable, but always in search of winning rival who has always competed in LaLiga and who has lost very few games.
was seen to celebrate a lot the triumph. Why is the first place so far away?
By winning. Winning any game you play is important for us, more with a rival like that. If you can not finish first, you have to be second. You have to get where you can.
Griezmann has already scored 21 goals. What is your assessment of it?
Griezmann is a very important player for today and for the future of the team. He is a captain today of the team and also for the next season.
What tells the fan who knows little by little the second place?
The people were delivered, happy, with a tremendous rain. To the one who knows this to little I can not say anything.
¿Being second is a joy or a frustration?
Exit second is bad? Is going out third is bad? While we compete, I will always be happy. If I can not leave first, I have to come second. That was taught to me.
How do you value Rodrigo in the long-term project?
The same as Griezmann, that Giménez and that Saúl. The same as all the young people. They are a very important part in the future of the team.
Morata scored a goal and they canceled another. He has been serving since he arrived.
He is in continuous growth. He got involved very quickly and everyone here knows what is there. If you give life, they recognize you.
Photos from as.com