Ana Carrasco starts the title defense in Supersport 300
The 22-year-old from Murcia arrives at MotorLand with the firm intention of repeating last year's feat although she assures that she has "zero pressure".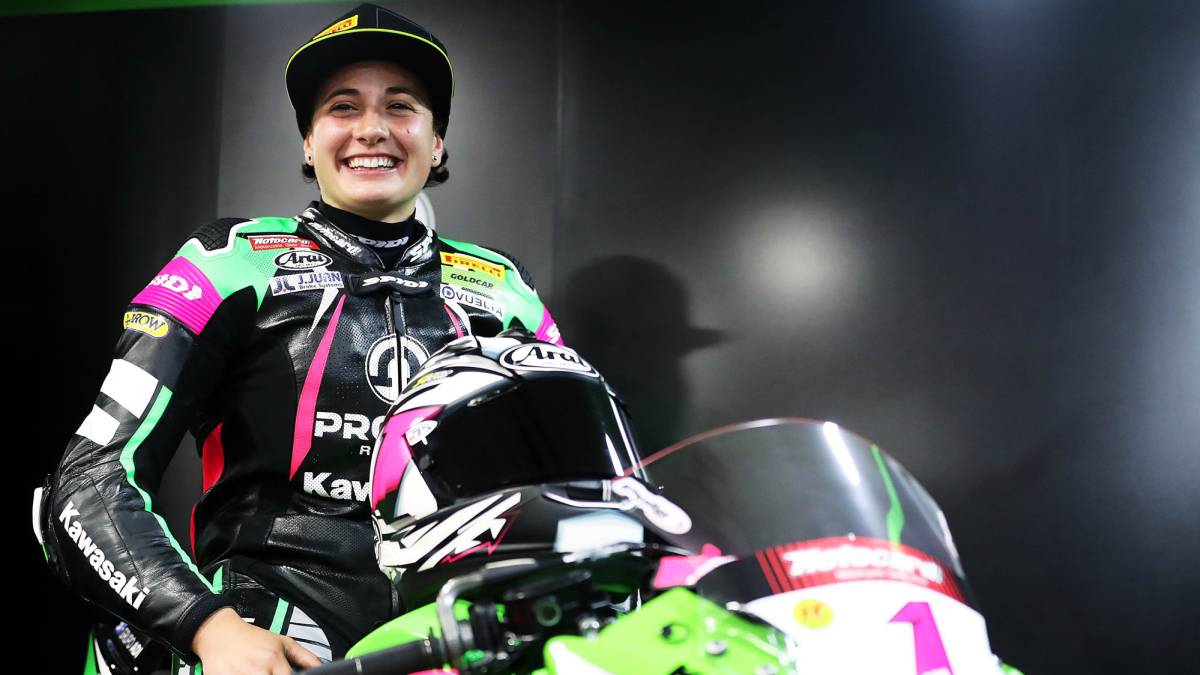 "Right now I have zero pressure," said Ana Carrasco in the presentation of the Kawasaki Provec to As. The 22-year-old Murcia faces this weekend, at MotorLand Aragón, the first assault to revalidate her title of Supersport world champion 300 and he does it from the serenity of knowing he is capable, the tranquility of hard winter work and the support of a great team. However, the company will not be easy as the championship presents changes for the nine dates of the calendar, starting with a final race in Qatar that will be the first excursion of the event outside Europe.
In the track, the main novelty is the growth that reaches 52 registered, representatives of 11 nationalities (8 Spanish) and 4 brands: Kawasaki (31), Yamaha (15), KTM (4) and Honda (1). Given such an influx of drivers, Dorna has decided that each starting grid is composed of 36. The 30 fastest in the classification, which will be divided as the free in two groups, plus the best six of a repechage among the 22 eliminated. That is, 16 are running without a weekend.
Esa circumstance will cause the general innumerable rollovers and that the champion needs a great regularity, starting with trying to play the nine races. Along with Carrasco there will be other seven Spaniards: Mika Pérez, Borja Sánchez, Marc García (champion in 2017), Francisco Gómez, Manuel González, Beatriz Neila and Ferrán Hernández.
María Herrera, Barberá and Viñales, to continue growing in Supersport
Supersport, championship that goes hand in hand with the Superbike, will also play in the Aragonese track the third race of the season. The Frenchman Jules Cluzel, who lost the title last year in the last race against the German Sandro Cortese, librates so far a spectacular duel with the Swiss Randy Krummenacher in which they are tied for points, victories and podiums.
Nevertheless , the Spanish test of the calendar next to Jerez (7-9 June) is marked with a big cross by the four Spanish representatives: Héctor Barberá, Isaac Viñales (cousin of Maverick), Maria Herrera and Nacho Calero. Barberá, who was fourth in Australia and seventh in Thailand, wants to continue taking steps ahead and what better way would be to step on the first podium of the season in MotorLand. Something similar happens to Viñales who also stayed at a single place to go up to the drawer in Buriram.
For her part, Maria Herrera already signed a historic milestone in Thailand when she managed to score there and become the first woman to do so in three Motorcycling World Championships: Moto3, SSP300 and SSP.
Photos from as.com