Alberola Rojas, a week without whistle after the 'campion' to Morata
The referee of Eibar-Atlético has been sanctioned by the CTA with a day without arbitration. It has not been designated neither from the field nor from VAR for next weekend.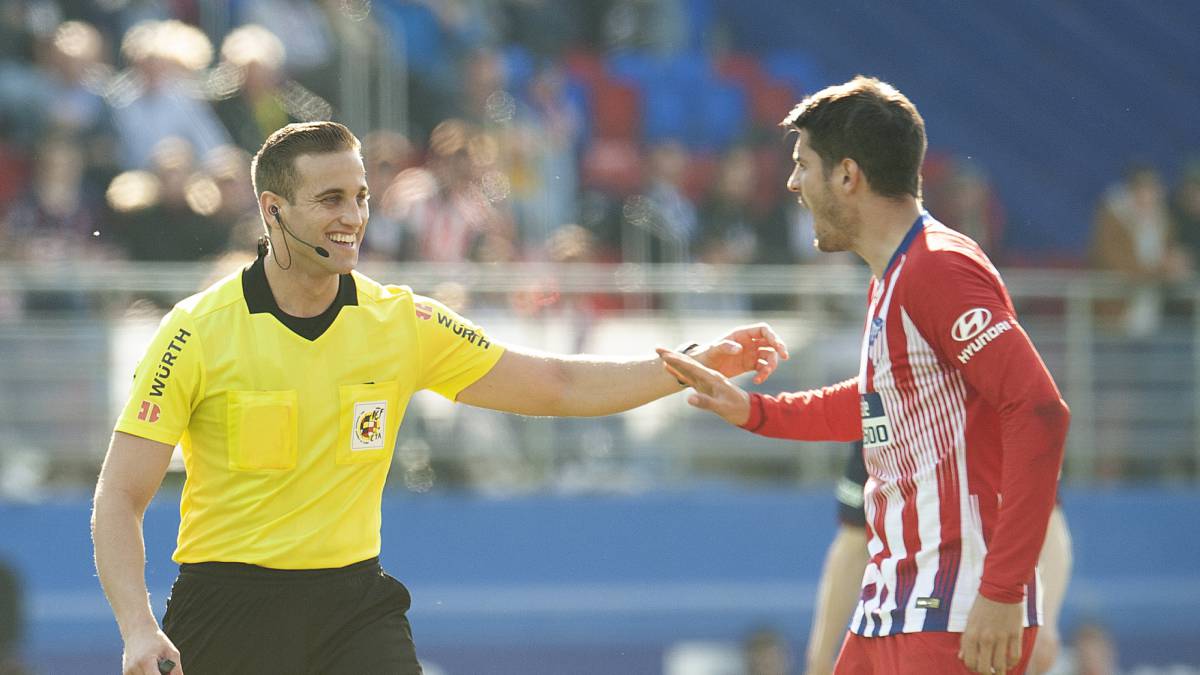 The Technical Committee of Referees has punished Alberola Rojas with a day without refereeing or being in the VAR for the 'colleja' that she gave to Álvaro Morata last Saturday in Ipurua, as she has been able to confirm As. The CTA has taken this decision to give a touch of attention because they believe that referees should not touch players or vice versa. Also, this decision is motivated not to expose him in the middle of the controversy and protect him, since afirman that on a technical level does not deserve sanction and made a good arbitration in the Eibar-Atlético, for which he congratulated.
The only thing that They reproach the referee of 27 years were his discussions with the Atlético striker, whom he grabbed the arms in the first part when he protested a foul. In the second part, Alberola Rojas gave him a 'campion' and this caused great discomfort to Morata, who repeatedly complained angrily, what cost him a yellow "for making observations one of his decisions" , as recorded by the Minutes of the match Koke had to intervene to reassure his partner and thus cease his confrontation with the braid. From the CTA point out that this type of behavior is not advisable and so the referees have been reminded on several occasions and will insist on the next seminars.
Alberola Rojas will comply with the sanction during the 35th day. Nor will arbitrate in the 34th, which starts today. His absence in this is not due to any disciplinary reason, but to give him rest, since the decision was made before the incident with Morata.
Regarding the designations of the day 35, the Andalusian referee Mario Melero Lopez arbitrate the Athletic match of Madrid-Valladolid, in which the Valencian Pablo González Fuertes will direct the Rayo Vallecano-Real Madrid and the Basque Ricardo De Burgos Beongetxea the Barcelona-Levante. Mateu is not designated for any of the matches next weekend, but there is no penalty, but will be in the next match of Champions Tottenham-Ajax.
Appointments of the day 35: Athletic-Alavés
Principal: Gil Manzano (C. Extremeño) VAR: Munuera Montero (C. Andaluz)
Atlético de Madrid-Valladolid
Main: Melero López (C. Andaluz) VAR: Alvarez Izquierdo (C. Catalán)
Leganés-Celta
Principal: Martínez Munuera (C. Valenciano) VAR: Jaime Latre (C. Aragonés)
Barcelona-Levante
Principal: De Burgos Bengoetxea (C. Vasco) VAR: Cuadra Fernández (C. Balear)
Valencia-Eibar
Principal: Estrada Fernández (C. Catalan) VAR: Undiano Mallenco (C. Navarro)
Girona-Sevilla
Principal: González González (C. Castellano-Leonés) VAR: Jaime Latre (Aragonese C.)
Real Sociedad-Getafe
Principal: Prieto Iglesias (Navarro C.)
VAR: Medié Jiméne z (C. Catalán)
Villarreal-Huesca
Principal: Sánchez Martínez (C. Murciano VAR: Cuadra Fernández (C. Balear)
Rayo Vallecano-Real Madrid
Principal: González Fuertes (C. Valenciano) VAR: Cordero Vega (C. Cántabro)
Betis-Espanyol Del Cerro
Principal: Grande (C. Madrileño) VAR: Iglesias Villanueva (C. Gallego) .
Photos from as.com