Alaphilippe exhibited again in Huy; Valverde, 11th
Julian Alaphilippe won for the second consecutive year the Walloon Arrow. Fuglsang was second and Ulissi third. Valverde, in the lead throughout the race, was left behind in the sprint.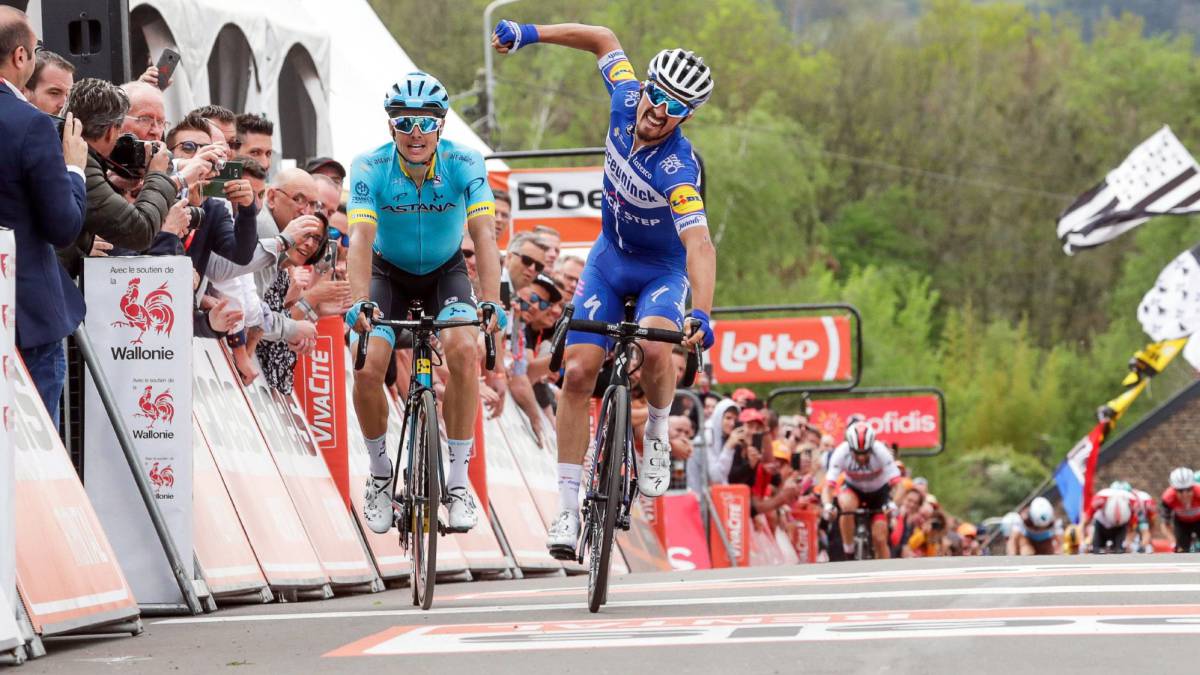 You had to pull the last blow of the kidney to ensure your victory, but Julian Alaphilippe returned to exhibit on the wall of Huy. The Frenchman won his second consecutive Walloon Arrow (the first Frenchman to achieve it). In the first he defeated the king of the race in a hand to hand, Alejandro Valverde (finished 11th), in 2019 he had to deal with Jakob Fuglsang, who is one of the animators of all the classics (together with Alaphilippe and Van der Poel , who was not there because his team was not invited). "He spent more time with Fuglsang than with my family," joked the winner after crossing the finish line. And is that the duel between the two is being a classic this spring.
In the Arrow the cyclist of Astana was responsible for hardening the last half kilometer, the Deceuninck stuck to his wheel, chose his distance and attacked in the absence of 200 meters. He passed easily, but Fuglsang had the last repris and emptied in the final meters. It was not enough and the first box of the podium received the same tenant: Julian Alaphilippe. The French took advantage of the great work of a Spaniard, Enric Mas. The Spaniard was in charge of neutralizing Marczynski and Mohoric, who tried to cheer on the final rus. In the absence of 6.5 for the goal he hunted them down and put a hellish pace to select the platoon. Some favorites like Sagan and Adam Yates (for fall) had already stayed, others were yielding comba.
A But he got him out of there Rui Costa, who was the first to harden the pace to start the final climb to Huy. It was a brief appearance, because Poels put Kwiatkowski in the lead in a few seconds, but ended up surpassed when the pace went up with Fuglsang. Diego Ulissi, who knew how to hold on well in the top of the peloton, finished third. In that position was also Alejandro Valverde, who had been well placed all day and Movistar worked for him, but the day before his 39th birthday he could not autoregate his sixth Valona Flecha. He was eleventh, but his feelings were better than in the Amstel Gold Race last Sunday (he suffered a pájara and was out of the top50), and is optimistic facing the Liege-Bastoña-Liege (April 28) .
Photos from as.com