"In 52 matches, it's the first time they have scored three goals"
Marcelino said about Guedes' change: "He had a discomfort in the calf, it was not right, we saw him limping in. With the intention of avoiding risks, we decided to make the change".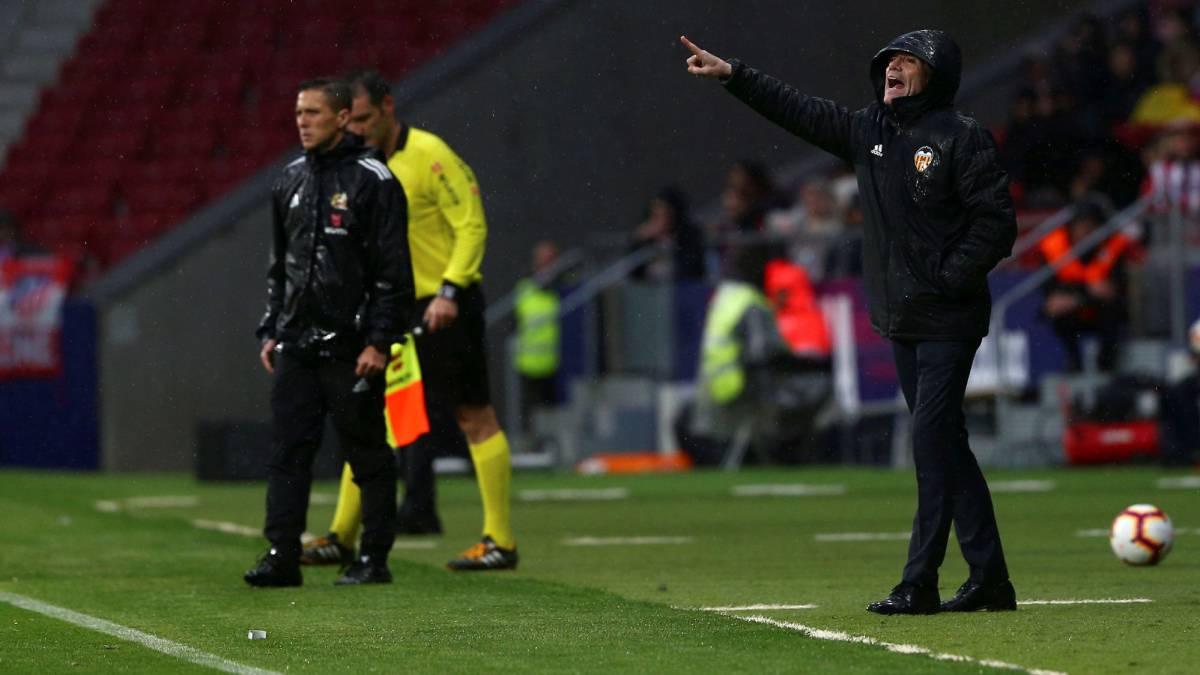 Marcelino García Toral analyzed the defeat of Valencia at the BeIN Sports microphones after finishing the game at Metropolitano.
Eficacia: "We lacked the efficiency we are proud of, Atlético had high efficiency, Atlético was fine. At the beginning, we drew and Correa scored a goal, last year he scored in the same goal, we will continue in the fight ".
Sobreponerse. "We were fine, we had three chances to advance at the end of the first half and Atlético is a great team, we are going with a painful defeat, if we had shown our efficiency we would have scored some points" .
Carga: "Of course it weighs. almost everyone in the same situation and that can not serve us as an excuse.We are effective in side centers and today we fit two goals.These are situations that we do not usually have.We play against an intense team and winner of duels ".
Champions:" We have left four and all we are going to leave points along the way and analyze the good, enough, and the little bad that the rival has punished us. "
The Valencia coach spoke after a press conference:
Valorization:" Whenever you lose there is a sadness, more than the form that occurred, a loss in the midfield, took advantage of Atlético for the 1-0. n. Atlético has not had any chance. We started well but in a very well executed counter we scored 2-1. And the team came back to replace that blow. Then we managed to replace with the penalty and it was a shame the third goal. I think it was missing the third goal, but hey. Like last year, Correa made us a goal, in the same place and in the same goal. We keep trying. It is a pity that we have not managed to draw. It's the first time they have scored three goals for us all season. Something we have done worse. And if it's against Atlético, it's synonymous with defeat. There are 12 points left to play, the Eibar match is a final. "
Atletico when he pushed, scored goals:" We made a big mistake in the first goal. We do not choose the best place to not have our best defensive day. It's the first time in 52 games that got us three goals. We have lacked intensity to defend in several areas of the field. I remember the three goals and a cross by Griezmann. I do not think they had more. They have great players. "
Cambio de Guedes:" I had a discomfort in the calf. It was not good. We saw him limping. In order to avoid risks, we decided to make the change. I have not asked him if he wanted to leave. I do not usually do it. "
Low start voltage:" I do not want it to be an excuse. In the first minutes, when we have a match every three days, we always come out with something of lack of intensity. Atlético always starts with enough intensity. We started dominating the second half and in one against we scored the second goal. We knew where we came from. Atlético scored three goals, both of us, a total of seven goals in the Wanda. "
Good schedule:" You can never trust the calendar. Of the last 22 games we had only lost against Rayo ".
No sold out changes:" The team is in good dynamics. Once we drew, we were going to make a change. In the offensive game we were fine. We did not have time to make the defensive change because they made a quick 3-2. We continue to attack with judgment. Coquelin does not know that I do not have any physical problems ".
Photos from as.com