1x1 Espanyol: Marc Roca and Wu Lei are not enough
Diego López completed a great game, but could not avoid Celta's goal. The stick helped him on one occasion of Aspas. Naldo was injured. Hermoso finished off the crossbar with 1-0.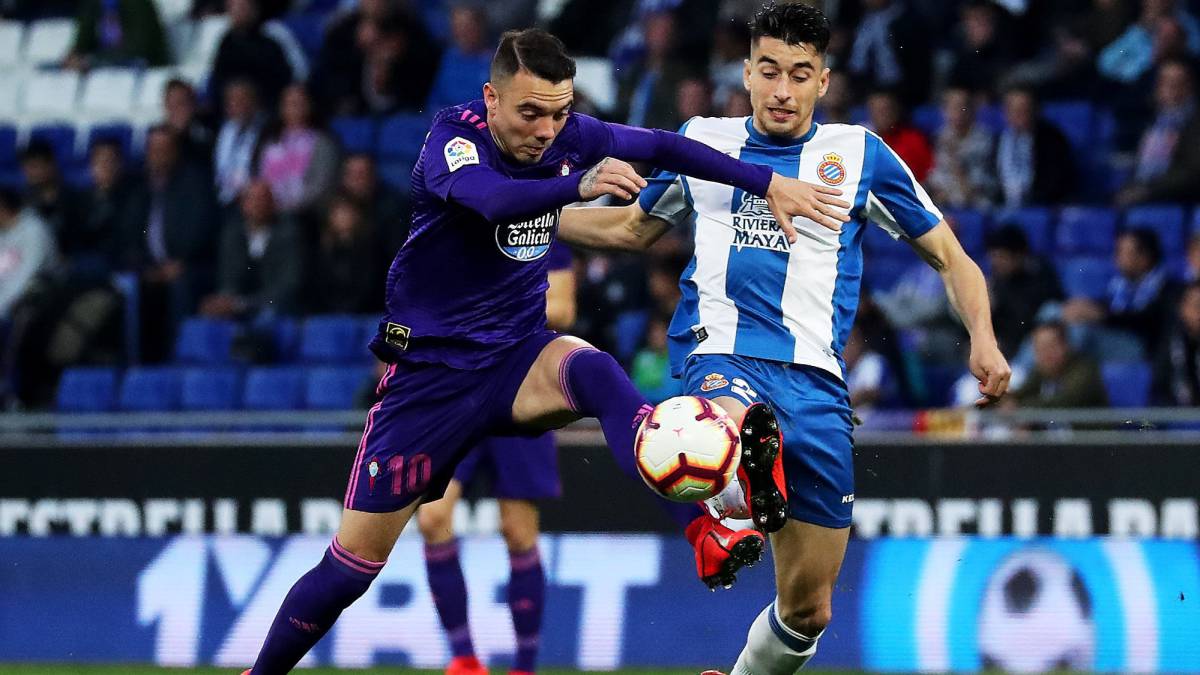 Diego López: In the 3 'he did one for portentosa to Hugo Mallo. He was safe at all times. After the break he continued to show off, but he could not avoid the 1-1. Before, the stick helped him in a shot of Aspas.
Javi López: He covered his area well and continued showing that whenever he plays, he complies. He joined the attack few times, but when he did he served Espanyol to oxygenate the game. In the second half he suffered something more.
Naldo: He was safe and successful. He was very confident with the ball on his feet and was quick and accurate when he had to go to court. Form a great pair with Mario Hermoso. In the aerial actions it was excellent. Aspas gave him a scare in the second half. He was injured and cheered.
Beautiful: His confidence level is exceptional. He carried out several actions in the first half in which he showed quality. He was very good at court and on the ball. Central guarantees. In the second half he finished off the crossbar. Su but was late to cover Maxi Gómez.
Dídac: After the fright of Hugo Mallo was intoned and in the 6 'placed a good center that ended with the shot outside Wu Lei. At 29 'he came well from behind and had a chance, but his shot went away by very little. Serious match.
Granero: It was one of the players who showed the best level in midfield. He covered a lot of pitch and he did almost everything well. He pressed with success and distributed the ball well. It showed.
Marc Roca: His level of play and placement is exceptional. He marked the line in the midfield and gives a lot of security to his teammates. He always offered a clean ball out. He drew an excellent pass for Wu Lei to make it 1-0. He had them with Iago Aspas.
Darder: He played thrown to the left wing and there he had less contact with the ball. It takes a toll on his game, but he helped in the containment and tried to show himself. He tried several passes to break Celta's pressure line.
Melendo: He could enjoy more of the game without having too much pressure to defend from the center of the field back because Granero and Marc Roca covered him. Whenever the ball arrived, it tried to be vertical. Duel suffered, but in the 1-1 Aspas beat him easily in the one against one.
Wu Lei: Full match. He attended the 4 'Borja Iglesias and two minutes later he could not take advantage of a good Didac center. He read perfectly the action of his goal: he touched, he looked for the hole in the back of the rival back and finished brilliantly. He also asked for a penalty. He showed speed and delivery.
Borja Iglesias: In the first minutes of the game he could make the 1-0, but finished off an assist from Wu Lei. He did not have an overly lucid encounter in attack, but he did. He distributed the ball well and was always a valid support.
Duarte: He appeared due to Naldo's injury. He did not have bad minutes, but they coincided with the best Celta and tied. Capon well a shot of Pione.
Sergio García: tried to show, but touched the ball little. He helped.
Ferreyra: He returned from his injury and enjoyed a few minutes. Without incidence.
Photos from as.com