Valverde: "It's a vital match"
The coach of Barcelona spoke in the pre-match against Betis. He recalled that he is the only team that won at the Camp Nou: "It will be very difficult, they are very motivated and it is vital to win".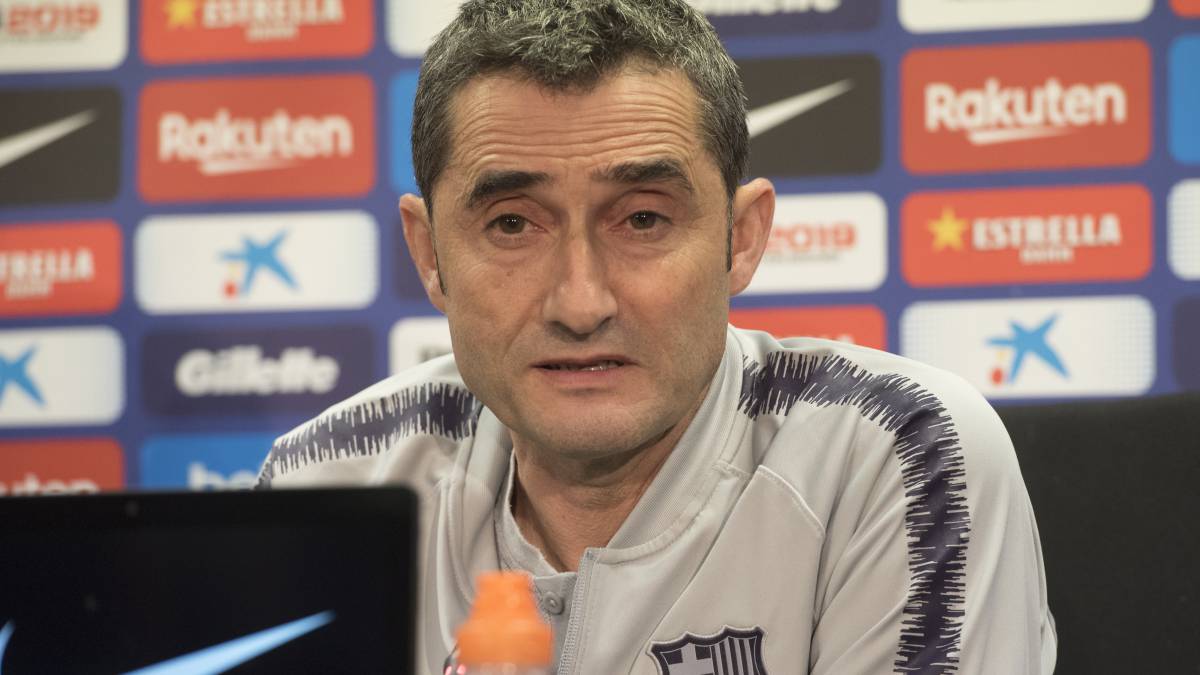 Ernesto Valverde, coach of Barcelona, attended the media in the pre-match of his team at home Betis (Sunday, 20:45, Movistar Partidazo) .
How faces the game against a team that won them in the Camp Nou?
We have looked at the first round match as they should have reviewed it. We know what kind of equipment it is and what it requires. In that game we suffered a lot and lost. It is a vital match tomorrow. We know how they are motivated by us because they fight for the whole field. Those points count a lot because they will be only 10 days
How is Dembélé?
Lesionado. I already came with discomfort, but being a definite match and going adjusted we risk. We hope that in three or four weeks it will recover. It was a day to risk.
Why did he play?
Your sensations were good and he wanted to play. We knew there was a risk. If the score goes another way it would not have left, but maybe I do not put it on the list and had injured tomorrow.
How do you see the tie against United?
Difficult. They are the quarterfinals of the Champions League. United is historic. An attractive eliminator. They live a great run of results and the tie is open, especially after what they did against PSG. Never give up.
How is the match managed coming from the Champions?
No fear of excessive relaxation because we know what the Betis demands. In the first round we came to play against Inter and we lost at home. They will try to take the initiative and press us up. They have players like Canales in a great state of form. They look like us and want to take away the weight of the party.
¿Barca is favorite in the Champions?
No dare I say that and I have to do it. To consider yourself more favorite or not does not give anything. Any of the eight will have to win.
What coincides the Champions League with the match against Atletico influences?
Until that game comes missing Betis, Espanyol and Villarreal. All decisive matches for the League. We do not want the League to open. We want to be forceful. Let's wait until tomorrow, which is already quite complicated.
Having the advantage at the end of the day is good?
Let's look at what's ours. If you win, it affects the opponents who see that you do not fail and send a message of reliability. Then anything can happen.
Do you warn the risk doctors with Dembélé?
Claro. They do their job, but the decision is mine because it was a definite match. It was final for Lyon.
It surprises you that Lenglet does not go with France and yes Umtiti?
A one I see very well and the other every time better. With them more Piqué, Murillo and Vermaelen I see the covered position. The selector that makes his list and I will do mine.
Do you worry about the FIFA Virus?
It's a special moment because then we played it all in two months. It is what there is.
What spoke with Coutinho?
We talked with the players to help them and to improve always. They are private conversations.
Are you close to sentencing La Liga?
I do not know. It depends on these four upcoming matches. No idea. First we will see if we win tomorrow.
¿Influirá in your approach what happens in San Mamés?
In absolute.
The coach of United prefers to play the round at the Camp Nou, what do you think?
El factor field in this tie has not been so decisive. It is normal to think about it after winning in the PSG field after losing at home. It is not as decisive as before.
Is it the moment of Coutinho?
Coutinho has been playing many games for some time. The other day he played a great game.
Do you see euphoria in the environment in the face of a triplet?
It is very good that people are excited. Estamjos in three competitions but we have not won anything. Let us continue to help people.
Photos from as.com