The speed of Maverick and Rossi's Yamaha is to mourn
His M1 were penultimate and last in the fourth free, with 331.6 km / h for the Spanish (22 º) and 329.9 for the Italian (23 º), far from the 347.2 of the Ducati de Miller.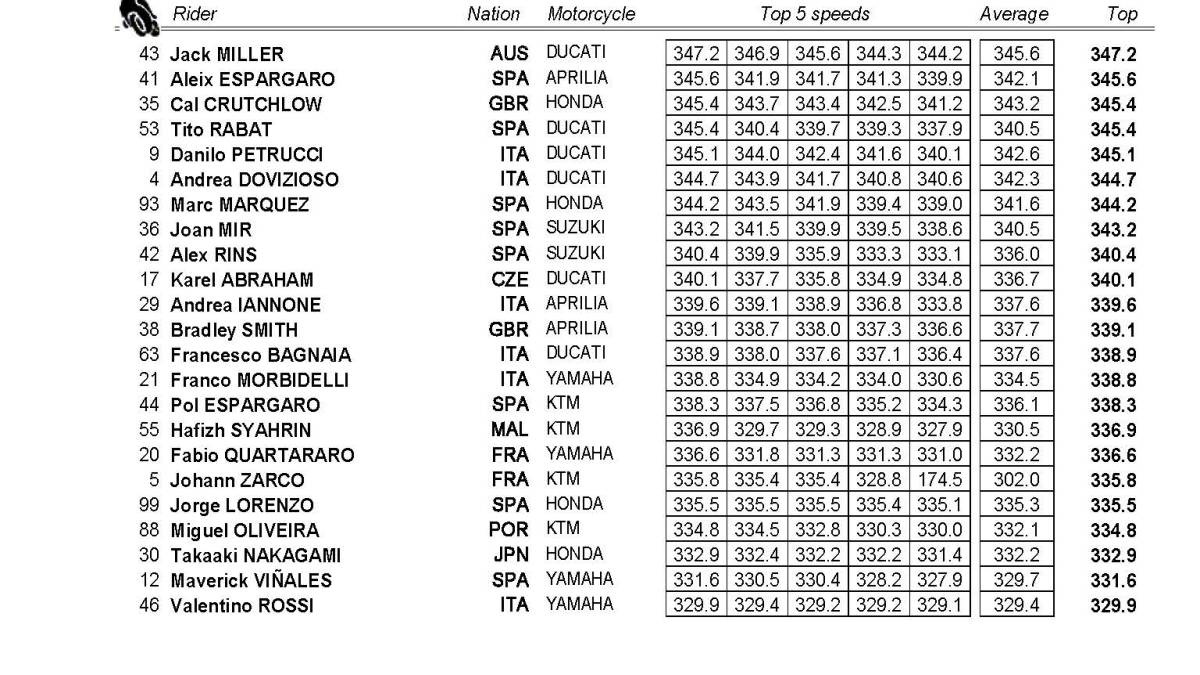 Will pass what has to happen in the race in Qatar, which appear Maverick, Dovizioso and Marquez in the front row, but what has already shown the training of the first GP of the year is that the top speed of the official Yamaha Viñales and Rossi is to mourn, or laugh, depending on what you want to see. The last free weekend training was overwhelming in this regard for the factory of tuning forks: penultimate and last, with 331.6 km / h for Spanish ( 22nd) and 329.9 for the Italian (23rd), very far from the 347.2 marked by the Ducati de Miller or the 345.6 of the Aprilia de Ducati.
With this data is better understood the concern that Maverick showed yesterday when talking with the displaced journalists to Losail after signing the seventh pole of his life in the queen class ... "I am surprised by the pole with our lack of speed", we titled in As his statements, in which he also remembered what happened in the first free: "Dovizioso overtook me in the FP1 before the finish line" .
It will be difficult for Miller and Aleix to fight with Maverick for the victory, because the Catalan has more pace than them , but it will be Dovizioso or Márquez, whose speed data are also much better in that FP4, the last session in which all the drivers on the asphalt coincided before the qualifications. The Ducati car marked a top speed of 344.7, his bike being the sixth fastest of the session. And the Honda of the champion reached 344.2, the seventh best data. The difference of both with Maverick is hovering around 13 km / h difference in their favor, which is also reflected in the average of the top five top speed points: 342.3 for Dovizioso, 341.6 for Márquez and 329.7 for Maverick. The average of Rossi is also the last: 329.4.
It is necessary to bear in mind that in that free room he blew the air with force and that without it he can go even faster. The peak speed record in Losail is Petrucci with 351.8 km / h and it will be necessary to see what they can score in a race in which the Yamaha have this ballast. Well, in the case of Maverick, because in the Rossi is also joined in a few laps that destroys the front tire and ensures that neither has pace or is fast to a lap, as evidenced by his poor fourteenth place on the grid.
Photos from as.com